Consumers & DriversSocial Impact & Safety
Grab and Unilever establish wide-ranging partnership to support lives and livelihoods in Southeast Asia through COVID-19
Grab and Unilever today announced an extensive partnership in Southeast Asia to protect Grab drivers and riders as well as support the livelihoods of small business owners as they weather the impact of the COVID-19 pandemic.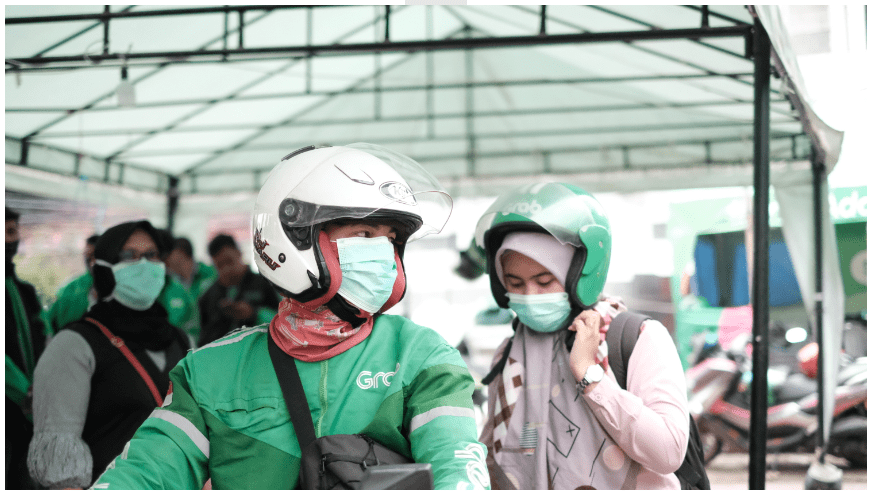 Through GrabProtect, Unilever's sanitation and hygiene products will support in-vehicle cleaning and personal hygiene to help protect Grab commuters across Indonesia, Malaysia and the Philippines.
Unilever and Grab collaborate across GrabFood, GrabMart to connect small offline retailers to the digital economy and help grow their incomes.
Unilever will work with Grab to dispatch products to retailers to meet real-time demand, creating more earning opportunities for GrabExpress driver-partners
SINGAPORE, 19 August 2020 – Grab and Unilever today announced an extensive partnership in Southeast Asia to protect Grab drivers and riders as well as support the livelihoods of small business owners as they weather the impact of the COVID-19 pandemic.
The partnership covers Grab's Transport, GrabFood, GrabMart and GrabExpress services. Unilever's personal and home hygiene brands such as Lifebuoy and Cif will support Grab drivers to deliver safer and more hygienic rides under GrabProtect. By leveraging Grab's platform and technology, Unilever products will be available for consumers to purchase directly from Unilever's vast network of retailers in Southeast Asia through GrabFood and GrabMart, thereby also helping small retailers and mom-and-pop shops around the region.
"Unilever is committed to helping protect the lives and the livelihoods of those impacted by the COVID-19 pandemic. By providing Unilever's hygiene products such as Lifebuoy and Cif to Grab's driver-partners, Unilever is helping people get back on the move safely. The partnership will also assist small retailers, many of whom are still without a digital presence, move to an online platform, whilst also giving people more ways to purchase their favourite Unilever products. As a purpose-led organisation, we will continue playing our part to support our communities through this crisis," said Umesh Shah, Chief Executive Officer, Unilever International.
"The pandemic has hit communities hard, particularly small and offline businesses. By partnering with Unilever, we hope to help Southeast Asians adapt and thrive in this new normal – whether by providing cleaner, safer modes of transportation or by connecting them to the growing digital economy. We're particularly excited about the breadth and depth of the partnership with Unilever, which is testament to the value of the open ecosystem that we've built. We offer an unparalleled combination of consumer reach, data insights, and logistics fleets that partners like Unilever can tap on to grow their footprint in the region," said Russell Cohen, Group Managing Director – Operations, Grab.
The Grab x Unilever partnership includes:
Boosting confidence in a new normal with GrabProtect
Grab and Unilever are bringing greater peace of mind to driver-partners and passengers by equipping vehicles in Indonesia, Malaysia, and the Philippines with Lifebuoy hand sanitisers and Cif disinfectant sprays, at no cost to driver-partners or passengers.
Growing income for small and offline business owners through Unilever Ice Cream virtual stores on GrabFood and GrabMart
Grab and Unilever are setting up Unilever Ice Cream virtual stores on the Grab platform which will offer Grab users instant access to their favourite Unilever ice cream brands such as Wall's, Ben & Jerry's and Breyers.
Orders will be fulfilled by Unilever retailers located closest to the consumer – the majority of which are offline businesses such as neighbourhood mom-and-pop shops and ice-cream carts. The partnership will generate more sales for these businesses, supporting their livelihoods and families. Grab aims to help these businesses further digitalise, by giving them the option to create individual storefronts on the Grab platform in the future.
Over 250 Unilever Ice Cream virtual stores have been established across Malaysia, the Philippines and Thailand, with the goal of reaching over 550 stores by end-2020 through upcoming expansion into other Southeast Asian countries like Indonesia.
Addressing increasing demand for home deliveries and driving visibility and traffic to small retailers via GrabMart
As social distancing measures continue, Unilever will expand its range of food, household and personal hygiene products available to Grab users and help retailers list their products online through GrabMart – Grab's on-demand delivery service for daily essentials available across 8 countries in Southeast Asia. The partnership has kicked off in the Philippines and will expand to Indonesia, Singapore and other Southeast Asian markets by the end of the year.
This will be complemented by GrabAds to help grow demand for Unilever products. Orders will be fulfilled by Unilever retailers, helping them to grow and ensure resilient future-fit income streams. The rich audience data based on real-life behaviours derived from different touchpoints across the Grab platform will offer valuable consumer and category insights to further support their business.
Creating additional income opportunities for thousands of GrabExpress driver-partners in Indonesia
Unilever and Grab will run pilots in Medan and Makassar in Indonesia to leverage the GrabExpress delivery fleet to ship inventory from Unilever's warehouses to retailers, such as grocery stores and mom-and-pop shops, in response to real-time demand. Grab's wide and readily available pool of delivery-partners will allow consumers to receive Unilever's food and hygiene products quickly even during peak periods. At the same time, this creates additional and diversified income opportunities for Grab's delivery-partners.
Launch dates of the partnership vary by market and by Grab service.