KASIKORNBANK partners with Grab to join the largest fintech ecosystem in Southeast Asia
Partnership introduces GrabPay by KBank, a co-branded mobile wallet, and a suite of other financial solutions in Thailand
Announcement makes Grab Financial the first mobile wallet and financial services platform available in all ASEAN-6 markets, just 6 months after its launch
KBank makes a strategic investment as part of Grab's ongoing fundraising round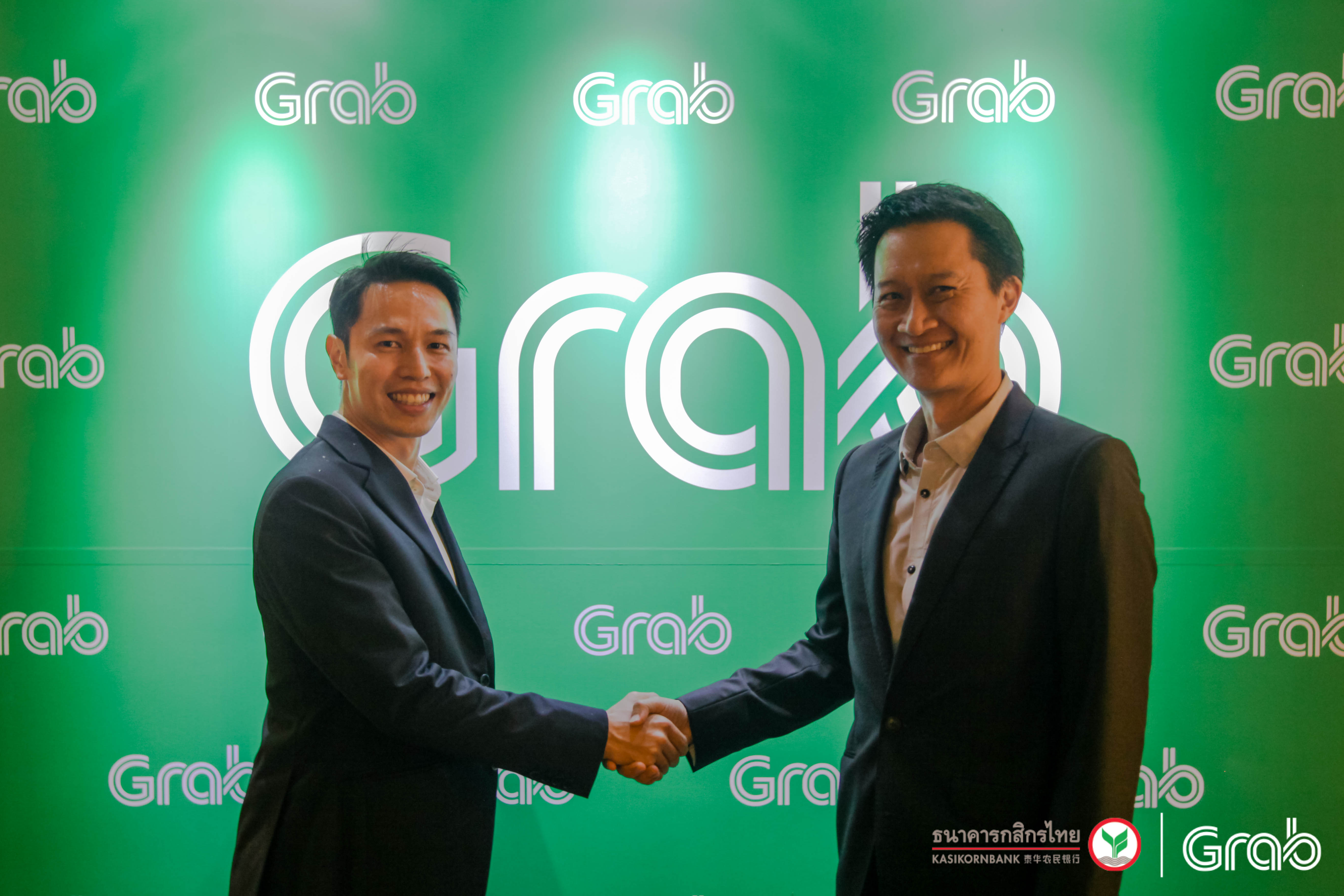 Singapore, 8 November 2018 – Grab, Southeast Asia's leading online-to-offline (O2O) platform, and KASIKORNBANK (KBank), Thailand's leading financial conglomerate, today announced a strategic partnership to introduce GrabPay by KBank, a co-branded mobile wallet, as well as a suite of other financial solutions in Thailand.
With this partnership, Grab Financial marks the expansion of its mobile wallet to all ASEAN-6 countries – Singapore, Malaysia, Indonesia, Vietnam, Philippines, and Thailand, cementing itself as the region's number one fintech player.
"In 2018, Grab Financial has established itself as Southeast Asia's leading fintech platform, both in terms of Monthly Active Users (MAU) and Total Payments Volume (TPV). This partnership makes Grab Financial the first mobile payments platform to launch e-money-licensed payments services across ASEAN-6 and underlines the strength of our partnership-based strategy. By opening up our platform, we have attracted many of the leading players in the financial services industry and driven exponential growth for our business," said Reuben Lai, Senior Managing Director, Grab Financial.
Patchara Samalapa, President, KASIKORNBANK says, "KASIKORNBANK has bold ambitions of becoming the digital bank of choice in the region. We look forward to developing innovative financial products together, which will put KBank in a position to tap into the rapidly growing digital economy across the region."
The partnership comes with a strategic investment from KBank in Grab, and is part of Grab's ongoing fundraising round, which includes Toyota Motor Corporation, Microsoft Corp., Booking Holdings, Hyundai Motor Group, Oppenheimer Funds, and other leading global investors. The investment is a first for KBank in an international company with a core business outside of Thailand, calling to attention the size of the opportunity Grab's ASEAN-wide user base offers, even to leading financial institutions.  
According to Bank of Thailand, 68% of all transactions in Thailand are carried out in cash, which costs the Thai economy millions of Baht each year. The strategic partnership will make it easier for consumers and entrepreneurs across Thailand to adopt cashless transactions in a number of ways.
First, KBank and Grab will jointly launch the 'GrabPay by KBank' mobile wallet in the Grab app which is targeted to launch as soon as early 2019. This will allow Grab consumers to pay for transport and delivery services, transfer funds to friends and family, purchase products and services online, and make QR-code payments in restaurants and shops across Thailand. Thanks to PromptPay, Thailand's national e-payments scheme, all QR-enabled merchants in Thailand will be able to immediately accept 'GrabPay by KBank' upon activation.
Second, beyond the wallet, features from KBank's "K PLUS" app and the Grab app will be integrated across both apps starting in 2019. This will enable users to benefit from seamless services across the KBank and Grab ecosystem. Finally, KBank and Grab will also work together to jointly offer products to their customer base, including loans to help merchants grow their business and access to Grab for Business to improve corporate transport expense management as well as increase brand awareness and engagement through Grab's advertising solution.
Since launching the Grab Financial Group in March 2018, Grab's fintech ecosystem has seen incredible growth:
March 2018

: Launch of Grab Financial, through a joint venture with Credit Saison to offer credit to Southeast Asia's unbanked and a partnership with Chubb to offer in-app insurance solutions;

May 2018

: Announcement of strategic partnership with Maybank, Southeast Asia's fourth largest bank by assets to drive acceptance of GrabPay in Malaysia;

June 2018

: Launch of GrabPay wallet in Malaysia;

June 2018

: Strategic partnership with OVO, the leading mobile wallet in Indonesia, to enable OVO payments services on the Grab app in Indonesia

September 2018

: Announcement of strategic partnership with Moca, a leading digital payments service in Vietnam to launch the 'GrabPay by Moca' wallet;

September 2018

: Announcement of Bangko Sentral Ng Pilipinas awarding the e-money license for the Philippines to Grab;

October 2018

: Announcement of strategic partnership with Mastercard to launch prepaid cards for Southeast Asia's unbanked and underbanked population.
"We approach the challenge of cashless payments from a consumer perspective. Users don't want a separate e-wallet for every type of purchase. By opening up our platform to leading financial institutions, we ensure our users can go beyond the Grab platform and pay for all types of services, from streetside stalls to e-commerce, online services and financial services increasingly as well," concluded Reuben Lai, Senior Managing Director, Grab Financial.