GrabFood Unveils Merchant Solutions and 1st GrabKitchen in Singapore
GrabFood commits to merchants' growth through a merchant platform and launches GrabKitchen in Hillview with over 10 F&B brands, including 3 virtual restaurants and the latest GrabFood Hub.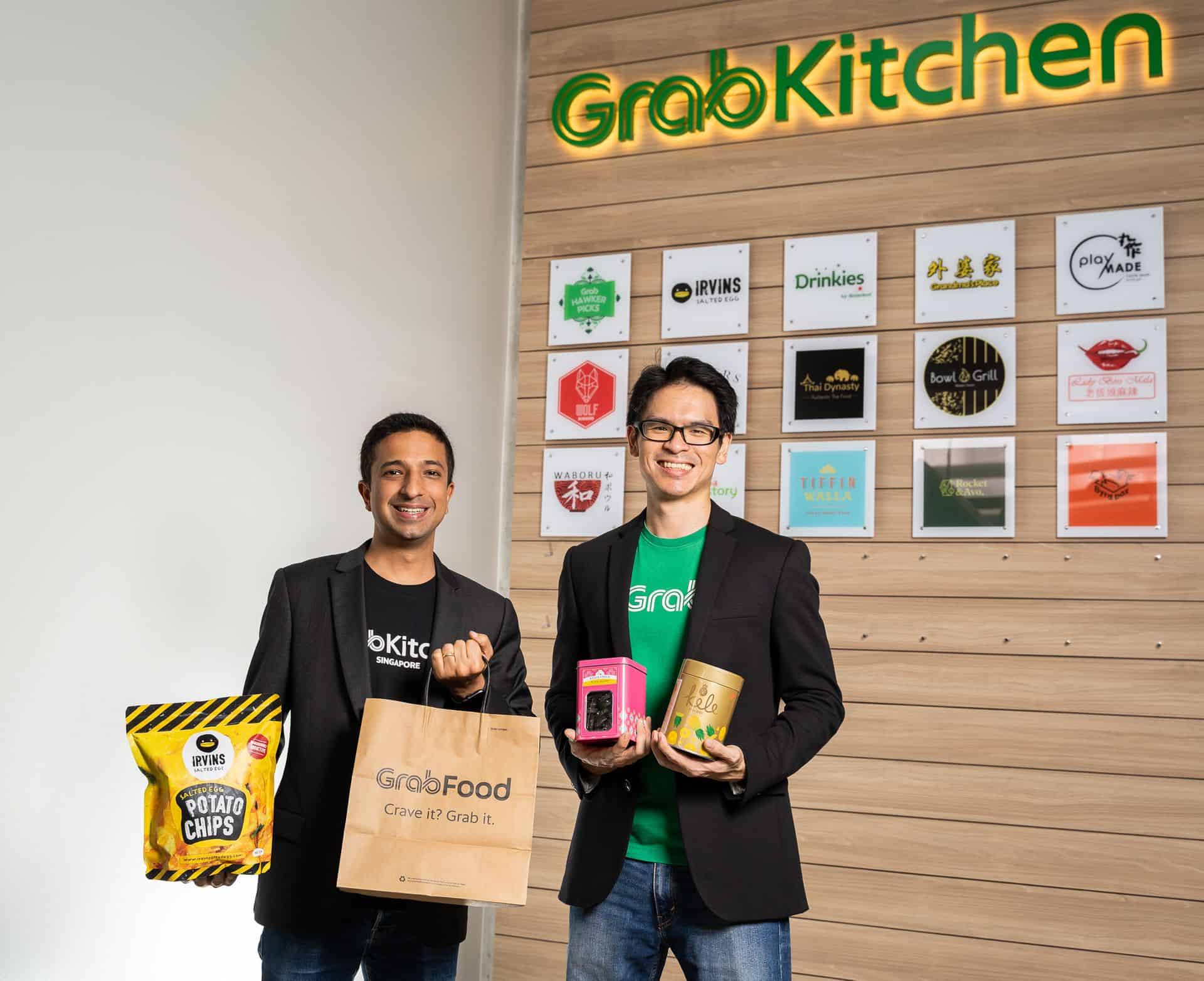 Commits to merchants' growth through a merchant platform that spans procurement, marketing, finance and business management 

Launches GrabKitchen in Hillview with over 10 F&B brands, including 3 virtual restaurants and the latest GrabFood Hub
SINGAPORE – 8 January, 2020 –  Grab, Southeast Asia's leading super app, announced a merchant platform that will provide tools for F&B merchant-partners of all sizes to expand their businesses. Beyond food delivery, Grab is catering to end-to-end business needs that spans procurement, marketing, finance and business management. GrabFood also opened its first cloud kitchen in Singapore to better serve the needs of users.
"Today's announcement comes at the back of a stellar 2019 where our food delivery business across the region saw a 5.2 times growth in gross merchandise value (GMV) and 173% increase in active users. 2019 was about expansion,and becoming consumers' most preferred service. In 2020, we'll combine our capabilities across food delivery, financial, and advertising services and provide merchants with the tools of the trade that will take their businesses to new heights. In addition, we aim to provide our users with more choices and greater convenience," said Lim Kell Jay, Regional Head of GrabFood.
Empowering merchants of all sizes to reach new heights
GrabFood will introduce a platform suite providing end-to-end business support to merchant-partners beyond traditional food delivery services. The following will roll out in phases in select countries over the course of 2020:
Unified merchant app and dashboard with self-serve access to GrabFood, Grab Financial Group and GrabAds services:

Grab will simplify the merchant experience by integrating relevant Grab Financial Group and GrabAds services into a single merchant platform. The new unified platform will enable merchant-partners of all sizes to not only track business performance and manage daily operations but also maximise their growth through analytics, advertising and financial services. 

Purchasing services to drive costs down for MSMEs:

Micro, small and medium enterprises (MSMEs) tend to get the short end of the stick when it comes to cost negotiation due to lack of scale. Through partnerships with procurement platforms and by tapping into the GrabKios agent-network, merchant-partners can procure discounted kitchen supplies and ingredients at very competitive rates, and have them conveniently delivered to their stores.

Tailored solutions to minimise disruption to merchants' existing processes:

Grab tailors its offerings to make it easy for merchants to access Grab's platform, with minimal disruption to their original operational model. For example, merchants who already have their own delivery fleet and wish to tap into Grab's consumer base have the option to do so with point-of-sale integration. GrabFood orders are directly sent and synced with merchants' point-of-sale system, creating greater operational efficiency.

To improve the online-to-offline experience for consumers, Grab will also introduce a new self pick-up feature where they can order their meals in-app even before they arrive at the outlet.
GrabKitchen expansion:

With 50 cloud kitchens across five Southeast Asian countries, GrabFood will continue expanding its network of cloud kitchens in 2020. This would offer more merchant-partners the opportunity to expand with GrabKitchen at low cost and risk and with immediate access to Grab's user base.

The first cloud kitchen in Singapore opens today, with more to come in the first half of  2020. GrabKitchen offers merchant-partners an experimental platform to introduce new food concepts and brands with significantly reduced risks.  Besides offering a space to operate, GrabFood takes care of overall utilities management within the facility, as well as marketing support within the app to reduce the onset business challenges merchants face when they look to set up new outlets or even their first business.
Your favourite foods in a single cloud kitchen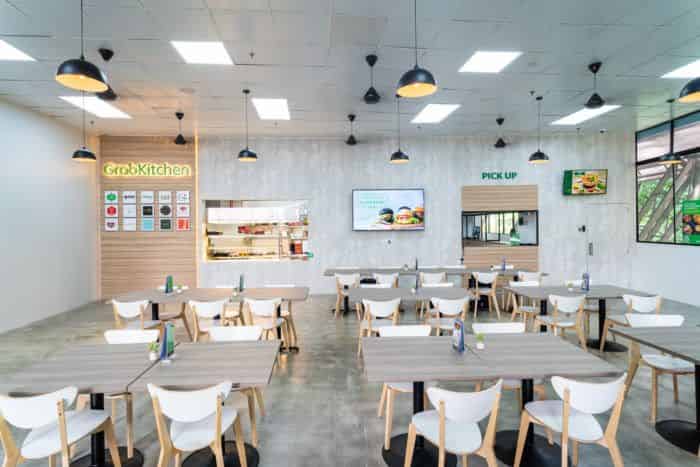 Grab's first cloud kitchen in Hillview, Singapore, brings over 10 F&B brands to northwest Singapore, including three new virtual restaurants.
Commenting on the launch of Grab's first cloud kitchen in Singapore, Dilip Roussenaly, Head of GrabFood Singapore said, "We're honoured to open our first GrabKitchen in Singapore in partnership with many reputable merchant-partners who have chosen to expand together with us. Together with our merchant-partners, we hope to bridge cuisine demand and supply gaps, complement and expand the variety of food options at different price points in the area, and offer them conveniently to consumers through on-demand delivery, self-pick up, or dine in."
Based on consumer surveys and insights derived from the Grab app, consumers in Northwest Singapore wanted greater variety of healthy foods, burgers and local foods. Specifically in Bukit Batok, bubble tea, mala, and soup were not only the most frequently searched for items on GrabFood, but also saw significantly higher consumer demand than merchant supply. When it comes to cuisine types, Japanese, Indian and Thai were the most sought after in the area.
To address this gap, GrabFood brought an eclectic mix of over 10 F&B brands into its first GrabKitchen in Singapore, offering a wide selection of food options. GrabKitchen features:
10 restaurants including three new virtual restaurants

namely Lady Boss Mala by the founder of Thai Dynasty; Waboru by JR Group as well as Tiffin Walla by Co-Kitchens. 

The 6th

GrabFood Hub

which brings

popular hawker food, coveted FMCG and packaged food brands

such as

Asia Pacific Breweries' Heineken and Tiger beers

and

dangerously addictive salted egg snacks by

Irvins

, which has taken Singapore and the larger Southeast Asia by storm.

Beverages by Playmade

, one of Singapore's bubble tea darlings who has made its first foray into the West with GrabKitchen.
Consumers in surrounding Hillview districts such as Cashew, Bukit Batok, Bukit Gombak and Toh Tuck can have food and drink options delivered on-demand to their door via the Grab app, while those who do not mind taking a short walk to GrabKitchen can opt to dine-in at the location or choose the self pickup option in-app to save on delivery fees. For variety, consumers can order from multiple GrabKitchen merchants in a single order so every one gets to have whatever tickles their fancy.
GrabFood began its regional expansion in May 2018. Today, it is the only regional food delivery platform operating in 271 cities across seven Southeast Asian countries. GrabFood is the #1 most often used food delivery platform in Southeast Asian countries according to a market survey by Kantar. In 2019, GrabFood partnered with over 3,000 international and national chains and introduced 24/7 delivery and grocery delivery service in select markets. These new additions to GrabFood broadens consumer choices, which in turn drives higher engagement and usage of the app, and incrementally improves earning prospects for both merchants and delivery-partners.