Consumers & DriversOthers
Grab Introduces New Round of P2HA Support Programme for Hawkers, Small Businesses and Driver-Partners; Budget Planned for Both Rounds to Reach More Than S$16 Million
Grab to offer full commission rebates for hawkers in partnership with Enterprise Singapore  By taking on both transport and delivery jobs, Grab's driver-partners may still earn up to 80% of their usual earnings (which include both fares and incentives).  SINGAPORE, […]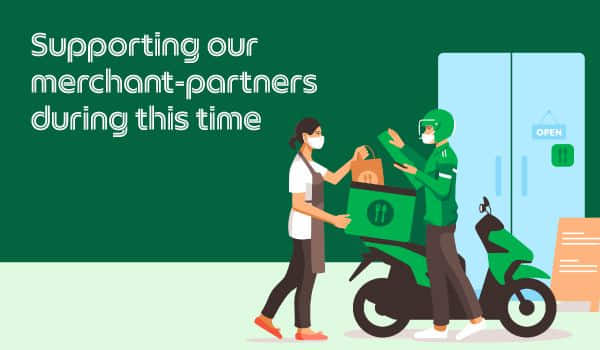 Grab to offer full commission rebates for hawkers in partnership with Enterprise Singapore 

By taking on both transport and delivery jobs, Grab's driver-partners may still earn up to 80% of their usual earnings (which include both fares and incentives). 
SINGAPORE, 25 July 2021 – In view of Singapore returning to Phase 2 Heightened Alert (P2HA), Grab has announced a new round of support programmes to help merchant- and driver-partners on its platform during this period. The planned budget for the support programmes for the current and previous round of P2HA will total more than S$16 million.
"We understand that the return to P2HA is frustrating for many, and is even more so for our partners, who are eager for their lives and businesses to return to normalcy. The initiatives we have introduced across all of our services are designed to drive sales for hawkers and small businesses, as well as create earning opportunities for driver-partners. These initiatives have proven to be helpful to our partners in the previous P2HA, and we trust that they will continue to alleviate the stress faced by our partners during these difficult times," said Yee Wee Tang, Managing Director, Grab Singapore. 
Supporting our F&B merchant-partners, especially hawkers and small businesses
As per the previous P2HA period, Grab will be disbursing commission rebates offered by Enterprise Singapore (ESG) to eligible merchant-partners[1]. Grab will also be providing additional support for specific merchant groups during this full P2HA period:
Grab will

absorb commissions in full for eligible hawkers[2]

after deducting the first 5% offered by ESG. 

For eligible

F&B businesses that use the GrabExpress services

, Grab will absorb an additional 20% of the delivery costs on top of the first 20% absorbed by ESG.



With the removal of dine-in service during this period, F&B businesses have had to refocus their efforts in  driving online demand. Grab's support measures are thus aimed at helping our merchant-partners, especially small businesses and hawkers, boost their online demand at lower costs. 
Consumers are encouraged to order from Grab's merchant-partners through upcoming subscription packages and existing promotions, one of which is its popular "Free Delivery" campaign that allows users to order from participating restaurants without having to pay a delivery fee. As part of the campaign benefits, participating merchant-partners are featured more prominently on the GrabFood homepage, thereby increasing their potential sales opportunities. Small businesses that have taken part in Grab's previous "Free Delivery" campaign have seen a 70% increase in GrabFood sales on average. Thus, to help more partners benefit from this campaign:
Grab will waive joining fees for all interested merchant-partners and automatically include eligible hawkers

 in this campaign.

Participating hawkers will be given a dedicated banner on the GrabFood homepage so consumers can easily browse and support them 

Grab will cover the cost of delivery in full for participating hawkers and in part for all other participating merchant-partners. 

Small businesses will be given credits to take part in this campaign or other relevant marketing campaigns. 
Beyond P2HA support measures, Grab is working closely with SG Together Alliance for Action (AfA) – Online Ordering for Hawkers to find pathways to help hawkers benefit more from the increase in online spending. 
Helping non-F&B merchants transit from offline to online
Eligible non-F&B merchant-partners will receive a one-time cash reimbursement to defray 50% of GrabPay online processing fees over a six months period. They will also receive GrabExpress delivery vouchers worth S$15 every month.
"The footfall in my stores have been impacted due to the tightened measures during P2HA, but fortunately, we have had the experience of pivoting online quickly. We appreciate Grab's support for our online business during that period and its commitment to render support during this phase too," said Kyne Qiu, Director, Visionlink Eyecare.
Supporting our driver-partners to minimise impact of declining ridership
Transport rides are expected to drop drastically during P2HA. However, Grab driver-partners will continue to have the opportunities to take on delivery jobs (e.g., GrabFood, GrabExpress) to supplement their earnings. With the completion of a minimum of 30 jobs per week across all services (transport and deliveries), they will earn an incentive for every job that they complete. Based on the demand trends from the last P2HA, it is projected that these driver-partners are still able to earn up to 80% of their usual earnings. 
In addition, for eligible driver-partners who are renting their vehicles from GrabRentals, they will be receiving a rental rebate of up to S$50 per week depending on their current rental fees.
"Having to go through this P2HA again is very tough for me and fellow Grab drivers. We get fewer customers and this significantly affects our earnings. However, for many of us, we have the opportunity to also take on delivery jobs on the platform. I do both transport and delivery jobs now, and combining my total earnings and incentives, I should still be able to tide through this period. I hope the situation can be managed and life can go back to better times very soon," said Ho Chern Aun, Grab driver-partner.
—
[1]Refer to ESG's website for more details
[2]All hawkers operating in hawker centres managed by NEA and town councils