Grab Financial Group announces comprehensive suite of financial services for Southeast Asia's micro-entrepreneurs and SMEs to 'Grow with Grab'
Grab Financial Group launches SME lending and micro-insurance in Singapore In 2019, Grab Financial Group aims to become the region's largest merchant network, insurtech policy provider and fintech lender, all within one platform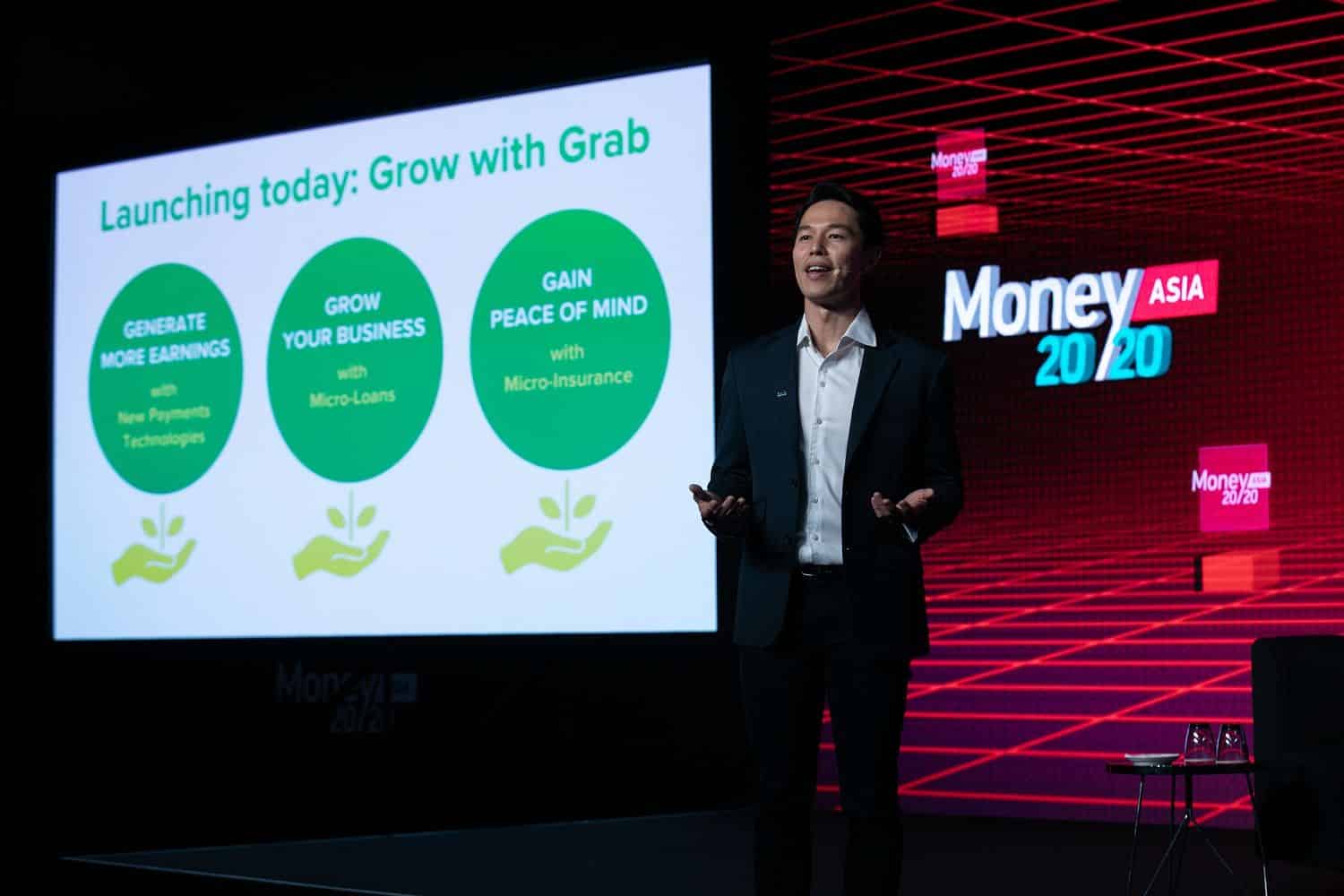 Singapore, 19 March 2019 – Grab Financial Group, Southeast Asia's leading fintech player, today announced its 'Grow with Grab' roadmap, with the launch of SME lending, and micro-insurance for drivers in Singapore. The 'Grow with Grab' roadmap aims to provide the most comprehensive portfolio of financial services in Southeast Asia for micro-entrepreneurs and small businesses. The roadmap includes a range of other new services, including micro-insurance products, post-paid and instalment payment services as well as 'Pay with GrabPay', an online check-out payment method for online sellers.
Following an exceptional 2018 in which the fintech platform was launched and immediately grew to become the leading player in mobile payments, 'Grow with Grab' marks the Grab Financial Group's full-scale push into lending and insurance.  The roadmap puts Grab Financial in a strong position in financial services, as the group seeks to bring more possibilities to micro-entrepreneurs and small businesses. Grab Financial Group sets a clear ambition to become both the region's largest payments and financial services platform in 2019. Grab Financial Group aims to become both one of the region's largest merchant networks with, the largest insurtech policy provider and the biggest fintech lender, all within one platform. The Grab Financial Group aims to leverage this scale to negotiate the best deals for its entrepreneur partners and pass savings on to them.
"We are doubling down on our financial services offering for micro-entrepreneurs with 'Grow with Grab'. This is a huge untapped opportunity for Grab Financial to support the region's entrepreneurs who are less able to access traditional financial institutions. While SMEs contribute more than 50% of ASEAN's GDP, two thirds of SMEs cite business funding and financing as their biggest problem. The Grab app has served more than 9 million micro-entrepreneurs over the last 6 years. As a result, we can leverage our scale and data insights to bring financial services products to market at a more competitive price point than anyone else,"  said Reuben Lai, Senior Managing Director, Grab Financial Group.
In the next few weeks, Grab Financial will be launching new services from the 'Grow with Grab' roadmap that enable micro-entrepreneurs and small businesses to grow their earnings, grow their business and protect their livelihoods.
Generate More Earnings with New Payments Technologies
With access to the Grab SuperApp, Grab Financial Group now provides the widest portfolio of earning opportunities for micro-entrepreneurs in Southeast Asia. From driving with Grab, and delivering food or express packages and offering loyalty programmes with GrabRewards,  to accepting payments via the GrabPay mobile wallet.
As the first fintech platform with access to e-money licenses in the major six economies in ASEAN, Grab Financial has built the largest merchant network, covering more than 600,000 merchants. Today, it launches new payments technologies that will allow more micro- and small businesses to benefit from the Grab user base: 'Pay with GrabPay' online check-out and Point-of-Sale (POS) device integration. The technologies help Grab Financial Group further differentiate itself in speed, affordability and versatility, all crucial needs for small entrepreneurs.
'Pay with GrabPay' online check-out allows online sellers to accept GrabPay as a mobile wallet on their website or platform. Consumers can buy their goods online from the same familiar, convenient and secure GrabPay wallet they use on a daily basis for Grab rides and food orders. The 'Pay with GrabPay' online check-out launches today with micro- and small businesses on local e-commerce platforms such as Qoo10, and 11Street, two of the largest e-commerce platforms in Singapore and Malaysia respectively. 'Pay with GrabPay' agreements have also been signed with some of the region's biggest merchant gateways, including Adyen, Boku, iPay88, Dragonpay as well as key brands including Cathay Cineplexes in Singapore and SM Cinema in the Philippines.
With POS device integration, business owners with POS devices can tap into Grab's ASEAN-wide user base, without having to change their hardware or sales and accounting systems. Merchants can simply add GrabPay as a payment method on their existing POS device. The payment method will first launch in Singapore with merchants such as coffee chain Coffee Bean & Tea Leaf and bakery chain Paris Baguette, following which it will expand this across the region.
Grow Their Business with Micro-loans  
Since announcing the Joint-Venture with Credit Saison last March, Grab has pushed into the lending space across Southeast Asia. In the last 12 months, the Joint-Venture has partnered with financial institutions to provide successful lending pilots to Grab driver-partners. The fintech platform has also started providing working capital loans to help small businesses grow in Singapore. With the SME and driver loans facilitated to date already making Grab Financial Group one of the leading fintech lenders in Southeast Asia, it is now pursuing lending licenses across Southeast Asia.
The Joint-Venture today launches its first full-scale product: 'Pay Later', a post-paid and instalment payment service respectively. 'Pay Later', the post-paid payment service will launch first in Singapore in the next weeks, following which it will be expanding to other countries.
'Pay Later' offers a post-paid payment facility which allows consumers to pay for Grab services at the end of the month, without additional costs. This helps consumers who face exceptional expenses, but are keen to avoid being hit with higher credit card or personal loan interest payments.  In the following months, Grab will also launch a 'Pay Later' instalment payment product which allows consumers to buy goods right away and spread instalment payments at a 0% interest rate over multiple months.
Both products will be offered only to Grab's most creditworthy consumers. Grab Financial Group determines credit risk based on a stringent set of criteria, which includes tenure on the Grab platform, frequency of use and spending patterns.  
Gain Peace of Mind with Micro-insurance
Following the announcement of its Joint-Venture with Zhong An in January, Grab will launch its insurance marketplace in April. The digital insurance marketplace will represent the most compelling insurance offering for micro-entrepreneurs in the region, directly available from the Grab app.
In Singapore, Grab already launched free medical leave insurance for the majority of its driver-partners on top of Grab's free existing personal accident insurance. Eligible driver-partners under the Emerald Circle program are automatically covered for lost earnings due to illness and injuries. In the next few weeks, Grab will make the following products directly available from the Grab app, starting with Singapore and expanding across Southeast Asia after:
Prolonged medical leave insurance:

This voluntary policy supplements the earlier announced policy. It allows driver-partners who are already covered to top-up for more coverage, and enables the driver-partners who are not in eligible tiers of the Emerald Circle program to affordably access this insurance for the first time

Personal accident insurance

: The personal accident insurance offering in the Grab app will allow driver-partners to top-up their existing insurance policies for more coverage.
By leveraging the scale of the Grab platform, Grab Financial can offer policies at the most affordable rates and tailor them to the lifestyle needs of micro-entrepreneurs. Beyond the two products launching in the next few weeks, Grab Financial also revealed an exciting insurance product roadmap for the rest of 2019. The roadmap covers 'pay-as-you-drive' automotive insurance with fractionalised premiums, which allow driver-partners to only pay for insurance when they are driving as well as micro-life insurance and critical illness insurance policies.
Expanding the Grab Financial Group ecosystem
Over the course of 2018, Grab has managed to attract a range of industry-leading partners to build payments and financial services infrastructure tailored to the needs of micro-entrepreneurs in Southeast Asia. Reuben concludes, "We are beating Southeast Asia's fragmentation problem by bringing together the largest payments and financial services ecosystem. We have opened up our platform for more than 100 partners across a diverse set of industries ranging from malls to card networks and banks."