Grab and the Singapore Association for the Deaf signs MOU to empower the deaf and hard of hearing community
Highlights of partnership includes Grab providing SADeaf beneficiaries access to new economic opportunities and SADeaf providing skills upgrading access for existing deaf Grab driver and delivery-partners. SADeaf appoints Grab as SADeaf's Ambassador, a testament to Grab's contribution to the community.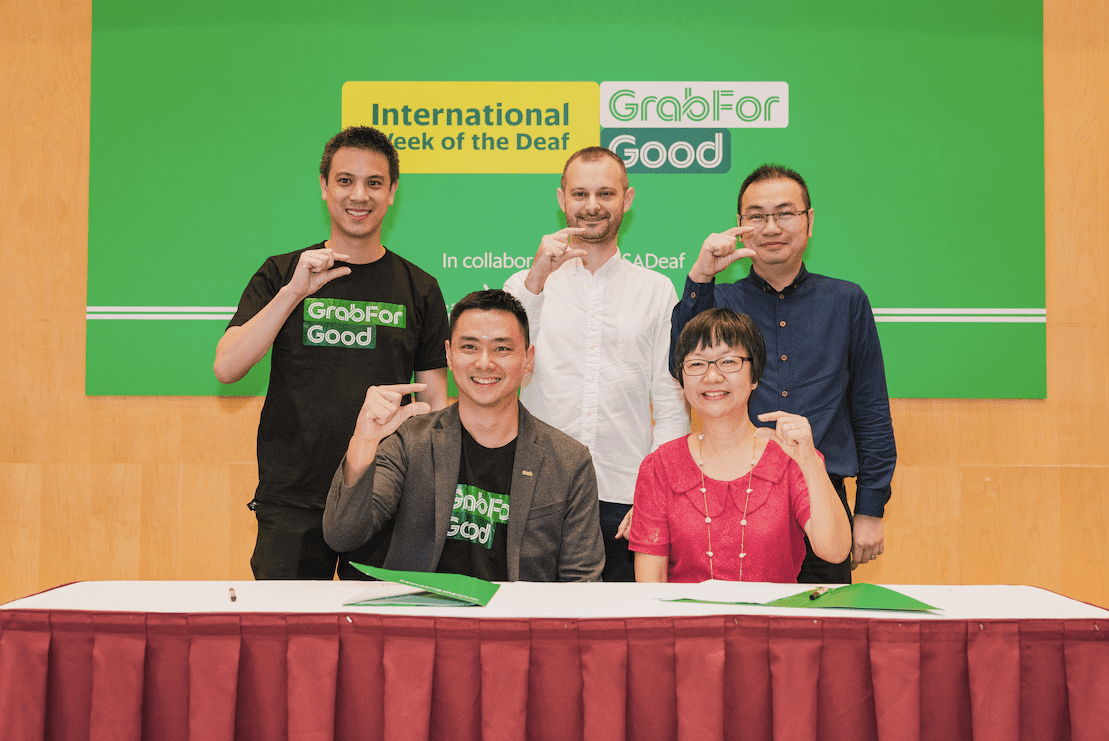 Singapore, 27 September 2019 — Grab, Southeast Asia's leading everyday super app, today signed a Memorandum of Understanding (MOU) with the Singapore Association for the Deaf (SADeaf) to form a partnership to promote deaf awareness and make the Grab platform more accessible and inclusive for the deaf and hard of hearing community. Highlights of the partnership includes a public education campaign and Grab in-app feature enhancements to promote better communications between the public and deaf partners, as well as skills upgrading opportunities for Grab deaf partners. The partnership is also one of the many initiatives under Grab's 'Grab for Good' social impact programme which aims to empower people in Singapore to benefit from the fast-growing digital economy and have more choices and opportunities to improve their livelihoods.
The MOU was signed by Mr Yee Wee Tang, Country Head of Grab Singapore and Ms Judy Lim, Acting Executive Director for The Singapore Association for the Deaf, and witnessed by Mr Russell Cohen, VP for Regional Operations, Grab and Mr David Phung, Head of Corporate Affairs, Singapore Association for the Deaf, at an appreciation luncheon hosted by Grab for its deaf and hard of hearing driver and delivery partners today. Grab was also appointed as SADeaf's Ambassador for the deaf, a partnership between SADeaf and corporates that fosters ongoing support and collaboration for the deaf and hard of hearing community, at the same event. 
"Grab believes everyone should have access to financial independence – regardless of background or ability. Through this partnership, we hope to empower more deaf and hard of hearing individuals by providing them with another source of income. Beyond that, we also hope to gain more understanding of their challenges and offer a friendlier environment for them to work in," said Yee Wee Tang, Country Head of Grab Singapore. "We're committed to inclusivity, and want to support these partners as they create a better future for themselves and their families. They inspire us everyday, and it motivates us to continually design and build more products to enable more meaningful earning opportunities."
Ms Judy Lim, Acting Executive Director for The Singapore Association for the Deaf, said "We are very happy with this collaboration with Grab becoming our Ambassador for the Deaf.  It has brought about employment for Deaf drivers, creating independent living and financial sustainability for them.  This has also been made possible through the use of Grab app where there is no need for verbal communication between the driver and the passenger.  Passengers who take the ride with Deaf drivers are also being notified by the Grab app. There is even the dashboard at the back of the seat to tell you how to communicate with the Deaf.  This makes the ride very friendly and comfortable, helping passengers gain a better understanding about the Deaf. We appreciate Grab for this very meaningful initiative."
Today, some 50 deaf driver and delivery-partners are earning an income on the Grab platform in Singapore. The year-long partnership will allow Grab to better understand the needs and challenges of the local deaf community, which will be used to build solutions and advocacy programs to serve them better. 
It also serves to further strengthen the commitment towards specific initiatives that can best provide income and welfare opportunities for the deaf driver and delivery-partners. Both parties are collaborating to provide the following support:
Providing access to new economic opportunities.

Grab will facilitate the onboarding process for SADeaf beneficiaries who are keen to be driver and delivery-partners on the Grab platform. 

Promoting skills upgrading.

SADeaf will provide skills upgrading access through existing programmes for existing deaf Grab drivers and delivery-partners.
As part of its commitment to do more for the community, Grab had earlier conducted focus group discussions with its existing deaf driver-partners to get their feedback on how Grab can provide them with a better driving and delivery experience. Based on their inputs, Grab will be implementing the following product, platform and process improvements in the coming year:
Customised Feature Support on Grab

Message prompts

to passengers and consumers informing them that they have been paired with a deaf partner, advising them to use the

GrabChat feature

to communicate.

Turning off the call function

for deaf and hard of hearing driver-partners. This is to prevent passengers from attempting to call their driver-partners and to communicate via GrabChat feature instead.

Sticker Identifier

attached to the driver's headrest to inform passengers on the right way to communicate with their drivers.

In-car flip cards

to further facilitate better non-verbal communication between our driver partners and passengers, covering typical requests and concerns such as

directions, aircon temperature, toll fee exclusion in fare. For GrabFood delivery-partners, a

set of visuals

have been developed to allow easy access through the Grab delivery-partners' mobile phone.

In-app communication guides

on how to interact with deaf driver-partners

Enhanced training and onboarding materials with local subtitles and sign language

to ensure smoother registration for deaf partners.

A

public education campaign

to promote better communication and empathy between partners and passengers, address misperceptions and raise confidence in the deaf driver-partners' abilities to do their job. This includes educational videos on hand signs so the public can learn to communicate with the deaf community.
Teo Hang Keong, a Grab deaf driver-partner in Singapore, said, "I have a full time job as an intelligence data analyst, but it is not enough to support my family. Driving part-time for Grab to supplement my income has been helpful, as I am also planning for my retirement." 
When asked about his experience as a Grab driver-partner, he shared "The passengers I come across are very understanding, and they do not doubt my driving skills just because I am deaf. Some of them are even able to communicate with me using sign language, which really makes my day!"
Peter Ho, another deaf-driver partner in Singapore, shared, "I have been driving since I was in my 20s. My dad told me to get a driving license as driving is a useful skill that would come in useful in the future. I like driving because I get to meet and interact with new people from different parts of the society. I also hope they gain an understanding and patience with people with disabilities.
I enjoy sending them to Changi Airport, and helping them with their luggage. While driving can be tiring at times, my sons know that I do it for them and that's what keeps me going."