Grab and Sembcorp Industries unveil solar panels for SATA CommHealth
Grab Singapore and Sembcorp Industries today announced that  they have installed 182 solar panels on the rooftop of SATA CommHealth Headquarters. The solar panels are made possible by Grab's Green Programme, which was first announced in July  2021.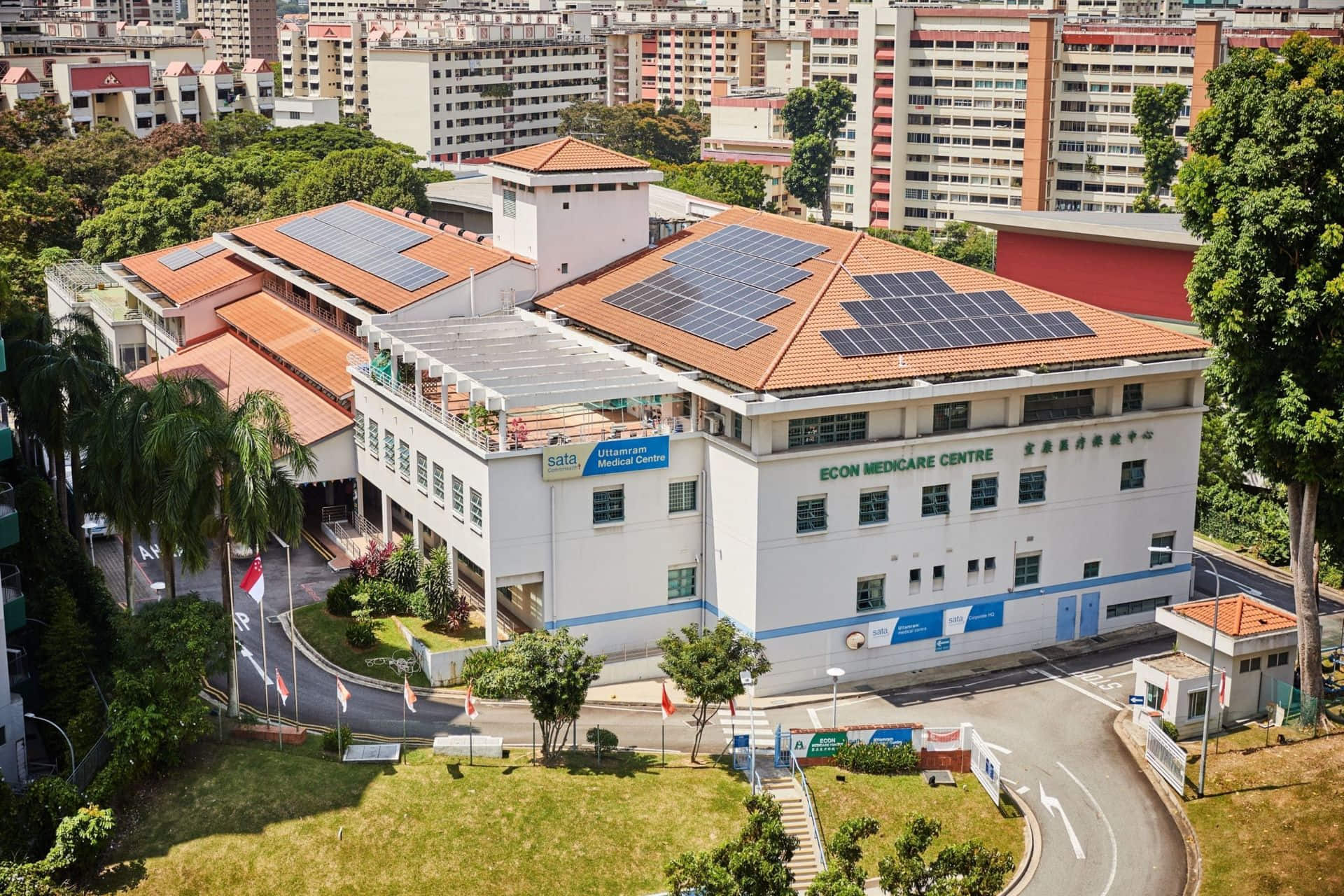 Singapore, 23 September 2022 – Grab Singapore and Sembcorp Industries today announced that  they have installed 182 solar panels on the rooftop of SATA CommHealth Headquarters. The solar  panel system will power 10% of the headquarter's energy requirements annually, contributing to SATA  CommHealth's overall sustainability goals. The event was graced by Guest of Honour, Mr Baey Yam  Keng, Senior Parliamentary Secretary, Ministry of Sustainability and the Environment and Ministry of  Transport.
The solar panels are made possible by Grab's Green Programme, which was first announced in July  2021. Consumers can opt to contribute S$0.10 to the Green Programme with every transport ride or  GrabFood delivery order. This goes towards offsetting their carbon footprint and funding solarisation  projects in Singapore.
The Programme has since raised more than $600,000, which includes contribution from consumers1 for the Green Programme, and $300,000 from Grab.
"As more people become aware of the negative impact from climate change, we are seeing an  increasing number of individuals and corporations taking action to manage their carbon footprint. Our  Green Programme was created to raise awareness and make it more convenient for our consumers to  adopt sustainable consumption habits while enabling them to support community institutions to also do  the same. These solar panels are one of the first fruits from our efforts in partnership with Sembcorp,  and we hope to benefit more community institutions in the future," said Alvin Wee, Head of Transport,  Grab Singapore.
As a leading energy and urban solutions provider, Sembcorp has a global track record in delivering  innovative solutions that support the energy transition and sustainable development. Sembcorp is  responsible for developing more than 424 megawatt peak (MWp) of gross solar capacity, which  contributes to Singapore's 2025 solar target of 1.5 gigawatt peak (GWp).The partnership with Grab  through its Green Programme aims to identify projects that can benefit the overall Singapore community.
"As we continue efforts to support Singapore in its solarisation journey, we are pleased to be working  with partners such as Grab to help non-profit organisations take a step towards sustainability. The  Green Programme is one such initiative that has rallied different stakeholders and empowered  consumers to make a positive change for the environment. We will work closely with like-minded  partners to seek opportunities to contribute our renewable energy solutions towards the Singapore  Green Plan 2030," said Valerie Lee, Head of Corporate Affairs, Singapore and Southeast Asia,  Sembcorp Industries.
"We're incredibly honoured to be a beneficiary of Grab's Green Programme and the installation of these  solar panels will help us reduce our operating costs, enabling us to redirect savings to other initiatives  that help us look after the health of seniors and the vulnerable in the community. The solar panels also  helped us to reduce our carbon footprint at the same time. We look forward to working closely with Grab  in future projects that can positively impact more Singaporeans," said Dr Kelvin Phua, CEO, SATA  CommHealth.
Grab: Achieving carbon neutrality by 2040
Grab has committed to achieving carbon neutrality by 2040 as part of its ESG goals this year to drive inclusive growth in the region while managing the environmental footprint generated within the  ecosystem.
In Singapore, the 2030 Transport Sustainability Goal saw Grab committing to operate a full fleet of vehicles running on cleaner energy by 2030. Till date, close to 50% of Grab's fleet in Singapore is  supported by cleaner energy cars. 
Grab is also empowering its consumers to play a part. Consumers can be prioritised for a greener ride via an electric or hybrid vehicle of a minimal VES A2 band2 when they turn on the Eco-friendly ride option. More than one million greener rides have been completed under this feature since July 2021. 
The Green Programme, which is currently introduced for Transport and Deliveries (Food) services, will  also be extended to GrabMart orders in Q4 2022. Besides partnering with Sembcorp, Grab purchases carbon credits generated from the Katingan Mentaya Project in Indonesia. The project restores and  conserves endangered peatland habitats, preventing the release of greenhouse gases equivalent to  7.5 million tonnes of carbon dioxide each year. The project also helps local communities create jobs, improve soil quality and food production. In 2021, more than 2,300 tonnes of greenhouse gas emissions  have been offsetted.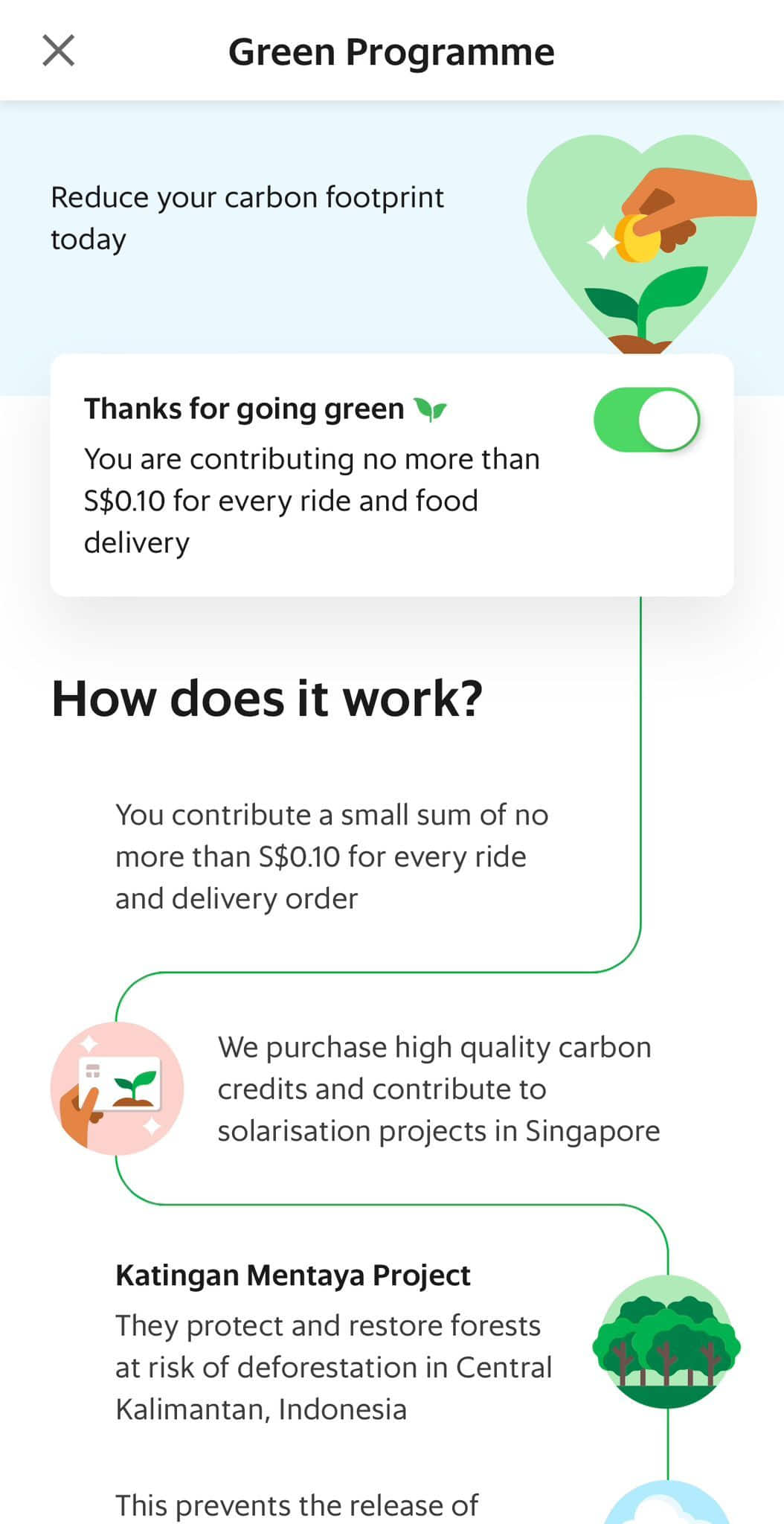 "Grab is committed to a triple bottom line. We believe we must make a positive social impact while protecting the environment in which our users depend on while delivering good business performance. We are making good progress towards our transport sustainability goal in Singapore and will continue to work closely with the authorities and like-minded organisations in seeking ways to collectively minimise our environmental footprint," added Wee. 
[1] Sum raised from consumers opting in for Green Programme contribution when taking any Grab transport service or ordering GrabFood delivery.
[2] VES is based on a car or taxi's Carbon Dioxide (CO2) emissions, plus emissions of Hydrocarbons, Carbon  Monoxide and Nitrogen Oxides. Vehicles in the VES A2 band emit less than 125g of CO2 per kilometer.