Grab and McDonald's Upsize Partnership in Singapore
Grab, a leading everyday superapp, and McDonald's Singapore, a global quick service restaurant chain, today announced a wide-ranging partnership aimed at transforming the quick service restaurant experience in Singapore.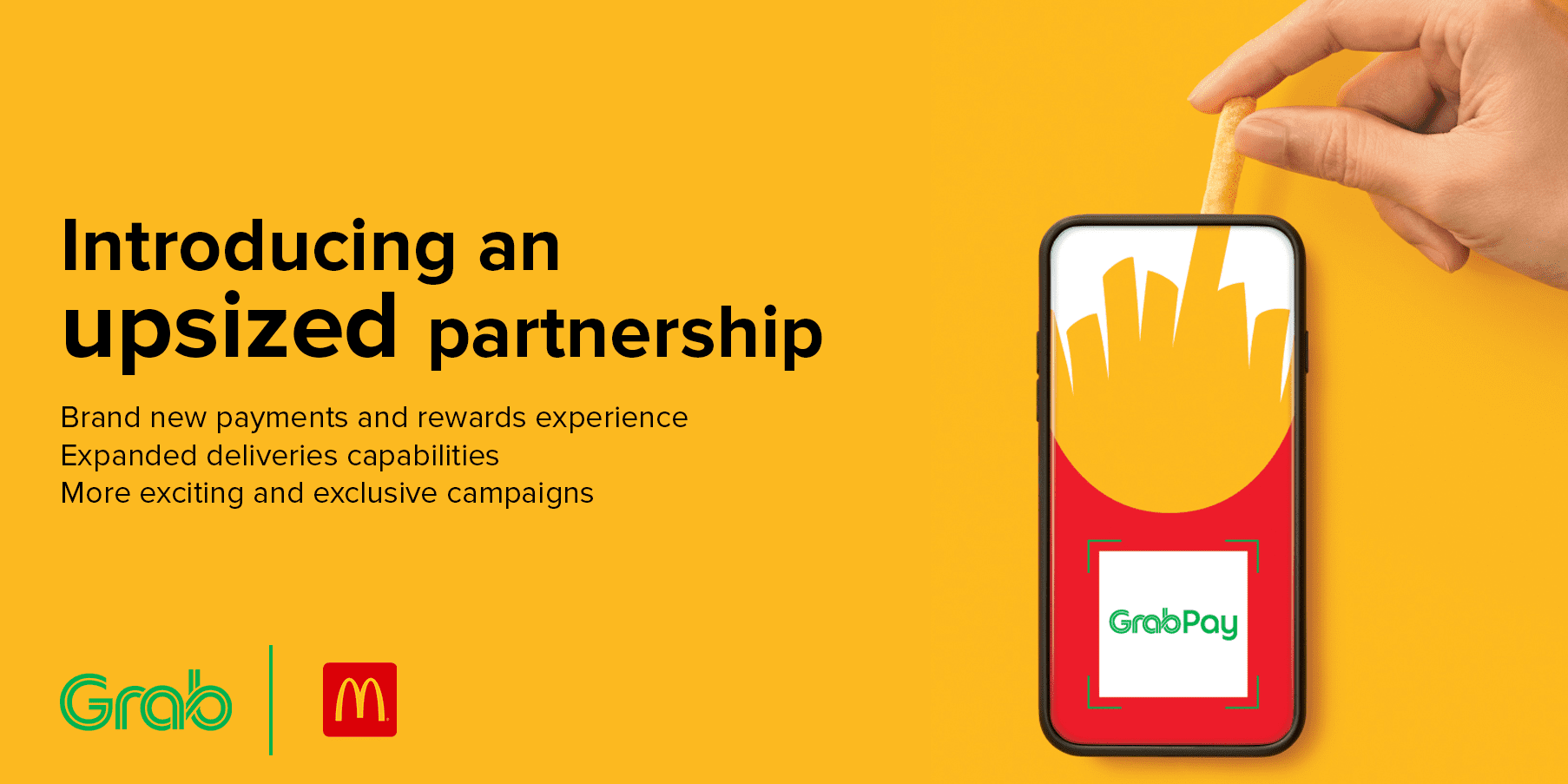 Expands partnership beyond GrabFood to include GrabPay, GrabExpress, GrabAds and GrabRewards

Starting today, consumers can pay with GrabPay at all McDonald's stores in Singapore, giving them more ways to pay and earn GrabRewards points

McDonald's and Grab to launch limited edition co-branded merchandise, as well as exclusive vouchers on GrabRewards, the first of many unique marketing collaborations to come
Singapore, 22 November 2021 – Grab, a leading everyday superapp, and McDonald's Singapore, a global quick service restaurant chain, today announced a wide-ranging partnership aimed at transforming the quick service restaurant experience in Singapore. This first-of-its-kind collaboration in Southeast Asia will see the integration of GrabPay and GrabRewards with McDonald's online and in-store ordering experience, the expansion of McDonald's on-demand delivery capabilities through GrabExpress, as well as the design of even more unique online and in-store consumer experiences through shared insights and Grab's advertising solution.
McDonald's has been partnering with GrabFood since 2018. This expanded partnership beyond food delivery is in line with McDonald's ongoing digitalisation efforts aimed at unlocking more value and convenience for their customers, and Grab's goal of being the choice platform of growth for merchants in Southeast Asia.
"We're excited about this synergistic partnership with Grab which is the first-of-its-kind in Southeast Asia. By tapping Grab's eco-system of services, it adds to our promise of greater digital convenience and accessibility for our customers, so they can enjoy their McDonald's favourites seamlessly. It also opens up the world of McDonald's to more Grab users," said Benjamin Boh, General Manager of McDonald's Singapore.
The multi-faceted partnership between Grab and McDonald's unlocks:
A brand new payments and rewards experience: GrabPay is the first non-bank e-wallet to be accepted as a payment option across all McDonald's stores islandwide, and on the McDelivery app and website. Consumers can pay with GrabPay over the counter, as well as via Self-Ordering Kiosks and Drive Thru from today. This gives them more ways to earn GrabRewards points[1]

, which can now also be used to redeem exclusive McDonald's vouchers and merchandise on the GrabRewards catalogue.

Expanded deliveries capabilities for more online orders:

With more consumers ordering online, McDonald's has integrated the GrabExpress service into all their online ordering channels, including the McDelivery app and the McDelivery website, to scale their on-demand deliveries capabilities. GrabExpress is currently their primary logistics partner and has enabled McDonald's to serve more consumers per day

More exciting and exclusive consumer campaigns:

Grab and McDonald's will develop a unified insights platform that consolidates trends and statistics across both companies' ordering channels. This will enable them to have a pulse on what consumers most value and continually design  rewarding and personalised experiences for consumers such as exclusive limited-time-only promotions and unique McDonald's x GrabFood challenges. These insights will also allow both brands to better leverage GrabAds in order to introduce the right deals and campaigns to different consumers in more relevant ways. 
"McDonald's and Grab have shared many firsts together. They were our first quick service restaurant partner on GrabFood in Singapore, and also the first restaurant to trial some of our new products and solutions, such as point-of-sale integration and GrabAds which has seen tremendous success. Today, we are excited to announce another first – the first multi-prong partnership with a quick-service restaurant chain in Southeast Asia to transform the online and in-store experience for consumers in Singapore. By leveraging our combined strengths, we hope to elevate the consumer experience and unlock more growth opportunities together," said Yee Wee Tang, Managing Director, Grab Singapore.
To celebrate the expanded partnership, consumers can look forward to limited-edition co-branded merchandise and promotions. More information can be found at https://www.grab.com/sg/mcdonalds-grabpay/.
[1] Consumers can receive up to 2.4% points back when they spend a minimum of $12 at McDonald's in-store for a limited time from 18-30 Nov 2021