Consumers & DriversTech & Product
Close to 800 F&B Establishments on GrabFood Now Available for Islandwide Delivery
New service has brought customers more options while supporting GrabFood's community of delivery- and merchant-partners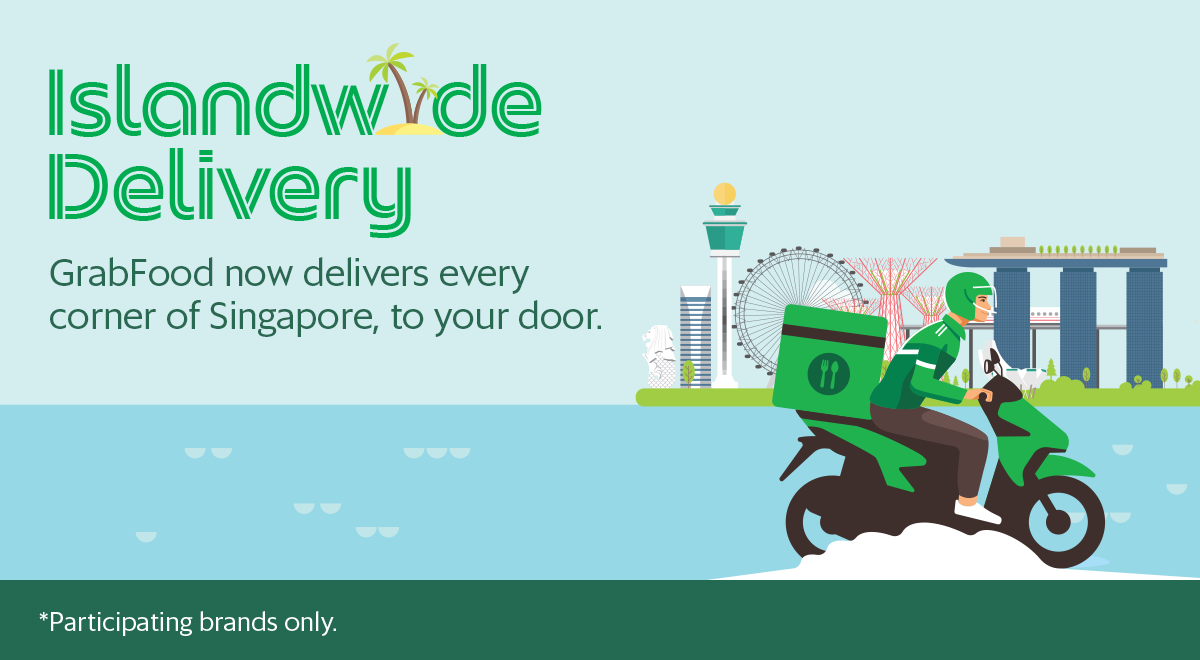 GrabFood users can now look forward to an expanded menu with the launch of Islandwide Delivery service, featuring close to 800 F&B establishments from all corners of Singapore.
From well-known restaurants to well-rated small local F&B businesses, whether it's "treat yourself" meals or simple and affordable bites, GrabFood has curated the most sought-after food choices for our consumers.
"As a leading everyday lifestyle app, GrabFood has been exploring solutions for all users on our platform to help them cope with the daily challenges they face in this new normal. Islandwide Delivery is one such initiative that addresses all users' needs. It helps to satisfy our consumers' food cravings, and bring some level of comfort and familiarity as they stay home during this period. This service also extends help to our merchant and delivery-partners by creating more earning opportunities. For participating F&B merchants, Islandwide Delivery offers an immediate reach to our entire consumer base, and presents an opportunity for curious foodies to try out their menu items. This in turn generates more job opportunities for delivery-partners. We will continue exploring more ways to create greater value for the entire F&B community," said Dilip Roussenaly, Head of GrabFood Singapore.
Connecting consumers with more food options island-wide
Launched last week, GrabFood Islandwide Delivery has received positive feedback from consumers. From the comfort of their home, GrabFood consumers can now have access to CBD crowd-favourites such as Burger & Lobster, Park Bench Deli, Super Loco, or popular heartland food haunts like Salted Caramel (Upper Thomson Road) and Lola's Cafe (Simon Road), to even Michelin-starred restaurants like Nouri and The Song of India.
"Our family is excited about all the new options we can now order through Islandwide Delivery. While we can't go out to restaurants during this period, being able to try new options from outside our neighbourhood has brought us some joy and excitement! Just last weekend we ordered from a restaurant we've heard about but hadn't been able to visit. We were very pleased to have the food delivered right to our doorstop, well-packaged and at a reasonable price, given the distance and time saved on our part," said Daren Li, 36, GrabFood consumer.
Expanding consumer base for local F&B sector
At a time when Singapore's F&B industry is adversely impacted, Islandwide Delivery allows restaurants to quickly and efficiently diversify their revenue stream by leveraging GrabFood's wide consumer base, delivery fleet and technology platform.
In less than a week, popular F&B names like Burger & Lobster and Super Loco, as well as small local eateries like Ritz Kitchen saw significant growth in their number of daily orders.
"Islandwide Delivery expanded our reach and enabled us to serve more customers out of the CBD. We quickly saw our Burger & Lobster fans as well as new customers using GrabFood to get their experience within the comfort of their own homes. Due to the success of us launching with GrabFood and the support from the government, we've managed to retain all of our staff during this challenging time operating as a hospitality business. This has cemented our belief in diversifying our operations in Singapore by going digital, and seeing the growing demand for food deliveries, we think that this (digital approach) will be part of our long term strategy." Said Riccardo LaMonica – Head of Operations, Asia, Burger & Lobster Restaurant Group Limited.
"We are heartened that many of our customers have been requesting for us to deliver islandwide, and when we were presented with this opportunity via GrabFood, it made absolute sense to tap on their expertise and base to help us scale our operations in an effective manner. We have been able to service 30% more orders compared to pre-circuit breaker period, which is quite an achievement given the weak market conditions," said William Leonard, Group General Manager at The Loco Group.
"We are a humble eatery in the Jurong area and business has been impacted as more people choose to stay at home. Food delivery platforms like GrabFood are now the main channel for us to reach customers so we are happy that their Islandwide Delivery service launched last week. Response has been overwhelming and we saw a 5x increase in orders." said Lawrence Low, Director, Ritz Kitchen.
"Our Ang Mo Kio outlet is now available on GrabFood's Islandwide Delivery service and within the first two days, our orders via the app went through the roof. Our stall at Pasir Ris Hawker Centre is also seeing most of its orders come through GrabFood, we are glad we can still reach our customers through digital means during times like these," said Cheryl Sou, Owner, Seoul Shiok (Ang Mo Kio).
GrabFood will onboard more restaurants on this service in phases while continuing to review the list of merchant-partners on Islandwide Delivery based on consumer preferences and ratings.
Creating more earning opportunities for delivery-partners
Since the start of circuit breaker, GrabFood has seen a rise of more than 20% in food orders. Grab is constantly monitoring supply and demand conditions to ensure that all users are provided with an optimal experience. For delivery-partners, this means being assigned jobs that maximise their time on the roads and optimising their earnings.
Islandwide Delivery presents GrabFood delivery-riders an additional avenue to receive more jobs. With Grab's technology platform and data analytics, GrabFood delivery-partners are assigned jobs in a way that best addresses their mode of delivery as well as demand and supply conditions.
How to get started
Simply open your Grab app and click on the Food tile. Tap on the Islandwide Delivery icon, and get ready to embark on a sumptuous food journey!
As your deliveries might be coming from the other side of Singapore, we would like to seek consumers' understanding that they may have to wait slightly longer for their orders. Grab continues to find new ways to improve the lives of our consumers while supporting our local businesses. We have highlighted some of these other initiatives in the annex below.