Grab to Expand Suite of Premier Transport Offerings with the New GrabPet XL and GrabCar Exec
New services provide more options for Grab passengers with different mobility requirements, while expanding earning opportunities for eligible driver-partners SINGAPORE, 5th May 2021 – Grab today announced the expansion of its transport offerings with the introduction of two new on-demand […]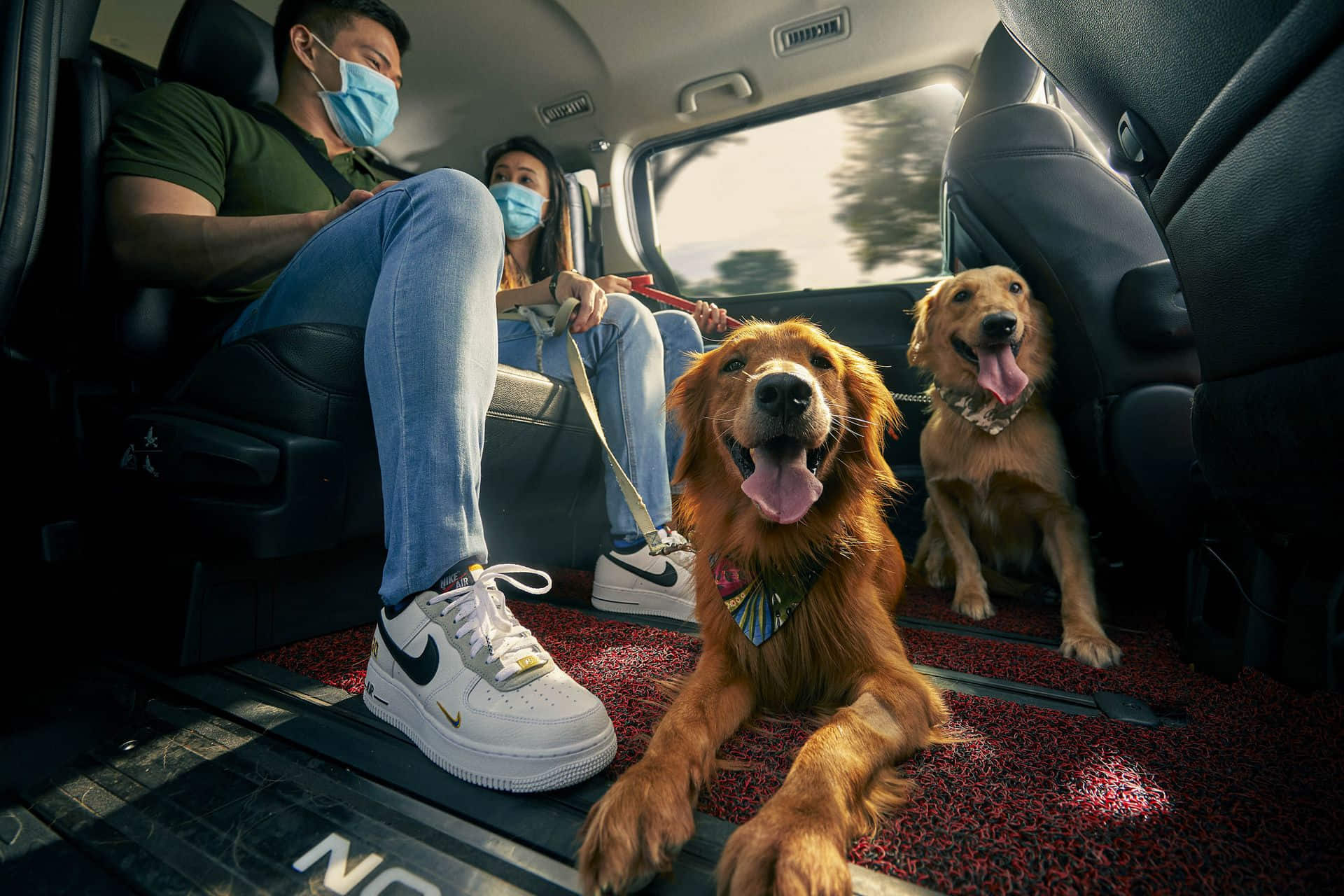 New services provide more options for Grab passengers with different mobility requirements, while expanding earning opportunities for eligible driver-partners
SINGAPORE, 5th May 2021 – Grab today announced the expansion of its transport offerings with the introduction of two new on-demand premier ride options – GrabPet XL, a transportation service that caters to consumers with more pets, and GrabCar Exec, a fleet of luxurious vehicles that serve consumers who want to travel in style and comfort. Both services will go live from 25th May 2021.
"Our consumers rely heavily on the Grab platform for their mobility needs. They are extremely diverse, and it is important that our suite of services can cater to their different needs, in areas such as quality, safety, convenience and more. We have specifically created GrabPet XL and GrabCar Exec to address feedback and requests from our consumers and driver-partners. Additionally, the new services would create more earning opportunities for our driver-partners, making the platform more sustainable for them," said Andrew Chan, Managing Director, Transport, Grab Singapore.
"These new transportation options offer me and other eligible driver-partners additional earning opportunities. I'm also pleased to be able to receive additional training to ensure a safe and enjoyable ride for my passengers," said Pang Kim Bock, Grab driver-partner.
GrabPet XL: More room for more pets
GrabPet XL is an iteration of the popular GrabPet service, which has seen a ridership growth of close to 170% between April 2019 and April 2021. The service would utilise larger vehicle models, allowing for the transport of more passengers and pets. For instance, a GrabPet XL vehicle can ferry three passengers and three small to medium-sized pets (up to 41cm in length), or two large pets (41cm in length or more) in a single trip. On the other hand, GrabPet can accommodate up to two passengers, two small to medium-sized pets, or one large pet.
All household pets licensed by the Animal & Veterinary Service except birds are permitted on the service[1]. All vehicles are outfitted with foldable pet seat covers and adjustable leashes to ensure the pets' comfort and safety during their ride. In addition, Grab offers insurance coverage for travelling pets for the period of the transit.
GrabCar Exec: Ride service for the well-heeled
GrabCar Exec offers a limousine-styled service for consumers who wish to travel in comfort and style, with a focus on service quality. The new service is also an option for consumers looking for a special ride for events or special occasions.
GrabCar Exec driver-partners will be required to attend professional training to provide passengers with delightful service and memorable experiences. These trained driver-partners are also advised to dress professionally to elevate the overall experience for consumers.
"We hope that GrabCar Exec will be a preferred option for consumers who value quality experiences, and are seeking to travel in comfort and style as part of their lifestyle needs," added Andrew Chan, Managing Director, Transport, Grab Singapore.
GrabCar Exec will be serviced by a fleet of four and six-seater premium vehicles, which include the BMW 5 Series, Mercedes Benz E-Class, Mercedes-Benz V220, and Toyota Vellfire models. In addition, consumers can take advantage of various amenities offered, including the ability to charge their phones with the provision of a USB cable and booster seats for children.
Interested consumers can load the Grab app and select the services to book their rides. Rides start from $16.00 for GrabPet XL, and from $15.00 for GrabCar Exec.
[1]Refer to household-approved pets here: https://www.nparks.gov.sg/avs/pets/owning-a-pet/getting-a-pet/animals-allowed-for-sale 
Appendix – 1. Fare Table & Table of Surcharges for GrabPet XL
Upfront Fare Breakdown

GrabPet XL
(The fare will be based on distance and subject to additional $0.30 platform fees)

Minimum Fare

$16

Base Fare

$12

Platform Fee

$0.30

Per KM Rate

$0.83

Per Minute Rate

$0.26

Surge (excluding platform fee)

Based on demand and supply
Type of Fee / Surcharge

Details

Waiting Fee

Grace period of 5 minutes, charged $3 per 5-minute waiting block

Tolls

ERP (inclusive of any ERP for Fuji Xerox drop-off) or entry fee into Sentosa incurred from pickup to drop-off location

Additional Stops

$5 per stop up to 5 km, up to a maximum of 3 stops:

0 – 5 km: $5

5.1 – 10 km: $10

10.1 – 15 km: $15

Midnight Surcharge

Not applicable for this service

Child Seat Surcharge

$2 for the use of 1 mifold booster seat, for children between 1 – 1.35 m and between 4 – 7 years old

$5 for the use of 1 Urban Kanga / IMMI GO car seat, for toddlers less than 1 m and between 1 – 3 years old

For this surcharge to apply, the GrabPet XL driver must also be a trained GrabFamily driver, equipped with the necessary child seat.

Destination Change Mid-Trip

$3 for the change of destination

Cancellation Fee

Charged at $4 if:

Passenger cancels after 5 minutes of getting matched to a ride, or

Driver cancels the ride after waiting longer than 5 minutes for the passenger to arrive at the pickup location
Appendix – 2. Fare Table & Table of Surcharges for GrabCar Exec
Upfront Fare Breakdown

GrabCar Exec 4-Seater

(The fare will be based on distance and subject to additional $0.30 platform fees)

Minimum Fare

$15

Base Fare

$11.75

Platform Fee

$0.30

Per KM Rate

$0.75

Per Minute Rate

$0.24

Surge (excluding platform fee)

Based on demand and supply
Distance

GrabCar Exec 6-Seater

(The fare will be based on distance and subject to additional $0.30 platform fees)

0.5 km – 3 km

$23

3.1 km – 6 km

$28

6.1 km – 12 km

$43

Above 12 km

$68

Above 60 km

$98
Type of Fee / Surcharge

Details

Waiting Fee

Grace period of 5 minutes, charged $5 per 5-minute waiting block

Tolls

ERP (inclusive of any ERP for Fuji Xerox drop-off) or entry fee into Sentosa incurred from pickup to drop-off location

Additional Stops

$7.50 per stop up to 5 km, up to a maximum of 3 stops:

0 – 5 km: $7.50

5.1 – 10 km: $15

10.1 – 15 km: $22.50

15.1 – 20 km: $30

Midnight Surcharge

$10 per trip for bookings from 12 am – 6 am daily

Child Seat Surcharge

$2 for the use of 1 mifold booster seat, for children between 1 – 1.35 m and between 4 – 7 years old

$5 for the use of 1 Urban Kanga / IMMI GO car seat, for toddlers less than 1 m and between 1 – 3 years old

For this surcharge to apply, the GrabPet XL driver must also be a trained GrabFamily driver, equipped with the necessary child seat.

Destination Change Mid-Trip

$5 for the change of destination

Cancellation Fee

Charged at $4 if:

Passenger cancels after 5 minutes of getting matched to a ride, or

Driver cancels the ride after waiting longer than 5 minutes for the passenger to arrive at the pickup location