Grab and MENDAKI SENSE signs MoU to provide economic opportunities and tailored programmes to beneficiaries
The partnership underscores both parties' support to SENSE's job seekers who are interested in becoming Grab driver-partners through dedicated on-boarding and training programmes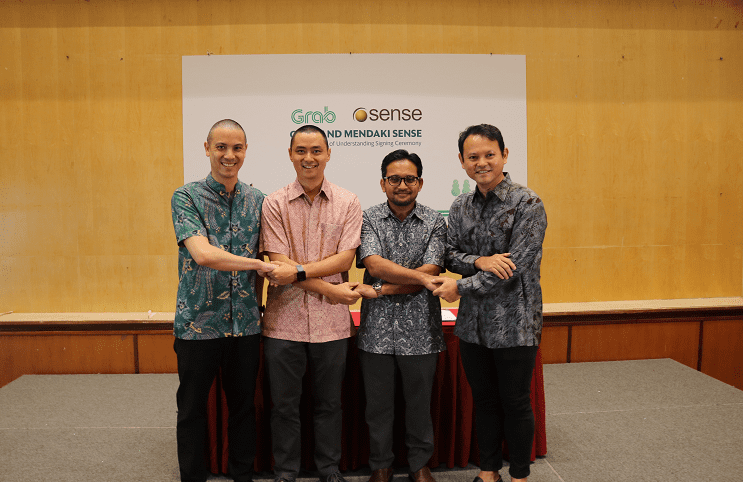 SINGAPORE – 5 July 2019 – Grab, the leading super app in Southeast Asia, today signed a Memorandum of Understanding with MENDAKI Social Enterprise Network Singapore (SENSE), the employment and training arm of YAYASAN MENDAKI, pioneer self-help group to the Malay-Muslim community. The partnership underscores both parties' support to SENSE's job seekers who are interested in becoming Grab driver-partners through dedicated on-boarding and training programmes, as well as enabling Grab's existing pool of driver-partners who are seeking other forms of gainful employment with the opportunity to upskill and re-skill through SENSE's employment facilitation services. The partnership also seeks to actively engage the community at-large by providing easier access to economic opportunities and skills for ongoing career development.
The MoU signing ceremony was graced by Guest-of-Honour Mr Zaqy Mohamad, Minister of State, Ministry of National Development & Ministry of Manpower and Deputy Chairman of MENDAKI. Mr. Yee Wee Tang, Country Head for Grab Singapore and Mohamad Faiz Selamat, Executive Director of MENDAKI SENSE, were also present to launch the partnership. The signing of the MOU was done at a Hari Raya celebration event, co-organised by Grab and National Private Hire Vehicle Association and (NPHVA). 
"At Grab, we are committed to empowering individuals who are keen to become Grab driver-partners, and also support our existing driver-partners wanting to upskill, or a change in their career. Through a tailored approach, we are equipping them with digital and soft skills as well as other relevant, transferable skills that will not only help them in their current jobs as driver-partners, but also come in useful when they decide to seek other employment opportunities. We look forward to collaborating with MENDAKI SENSE to address the needs of the community, as well as creating economic opportunities for beneficiaries in the long run." – Mr Yee Wee Tang, Country Head of Grab Singapore
"Where we are coming from, SENSE aims to provide jobs and upskilling opportunities through our programmes and services, and enable career mobility and professional development to encourage growth. Through this partnership, we look forward to welcoming and helping Grab's driver-partners who are interested in transitioning out into other industries. We hope they can benefit from our programmes and services. We are also excited to explore opportunities where our pool of jobseekers can also gain from this partnership with Grab, especially if they are interested in the idea of flexible employment." – Mohamad Faiz Selamat, Executive Director of MENDAKI SENSE.
Grab and SENSE will provide tailored programmes to encourage and make it easy for the community to upskill and reskill. These beneficiaries will be navigated to community and social services from areas such as financial literacy programmes to employment facilitation, enabled through the partnership. Key initiatives mapped out in the MoU include:
Grab to conduct tailored onboarding workshops to help beneficiaries prepare for the Private Hire Driver's Vocational Licenses (PDVL) license and training programmes to equip them with digital skills to navigate the Grab app.

MENDAKI SENSE-Grab driver-partners will be prioritised for Grab's mentorship programme, where beneficiaries will be guided by Grab's longstanding driver-partners.

MENDAKI SENSE and Grab will conduct dedicated engagement and feedback sessions.

MENDAKI SENSE will provide consultation on Singapore Workforce Skills Qualifications (WSQ) approved programmes if and when they transition out of being a Grab driver-partner. 
Beneficiaries who become part of the Grab driver-partner programme will also have access to GrabAcademy, a learning and development extension, that offers wide ranging benefits such as training programmes for driver-partners, as well as scholarships and bursaries for driver-partners' school-going children. Likewise, SENSE will also extend the availability and accessibility of its programmes and services to Grab's driver-partners and their families. 
"Previously, I did not know how to become a Grab driver, or where to go to attend courses that can help me find a stable job. With the help and guidance from MENDAKI and Grab, I have completed my PDVL assessment. This is helpful to me as I found a new way to earn and support my family." said Ahmad Tarmizi, a MENDAKI member who recently went through the pilot programme and is now a Grab driver-partner.