Get glowing with the new innisfree x GrabPay partnership in Singapore
innisfree Singapore's first brand partnership offers exclusive year-long deals and promotions via GrabPay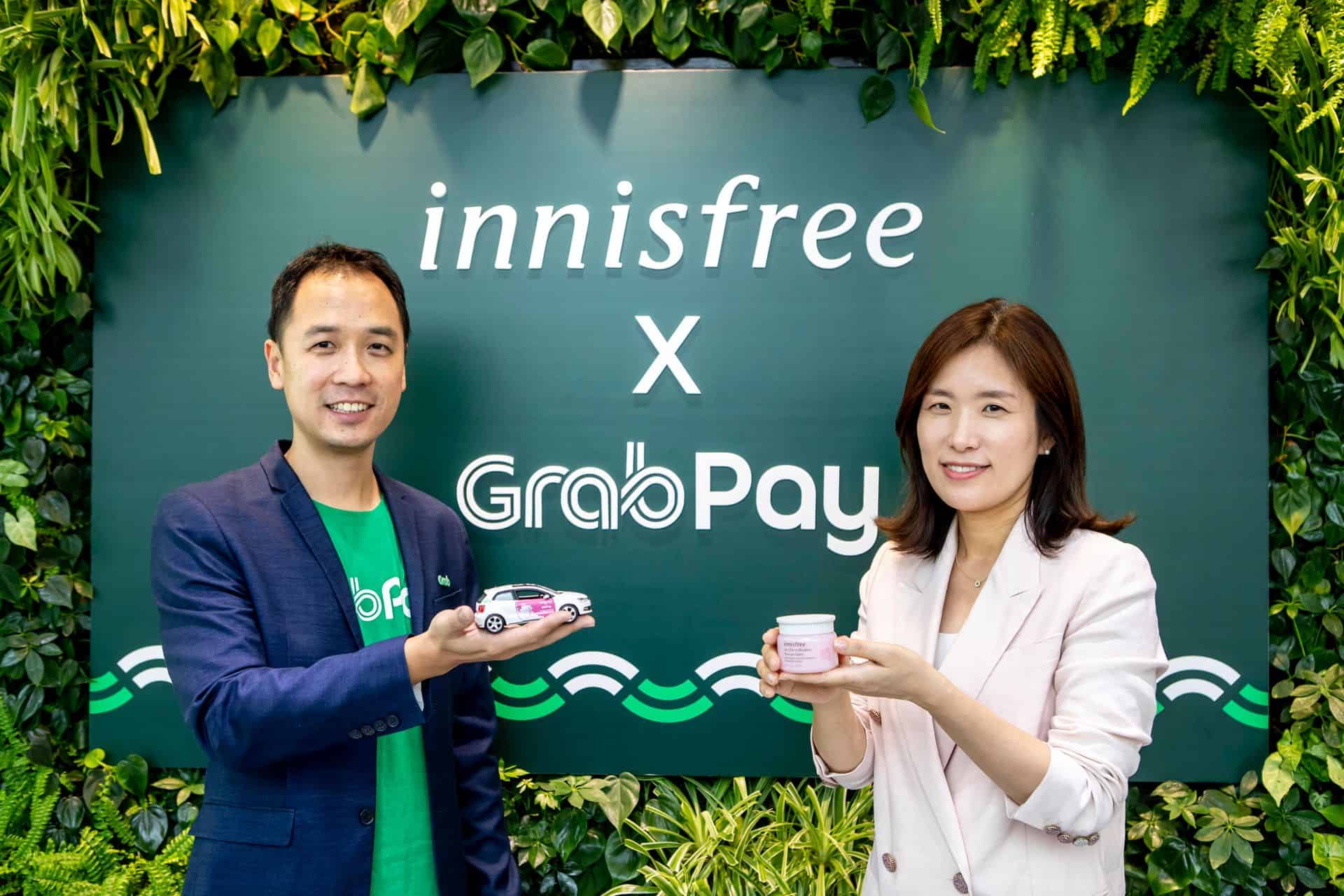 SINGAPORE, 30 August 2019 –  Calling all Millennials and Gen Zs! Korean naturalism brand, innisfree, and GrabPay, Grab's e-payment and rewards platform, have partnered together to deliver more value and convenience for your beauty and lifestyle essentials. This marks innisfree's first official brand partnership in Singapore, where you can look forward to exclusive year-long promotions and exciting perks from the two brands. Users will also experience beauty beyond the stores where they can try out the latest innisfree skincare products if they get matched to one of the 80 GrabCar rides on the road. 
innisfree and Grab have observed that natural and fuss-free essentials are fast becoming a key part of the younger generation's lifestyle. Whether it is seeking basic skincare products that helps them to achieve a bright and even complexion, or seamless and rewarding transactions for their payment and transportation needs, the partnership between innisfree and GrabPay seeks to unlock unique ways to merge beauty and convenience through various creative touchpoints.
Gary Wong, Head of GrabPay Singapore said, "Grab has become the one app that helps our customers with their daily lifestyle needs. As our customers spend more time on our app, we are challenging ourselves to provide them with a more engaging and rewarding experience both online and offline. We are incredibly excited to work with innisfree to bring the beauty experience out of stores and on to the roads for our customers. This is just a start, our customers can also look forward to a series of exclusive collaborations and promotions in-store that will unlock more value for them. These are additional perks from our GrabRewards loyalty programme that our users already enjoy whenever they use GrabPay to make payments at innisfree outlets." 
Koo Ae Ran, Senior Vice President of innisfree Marketing Division shared, "Beyond their daily beauty essentials, our customers today value exclusive and unique experiences too, and we hope to reshape how we engage with them via new and exciting initiatives. This partnership with GrabPay is a great avenue for us to create new touchpoints and reach out to a wider customer base, and we are delighted to embark on this year-long partnership in line with the launch of our new Jeju Cherry Blossom collection in Singapore." 
innisfree x GrabPay: Experience beauty on-the-go and exclusive deals all year long
To mark the event, innisfree also introduced its new Jeju Cherry Blossom Line of skincare products, along with exclusive promotions in partnership with GrabPay. Look forward to these deals between 1 – 30 September! 
Stand to win up to 300,000 GrabRewards points and innisfree products when you use GrabPay at innisfree stores

1st prize: 300,000 GrabRewards points and innisfree Jeju Cherry Blossom products

2nd prize: 200,000 GrabRewards points and innisfree Jeju Cherry Blossom products

3rd prize: 100,000 GrabRewards points and innisfree Jeju Cherry Blossom products
Bringing a unique and refreshing beauty experience right to the roads of Singapore
80 GrabCar vehicles will be dressed up in the romantic colours of the Jeju cherry blossoms. Lucky users that are matched to these cars for their Grab rides can try out the star product – the Jeju Cherry Blossom Tone-up Cream and get their hands on complimentary Jeju Cherry Blossom skincare samples during their commute, simply by scanning the QR code provided on their Grab app. 
And for the rest of the year, innisfree and GrabPay have more in store for you! 
GrabPay Day every two months, starting October

: Look forward to special promotions, on top of the base promotion of double innisfree points and 15% off selected innisfree products. 

Surprise seasonal collaborations:

Look forward to other seasonal collaborations featuring exciting perks and deals from innisfree and GrabPay!
Discover the innisfree Jeju Cherry Blossom Line (Available from September 2019)
Affordably-priced and suited for beauty beginners, the much anticipated Jeju Cherry Blossom Line is the first all-new product launch for innisfree under its 'Jeju Heritage Ingredient' line in three years. 
Developed to combat the root cause of all skin concerns – lack of hydration, the new and unique formulation of the Jeju Cherry Blossom Line is your answer to dewy-looking skin. Featuring an all-pink line-up of four compelling products including the Jeju Cherry Blossom Tone-up Cream, Jeju Cherry Blossom Jelly Cream, Jeju Cherry Blossom Lotion and Jeju Cherry Blossom Skin, your skincare goals are no longer unattainable with the Jeju Cherry Blossom Line.