Grab's new one-north headquarters to house up to 3,000 employees and its largest R&D Centre
The regional tech champion launches Batch 2 of Grab Ventures Velocity programme and reaffirms long-term commitment to Singapore at groundbreaking ceremony of its new headquarters.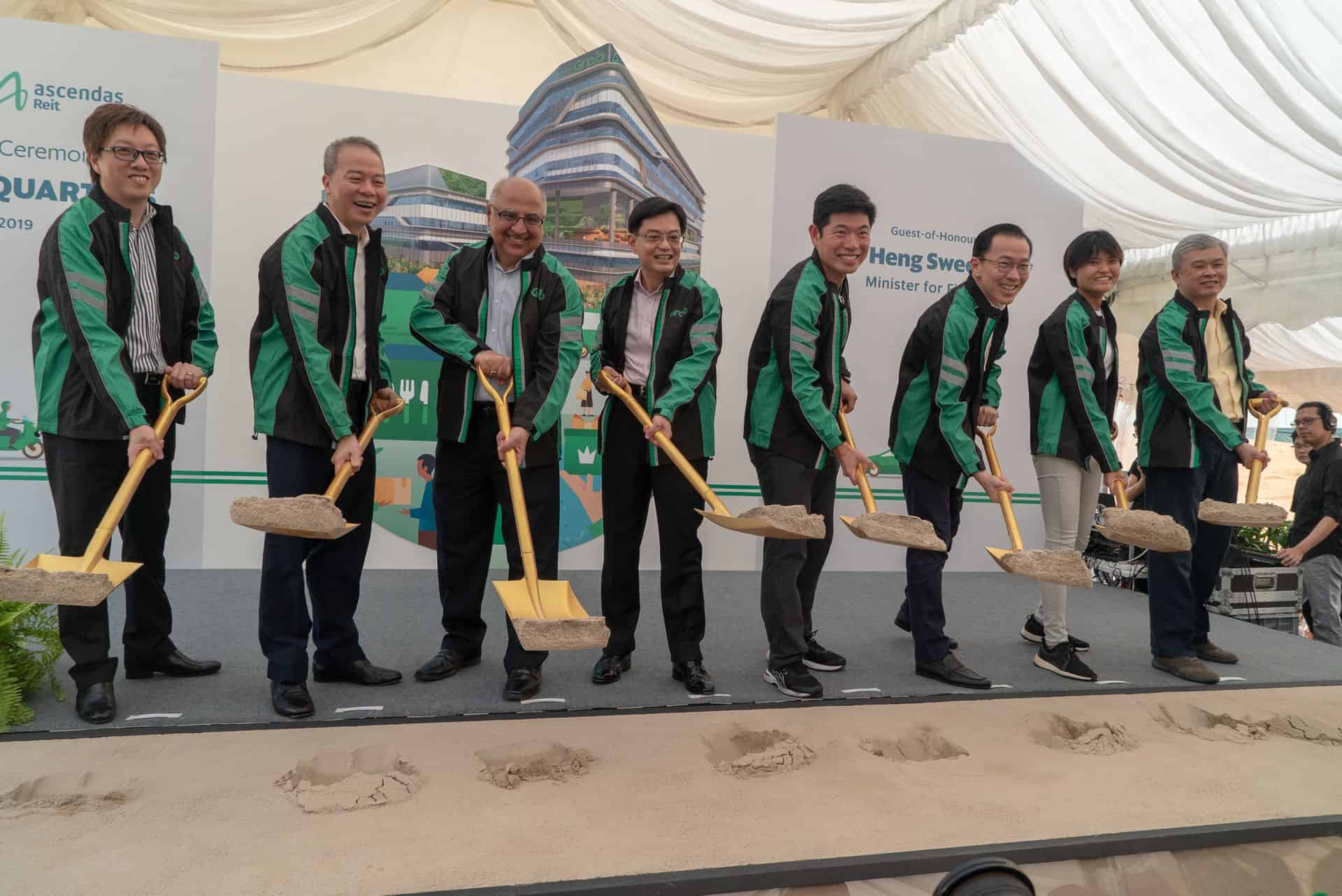 Singapore, 29 March 2019 — Grab, the leading everyday super app in Southeast Asia, and Ascendas Real Estate Investment Trust (Ascendas Reit), today held the groundbreaking ceremony for Grab's new headquarters in Singapore at one-north business park. The new building enables Grab to continue expanding its team, and will house up to 3,000 employees and its largest R&D centre under one roof. Grab also announced the launch of Batch 2 of Grab Ventures Velocity (GVV) programme, reaffirming its long-term commitment to Singapore and continued effort to grow the tech startup ecosystem in Singapore and across Southeast Asia. Finance Minister Heng Swee Keat was the Guest-of-Honour at the event.
"Singapore is our strategic base from which we have grown from a ride-hailing service provider to the leading super app in Southeast Asia. Our new headquarters represents our long-term commitment to Singapore and the region; the new space will cater to our evolving business demands as we continue to innovate and use technology to meet our consumers' daily needs, groom more tech talents, and nurture more tech startups for Southeast Asia," said Lim Kell Jay, Country Head, Grab Singapore.
"Having worked with Grab since their founding in 2012, we know that Grab is a company that constantly pushes the boundaries of innovation. Their new home and headquarters in Singapore will bring together a diverse talent pool to create new products, services and business models by deepening their capabilities in AI, data analytics, user experience and IoT. This partnership with Grab will create new and exciting technology and business jobs in a digital economy," said Kiren Kumar, Assistant Managing Director, Economic Development Board.
"We are excited to be designing and building Grab's new headquarters in this vibrant one-north community. The building is designed with lush greenery and communal spaces, providing Grab's employees with a sustainable workplace environment. one-north is also a perfect location for Grab as they continue to innovate and grow their R&D capabilities globally," said William Tay, Chief Executive Officer and Executive Director of the Manager of Ascendas Reit.
Growing tech start-up ecosystem in Southeast Asia
Grab Ventures Velocity (GVV), Grab's flagship scale-up programme for post-seed startups to test and commercialise their solutions with Grab's consumer base, was first introduced in June 2018. With support from government agencies from the region, including Enterprise Singapore (ESG), the Economic Development Board (EDB), the Info-communications Media Development Authority (IMDA) and EDB Investments (EDBI) in Singapore as well as the Ministry of Communication and Information Technology (Kementerian Komunikasi dan Informatika) and the Agency for Creative Economy (Badan Ekonomi Kreatif Indonesia) in Indonesia, Batch 1 of GVV has seen successful outcomes. A couple of the participating startups have recorded over 70% increase in business during their pilot on Grab's platform.  
Applications for Batch 2 of the GVV programme are open from now until 15 May 2019 to startups across Southeast Asia. Running from June to August 2019, the theme for GVV Batch 2 is 'empowering microentrepreneurs' and has two programme tracks:
Empower farmers

– The first track is for startups with ready solutions that can disrupt the traditional fresh groceries supply chain. These solutions will enable farmers to bring affordable and high-quality fresh groceries like fruits, vegetables and meat to consumers.

Empower small businesses

– The second track seeks innovative solutions that will help to digitize small businesses, enabling them to lower costs, simplify their operations and earn more. This track is powered by Kudo

and startups will pilot their solutions with Kudo's agent network in Indonesia.
Selected startups will be given the opportunity to pilot their solutions with Grab's users and merchant partners. They will also get access to Grab's internal and external network of C-level advisors and experts. On the technology front, the startups will leverage GrabPlatform resources, such as Grab's cloud APIs, to accelerate their product development. If they are successful with their pilots, up to two selected startups will receive partnership opportunities to scale their business with Grab.
"We recognise the challenges that startups are facing. Scaling up supply and demand and platform operations simultaneously is both a time-consuming and an expensive problem to solve. Through GVV, we will help these startups grow by providing access to Grab's vast user base and exclusive regional assets. We have the opportunity to pay it forward and support other startups to scale across the region and develop solutions customised for Southeast Asia," added Lim Kell Jay.
To apply to GVV Batch 2, please visit ventures.grab.com/gvv.html.