Grab to drive inclusive growth with new regional GrabScholar Programme and GrabMerchant Centre in Singapore
Grab opens new Headquarters @ Singapore at event graced by Singapore Deputy Prime Minister Lawrence Wong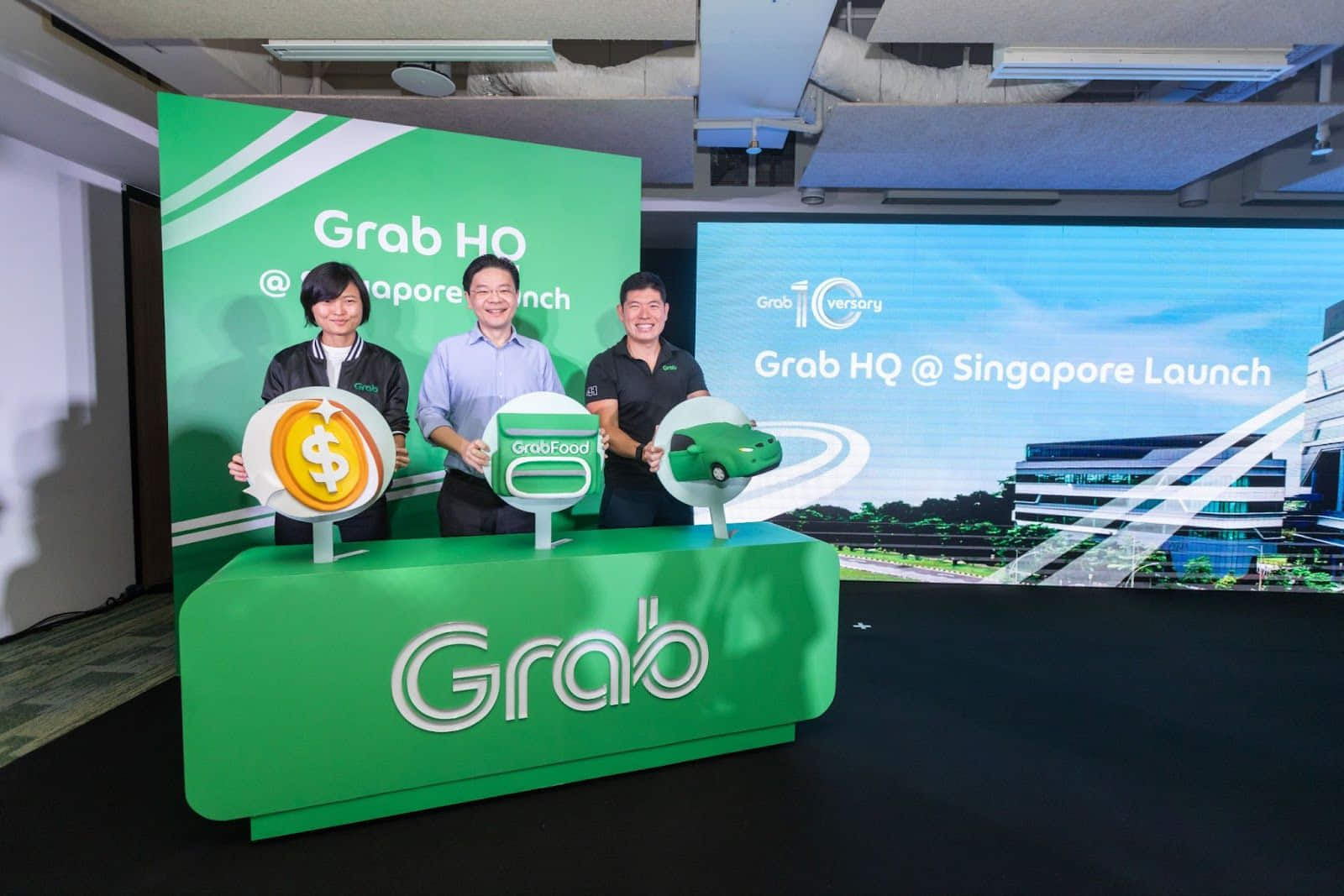 Tan Hooi Ling, Co-Founder of Grab; Deputy Prime Minister and Minister for Finance Mr Lawrence Wong and Anthony Tan, Co-Founder and Group CEO of Grab, officially launched Grab HQ @ Singapore on 11 August.
SINGAPORE, August 11, 2022 – Grab, Southeast Asia's leading superapp, announced two new initiatives to drive inclusive growth in Southeast Asia today at the official opening of its Headquarters @ Singapore. The new initiatives include a US$1 million GrabScholar programme to disburse scholarships and bursaries to students across Southeast Asia, and a new GrabMerchant Centre to help small businesses grow online. Grab Headquarters @ Singapore was launched in the presence of Singapore's Deputy Prime Minister and Minister for Finance Lawrence Wong.
"As we celebrate Grab's 10th anniversary this year, we hope that our announcements today will help small businesses and our future workforce upskill and maximise their opportunities, even in this challenging macro environment. Providing access to digital tools can be a powerful way to ensure all Southeast Asians can equally participate in – and benefit from – the rising digital economy, the same way 10 years ago when our driver-partners learned how to use their smartphones to earn incomes," said Anthony Tan, Group CEO and Co-founder, Grab.
"Grab's new headquarters in Singapore is a testament to Singapore's growing vibrant digital ecosystem. As Grab grows to 3,000 employees working across corporate, business and tech functions, more exciting and innovative capabilities will be created for our digital economy. We look forward to Singapore's continued partnership with Grab to create exciting job opportunities for Singaporeans, and to strengthen Singapore as the location for high-end R&D and innovation," said Chan Ih-Ming, Senior Vice President, Digital Industry Singapore (DISG).
GrabScholar programme to provide US$1 million worth of scholarships and bursaries annually
Grab has committed an annual US$1 million from the GrabForGood Fund towards the GrabScholar programme, which will provide university scholarships and educational bursaries across all countries Grab operates in Southeast Asia.
GrabScholar programme plans to award over 2,000 scholarships and bursaries annually. It will cover tuition and study-related expenses for underprivileged children to attend primary, secondary or vocational schools as well as universities. Internship opportunities will also be offered to tertiary students to develop their professional aptitude and prepare them for full-time roles when they graduate.
GrabScholar was launched in Indonesia last month in partnership with Yayasan Benih Baik Indonesia[1]. This is in addition to existing scholarship and bursary initiatives that are offered to the children of Grab's driver-, delivery- and merchant-partners in Singapore and Thailand. This has helped to open access to quality education and transform lives locally. The new region wide GrabScholar programme is an expanded effort to support the broader communities across Southeast Asia.
"We are pleased to partner with Grab to offer the scholarships and bursaries for underprivileged children in Indonesia. Clearly, creating a social impact is at the core of Grab's mission — the tech company has invested in many different projects to support the local communities. With their strong support, we hope to contribute to the development of inclusive communities, improving the quality of life of their families in the long term," said Andi F. Noya, Co-founder of BenihBaik.
GrabMerchant Centre to help small businesses thrive online
 Grab has been helping small businesses come online in the past two years. As Southeast Asia leaves behind the worst of Covid-19 lockdowns and drives towards recovery, these SMEs have also stabilised their delivery business' operations and are now ready to scale.
To facilitate this, Grab will soon launch its first-ever GrabMerchant Centre to provide 1-on-1 business consultation services for our SME merchant-partners. It will be located at Grab HQ @ Singapore. GrabMerchant Centre is a one-stop hub dedicated to helping small businesses optimise their online presence, maximise GrabFood, GrabMart, GrabFin and GrabAds services for their businesses, and learn to use digital tools to grow.
GrabMerchant Centre provides a suite of services:
1-on-1 business consultation with Grab Account Managers. Merchant-partners can tap on Grab's Southeast Asia network, access to data insights and multi-vertical ecosystem. Account managers will provide dedicated consultations to advise on long-term growth plans and provide actionable business insights to help merchant-partners grow to the next level.
Prioritised operational assistance. Merchants are able to subscribe to "Merchant Concierge Service", a prioritised hotline to get direct assistance to solve any operational issues. This ensures their delivery business runs smoothly and reduces downtime.
Workshops and networking. The GrabMerchant Centre will regularly organise upskilling workshops to help merchant-partners stay abreast of the latest industry trends and developments. These will also serve as networking sessions to facilitate business connections and a small business community for collective learning. It launched its first-ever GrabMerchant Open House on 5th August 2022 which was well-received by merchant-partners.
The 1-on-1 business consultations were piloted earlier this year, with success stories of how the data insights provided helped small businesses grow their online delivery business volume.
Shannon Lua, Founder of Butter Studio, a bakery chain with four outlets in Singapore, shared: "When COVID-19 hit, I thought I would no longer be able to pursue the big plans I had for Butter Studio. Thankfully there were platforms like Grab to help us maintain our accessibility to customers. We even reached a new customer segment through GrabFood – those who required super last-minute cake deliveries.
Our online sales saw a spike and it motivated us to keep doing better. I decided to sign up for a few sessions with GrabMerchant Centre, which inspired me to make systematic improvements to our delivery offering, like enhancing our menu with better visuals and descriptions, and changing up our operational flow so that our staff could effectively manage walk-in and online orders. Since the first session, we have seen a 30% increase in GrabFood sales on average. I am glad to have kept all four Butter Studio outlets open and we're back to exploring expansion plans for the business."
 Filzah Miranti Binte Mohd Dawood, Co-Owner, Gerak Nenek Obek, a Malay food stall, shared, "Trying to keep our small stall open during COVID-19 was not easy – we lost many of our regular walk-in customers. I knew it was important to start going online even though my mum was a bit apprehensive initially. I decided to just give it a try and registered our stall on GrabFood. Later, I also signed up for the GrabMerchant Centre service. Through it, I learnt how to use the Ad Manager tool on our merchant app to customise our own banners, and I was advised to sign up for the Islandwide Delivery service to expand my stall's reach. We saw our GrabFood orders more than triple in three months and half of them come from Islandwide Delivery service. My mother is now a big fan of Grab, she will chide me whenever I forget to turn on the GrabFood Merchant app."
More details about GrabMerchant Centre's services and related charges can be found here.
Grab HQ @ Singapore is located at one-north business park. Spanning nine floors and more than 42,000 sqm, it brings about 3,000 Grabbers and a R&D Centre under one roof. Apart from the first GrabMerchant Centre, it will also be home to the digibank team. The headquarters is one of two headquarters Grab has in the region. The dual headquarter is based in Jakarta, Indonesia, and serves as Grab's regional innovation hub for small businesses.
[1] Yayasan Benih Baik Indonesia is a foundation that is focused on helping people in need and vulnerable groups in improving quality of life in Indonesia.