Looking to lock-in your earnings by the hour? You can now accept hourly bookings.

Hire is a new ride-hailing option that provides flexibility and convenience to passengers who wish to hire a driver by the hour. Sign up today to maximise your earning opportunities*!

*Note: Hire is available for GrabCar Premium and GrabCoach driver-partners only.

Hire is currently available on Android Grab Driver App only.
Further optimisation is required for iOS users, which is scheduled for mid-October.
We'll update you once it is ready.
All-Inclusive Fixed Prices
Prices are inclusive of fuel, ERP and standard parking fee. *Not inclusive of valet parking and location/midnight surcharges.
Standard cancellation policy applies too.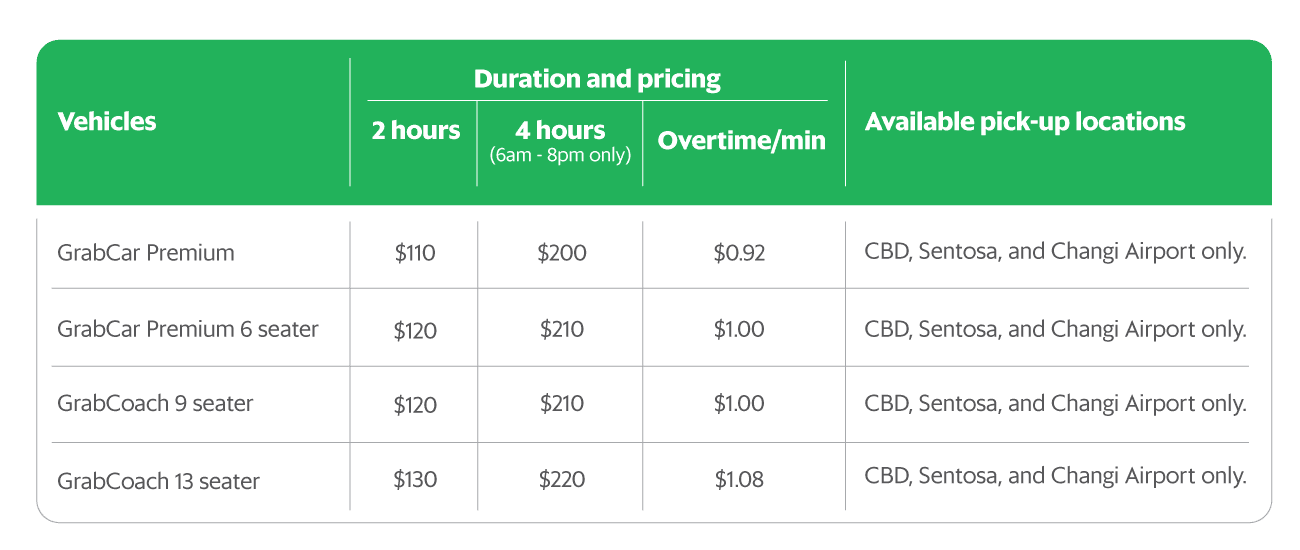 2-hour packages: Available all day
4-hour packages: Available for booking from 6 am – 8 pm daily (e.g. a booking made at 7:59 pm will end at midnight)
Frequently Asked Questions
What does the fixed fare comprises?
The fixed fare includes fuel, ERP, and standard parking fee. Therefore, please do not add these charges to the trip fare at the end of the ride.
What surcharges are excluded from the fixed fare?
The following surcharges are excluded in the fare:
Valet parking
Location surcharge (e.g. Sentosa island admission fee)
Midnight surcharge
If any of these surcharges are incurred during the trip, you may add it to the 'Others' field at the end of the booking.
What if I incur a large amount of ERP and/or parking charges during a booking?
ERP and standard parking charges are included in the fixed fare and should not be added as surcharges at the end of the ride. However, if the amount incurred is significant and you feel that a review is required, please contact Grab Support for assistance. Ensure that you keep the receipts for verification purposes and we will review it on a case-by-case basis.
How does the midnight surcharge apply?
Midnight surcharge is applicable at $10 per trip for bookings from 12 am – 6 am daily for GrabCar Premium, GrabCar Premium 6, GrabCoach 9, and GrabCoach 13. This includes Hire bookings that cross over midnight (e.g. a 4-hour trip from 9 pm – 1 am)  or commences before 6 am (e.g. a 2-hour trip from 5 am – 7 am).
I'm on Auto Accept. Why am I receiving job cards for Hire bookings?
Hire jobs generally require longer time commitment — the job card notification, even when you're on Auto Accept, will prevent you from 'auto accepting' a Hire booking when you're not ready to do so. For easy identification, the booking description in the job card will appear as grey in colour.
When I receive a Hire job card, how long do I have to accept the booking?
You have 30 seconds to accept a Hire booking.
What happens if I ignore or cancel a Hire booking?
When you ignore or cancel a Hire booking, your Acceptance Rate (AR) and Cancellation Rate (CR) will remain unaffected. However, do note that Driver Timeout feature* is applicable:
If you ignore a Hire job, it will count towards the standard Driver Timeout feature.
If you cancel a Hire job, the Driver Timeout feature will not come into effect.
*Not applicable to GrabCoach drivers and jobs.
Will Hire bookings contribute towards incentives?
No, Hire bookings do not contribute towards incentives.
How much commission does Grab charge for Hire bookings?
The commission for Hire bookings is 20%.
What if my passengers request to travel out of Singapore?
Cross-border commutes (e.g. Malaysia) are not permitted. Should passengers make such requests, kindly cancel the booking before the trip starts, or contact Grab Support for assistance if you are in the middle of a trip.
Where should I wait for my passengers during a stopover?
You are encouraged to wait at a nearby location that is safe and legal. Do note that the trip fare includes standard parking charges.
I can't find my passenger after a stopover. What should I do?
Please contact your passengers via GrabChat. If you're still unable to get hold of the passengers, ensure that you are parked at a nearby location that is safe and legal. Keep your Grab Driver App running and continue attempting to contact your passengers or wait for them to contact you until the duration of the Hire booking ends. Please do not end the trip prematurely.
Will I receive any compensation if the passenger cancels after 5 minutes of booking (i.e. late cancellation) or doesn't show up for the ride (i.e. no-show)?
Yes. The current policy for GrabCar Premium and GrabCoach stands.
My passengers left something in the vehicle at the end of the trip. What should I do?