Pezzo Delivery Singapore
For a good variety of pizzas that are bursting with flavour and character!
Get the App
For a good variety of pizzas that are bursting with flavour and character, Pezzo is your best bet! Pezzo pizza has changed the game by offering individual slices of pizza instead of just the usual pan pizza, so you get an expanded range of dining options for an exciting meal. From fan-favourites to innovative creations, there's sure to be a pizza flavor to suit everyone's preference. The best thing is, you can get single slices of each flavour and try them all! Order in Pezzo delivery from GrabFood's food delivery app and get deliciously piping hot, handcrafted pizza delivered straight to your doorstep.
Mealtimes are never boring with the great assortment of pizzas available on the Pezzo menu for you to choose from! Loaded with various toppings and prepared with care, have fun deciding on your favourite Pezzo pizza! If you prefer something familiar, the perennial favourite Hola Hawaiian or the classic Pepperoni Party is a perfect choice. For the adventurous, spice things up with the fiery Hot Chick. Meat Munchers is a no-brainer for the meat lover. For a vegetarian option, there's Very Veggie. Don't forget BBQ Bonanza, Cheesy Cheese, Chicken Delight and the ultimate pizza, the Supremo as well!
While pizza is the main star, Pezzo also has other delectable dishes that'll perfectly round off your meal. If you're a big eater, why not get a Chicken Lasagna to go with your pizza? Alternatively, complement your pizza with sides such as Garlic Loaf, Spicy Drumlets or Spicy Wings for a complete meal.
Sometimes it's hard to decide on a single pizza flavour, especially when you're sharing with family or friends and everyone has their own favourites. Save the fuss over what to order because Pezzo has got your back! Pezzo is one of the few pizza joints in Singapore that offer individual slices of their mouth-watering pizzas, so you can enjoy just one slice or select slices from different kinds of pizzas and combine them to make your own original pizza creation. The sky's the limit when it comes to creating unique combinations of Pezzo pizzas, so have fun to customize your order with the 'Mix and Match' option that'll leave everyone satisfied!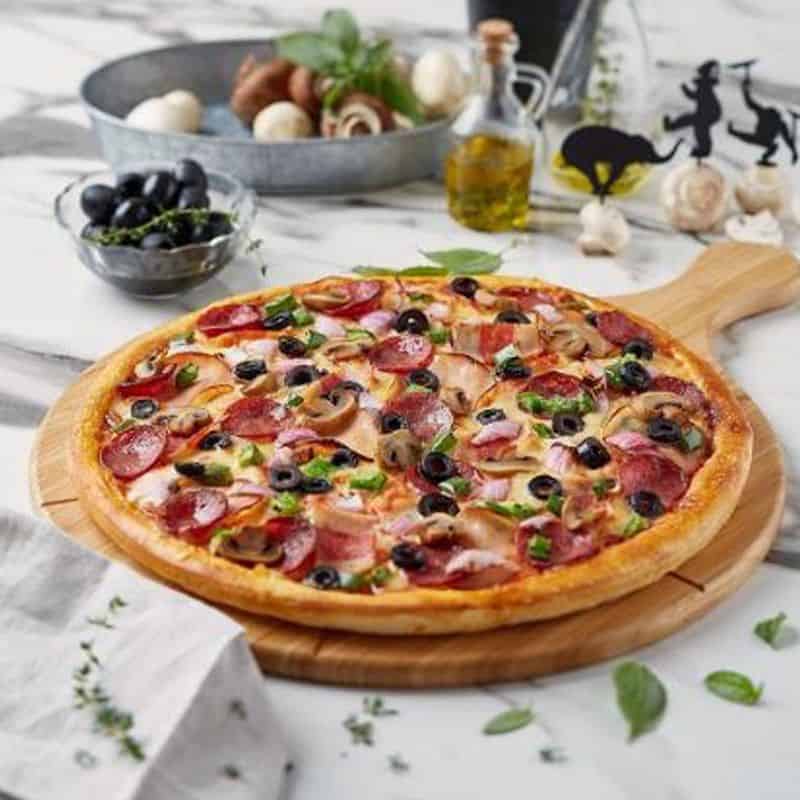 If you thought it couldn't get any better at Pezzo, think again! Pezzo has a variety of delivery combos suitable for every occasion, be it a simple meal alone or a huge party in need of some yummy food. When you want a quick bite that's also filling, treat yourself to an O Solo Mio, which consists of a slice of pizza, along with your choice of side and a drink. If you're with a friend, get the Buddy Combo. It comes with 3 slices of pizza, 1 garlic loaf and 2 drinks, just the right meal to bond over. For a large get-together, look no further than the Pan Carnival combo, where you get 2 full 14-inches pan pizza that's the perfect size for sharing.
Getting an individual slice of pizza or choosing a pizza flavour with your friends is no longer a hassle when you make an order at Pezzo. You'll truly be spoilt for choice. Simply make your order with GrabFood's food delivery app in a few easy steps. Let your pizza party begin!