Click here for the English version
Memandu pada musim perayaan adalah sesuatu yang produktif dan anda boleh menjana pendapatan yang lumayan. Walau bagaimanapun, pada hari yang paling sibuk dalam setiap tahun, anda perlu menghadapi pelbagai situasi, ada yang menyenangkan hati dan ada yang tidak. Oleh itu, kami ingin kongsikan beberapa tip dengan rakan-pemandu cara untuk menghadapi situasi yang tidak terduga.
Tip 1
Sekiranya kejadian yang tidak diingini berlaku, hentikan kereta di sebelah jalan sebelum menangani sebarang masalah yang telah berlaku. Keselamatan adalah keutamaan. Anda juga dinasihati untuk menukar butang kesediaan anda supaya tiada tempahan akan diterima. Ini akan mengekalkan kadar pembatalan anda pada kadar sedia ada.
Tip 2
Ambilkan gambar sebelum mengendali sebarang kotoran atau kerosakan. Dapatkan gambar yang jelas menunjuk tempat yang terjejas kerana bayaran balik untuk pembersihan kecil/caj pemulihan memerlukan bukti seperti gambar dan resit.
Anda boleh menuntut sehingga RM150 untuk sebarang kerosakan kecil yang berlaku ke atas kenderaan anda. Bukti (gambar dan resit) perlu dihantar bersama laporan anda untuk membuat tuntutan.
Senarai kerosakan kecil termasuk:
Muntahan

Tumpahan makanan dan minuman

Kemek dan calar (dalaman dan luaran kenderaan anda

)

Kotoran tempat duduk disebabkan oleh penumpang
*Sila ambil perhatian bahawa polisi adalah berdasarkan kepada keadaan tertentu kerana setiap kes adalah berlainan. Semua tuntutan perlu dibuat dalam masa 14 hari dari tarikh kejadian berlaku.
Bagaimana membuat tuntutan melalui Aplikasi pemandu Grab:
Tekan

'Bantuan' di dalam aplikasi pemandu anda

Pilih 'Pusat Bantuan'

Tekan 'Lapor Isu yang Lepas'

Pilih 'Maklumbalas tentang Penumpang'

Tekan pada 'Penumpang Mengotorkan atau Mengakibatkan Kerosakan pada Kereta Saya'

Pilih trip yang berkenaan
Tekan di sini untuk membuat tuntutan melalui laman web.
Tip 3
Sama ada menghadiri kiraan undur untuk menyaksikan bunga api atau meluangkan masa dengan yang tersayang sampai lewat, sesetengah penumpang akan berasa letih. Keadaan ini mungkin akan meningkatkan kebarangkalian ketinggalan barang di dalam kereta. Anda boleh menghubungi kami dengan serta-merta untuk bantuan sekiranya kejadian ini berlaku. Anda juga boleh layari sini untuk melapor kes ketinggalan barang.
Tip 4
Permintaan tinggi untuk tempahan biasanya adalah dari pukul 9 malam sampai pukul 11 malam kerana kebanyakan orang akan keluar untuk kiraan undur. Anda juga boleh jangkakan permintaan akan menjadi tinggi selepas tengah malam kerana itu masanya orang ramai akan pulang.
Keadaan ini menjadi cabaran untuk memandu apabila kesesakan lalu lintas berlaku.
Untuk rakan-pemandu di bandar-bandar yang lebih besar seperti Lembah Klang, Johor Bahru, Penang, Melaka, Kuching dan Kota Kinabalu, pastikan setiap minit di jalan raya adalah diguna dengan sepenuhnya. Rujuk Jadual Time Booster untuk maksimakan pendapatan anda pada hari tersebut!
Untuk rakan-pemandu di bandar yang lain, sila rujuk kepada bahagian insentif dalam-aplikasi apabila Malam Tahun Baru semakin hampir.
Tip 5
Hentikan pemanduan sekiranya anda tidak lagi dapat membawa penumpang atau kereta anda bukan dalam keadaan yang teratur untuk terus membawa penumpang. Lagipun ini adalah hari pertama tahun baru!
---
GrabAcademy
Untuk menambahbaik kehidupan rakan-pemandu, kami juga telah melancarkan GrabAcademy, satu program percuma yang direka khas untuk membantu rakan-pemandu mempelajari kemahiran baru untuk kehidupan seharian mereka.
Bersempena dengan Hari Orang Kurang Upaya Antarabangsa, rakan kami dari National Council for the Blind Malaysia (NCBM) dan Malaysia Confederation of the Disabled (MCD) telah membantu kami mengendali kursus Cara untuk Membantu Penumpang Kurang Upaya.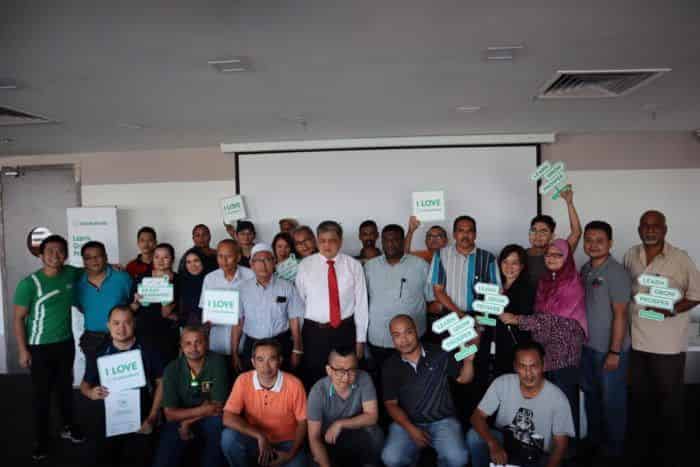 Grab juga telah mengadakan Sesi Lepaklah untuk rakan-pemandu yang pekak. Sebanyak 31 rakan-pemandu telah menghadiri sesi tersebut. Tip-tip tentang cara untuk berkomunikasi dengan penumpang dan perkara yang perlu dilakukan semasa berhadapan dengan situasi yang mencabar telah dikongsi. Kami juga telah mendapat maklumbalas yang dapat membantu kami memahami pengalaman rakan-pemandu.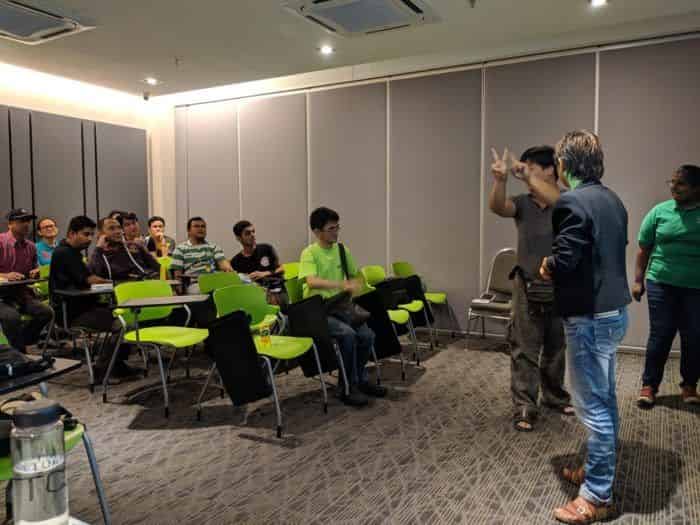 ---
GrabCorner
Ingin ketahui prestasi anda di dalam platform Grab atau mendengar maklum balas daripada penumpang anda setelah trip dilengkapkan? Kini anda boleh dengan GrabCorner!
Di dalam bahagian baharu di dalam aplikasi pemandu ini, anda boleh mengetahui jumlah trip yang anda telah lengkapkan dan jumlah penilaian 5 bintang yang anda terima daripada kesemua trip tersebut. Selain itu, anda juga boleh dapatkan tip memandu harian dan juga poll yang dipilih khas untuk anda.
*Hanya untuk peranti Android sahaja. Sila kemaskini aplikasi anda ke versi terkini.
---
Ganjaran GrabAllStars – Info Bulanan
GrabAllStars adalah sebuah program yang memberikan faedah tambahan kepada rakan-pemandu dengan pelbagai pilihan daripada pelbagai rakan-niaga Grab. Ini termasuk harga yang berpatutan bagi perkhidmatan untuk mengurangkan perbelanjaan harian anda.
Berikut adalah antara ganjaran yang menarik untuk ditebus pada bulan ini:
*Hanya terdapat di Lembah Klang, Negeri Sembilan, Pulau Pinang, Ipoh, Johor Bahru, Melaka, Kuching and Kota Kinabalu.
Sila harap maklum bahawa semua ahli komuniti Grab diwajibkan untuk mematuhi Kod Tatalaku dan Terma & Syarat Perkhidmatan.