Grab announces GrabCares programme to alleviate impact of COVID-19 in Thailand
Alleviating the impact of COVID-19 through a series of support measures for merchant-partners and micro, small and medium-sized enterprises (MSMEs), government and healthcare professionals, driver- and delivery-partners, as well as Grab users and the general public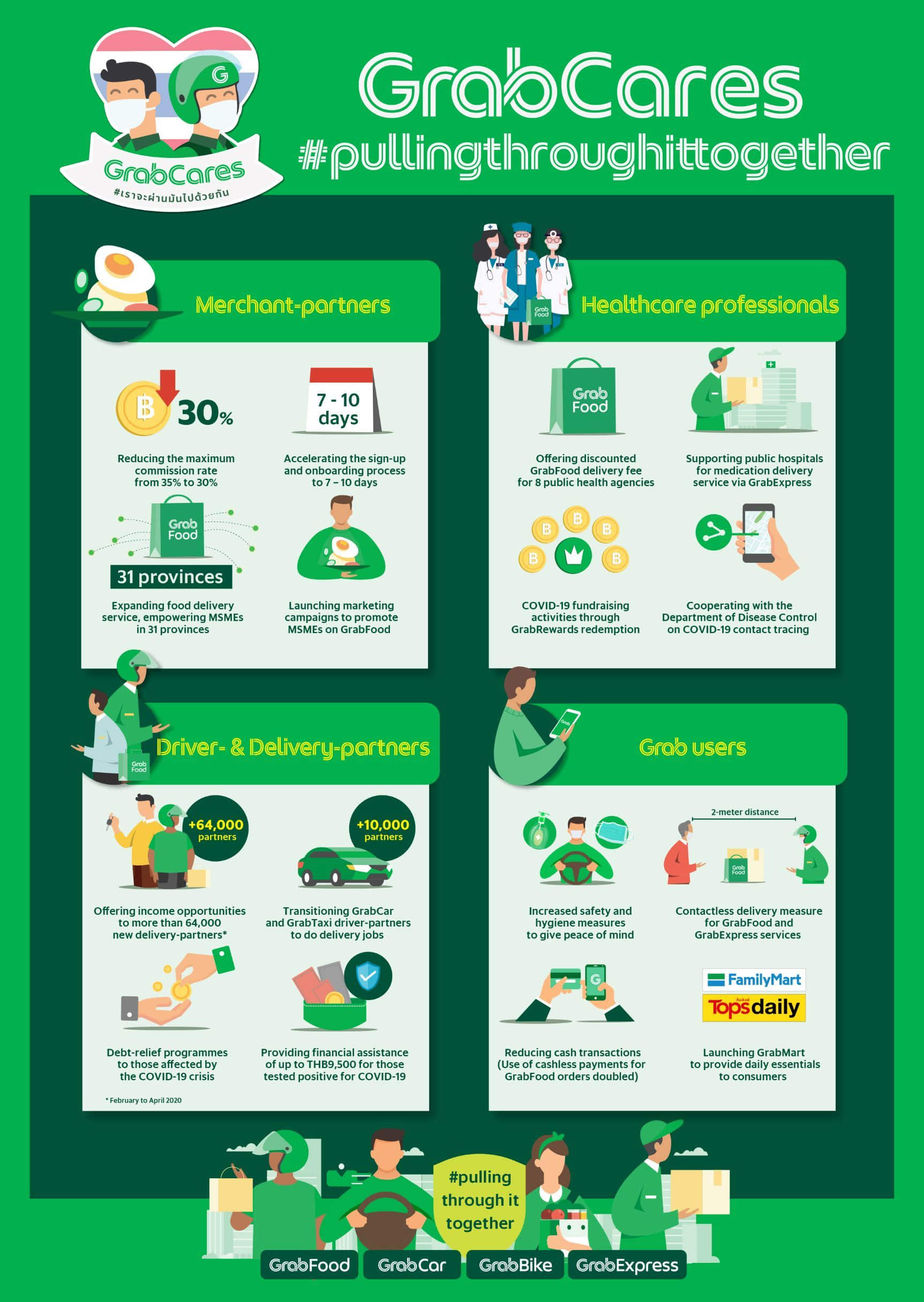 Bangkok – Grab, the leading everyday everything super app in Southeast Asia, today announced the GrabCares #pullingthroughittogether programme aimed at alleviating the impact of COVID-19 through a series of support measures for merchant-partners and micro, small and medium-sized enterprises (MSMEs), government and healthcare professionals, driver- and delivery-partners, as well as Grab users and the general public.
The support measures include a reduction in the maximum commission rate for GrabFood merchant-partners; accelerating the merchant sign-up and onboarding process; recruiting more than 64,000 delivery-partners to meet increasing demand for food, groceries and package deliveries; and transitioning GrabCar and GrabTaxi driver-partners to do food delivery jobs and earn alternative sources of income. Grab is also raising safety and hygiene standards to give consumers' peace of mind and providing support to government and healthcare professionals in the fight against COVID-19.
Tarin Thaniyavarn, Country Head of Grab Thailand, commented, "The COVID-19 situation in Thailand has increased in severity and many are concerned about the impact it has on       livelihoods and the economy. Grab Thailand has been closely monitoring the situation since the beginning of the outbreak and has continuously adjusted its business plan and approach       to cope with the evolving situation. Our team is committed to doing our very best to serve the rising demand for daily essential services, while ensuring we maintain the highest safety standards for all stakeholders in our ecosystem. Through the launch of GrabCares, we are taking another step to provide greater support to alleviate the impact of COVID-19 on our community."
I: Merchant-partners and MSMEs
1.1) Supporting MSMEs in generating more revenue through GrabFood
Effective 1 April, Grab will reduce the maximum commission rate for GrabFood merchant-partners (excluding GrabKitchen) from 35% to 30%. This will help reduce the financial burden on merchant-partners.
Grab has revamped the merchant sign-up and onboarding process and doubled the size of its support team to serve increased GrabFood merchant applications. With merchant applications tripling to over 2,000 daily, Grab Thailand aims to speed up the application process to 7 to 10 days, from an average of 14 to 21 days. This will provide merchants in Greater Bangkok and outer-cities quicker access to additional income opportunities.
1.2) Expanding GrabFood to more provinces to empower more MSMEs    
Over the past three months (from January to March 2020), GrabFood has expanded its service to eight provinces including Chonburi, Rayong, Nakhon Pathom, Surat Thani, Nakhon Si Thammarat, Lampang, Uttaradit, and Mahasarakham. Grab aims to bring GrabFood to nine more provinces such as Ratchaburi, Petchburi, Surin, Nonkhai, etc. by June. This will help digitally transform even more MSMEs, offering them much needed business revenue from online food orders during this challenging Covid-19 period where restaurant dine-ins and walk-ins have dwindled significantly.
1.3) Promoting local MSME merchant-partners through exciting campaigns on GrabFood
Grab has launched the "Support Local Restaurants" campaign to promote smaller brands and MSMEs on GrabFood. With increased visibility on the Grab app, Grab hopes to boost their sales by at least six times.
II: Government agencies and healthcare professionals
2.1) Collaborating with government agencies to prevent and control the spread of COVID-19     
Grab Thailand has been supporting the Department of Disease Control, Ministry of Public Health on contact tracing to identify individuals who may have come into close contact with a COVID-19 patient.
2.2) Supporting Public Health agencies' initiatives and extending our appreciation to healthcare professionals
From March 26 to June 30, Grab is offering discounted food delivery fees to officials from the Department of Disease Control as well as physicians, nurses and healthcare workers from health organizations as well as seven public hospitals including Bamrasnaradura Infectious Diseases Institute, Rajprachasamasai Institute, Ramathibodi Hospital, King Chulalongkorn Memorial Hospital, Rajavithi Hospital, Siriraj Hospital and Siriraj Piyamaharajkarun Hospital.
Grab Thailand has partnered public hospitals including Police General Hospital and Chulalongkorn Hospital to provide on-demand medicine delivery via GrabExpress so that patients can reduce the need to travel to hospitals.
Grab users can support COVID-19 pandemic-related projects e.g. Ramathibodi Foundation by donating their GrabRewards points.
III: Driver- and delivery-partners 
3.1) Providing income opportunities for Thai people    
Grab will continue to bring new delivery partners on board to provide them with additional income opportunities through food, groceries and package delivery jobs. This is critical in light of an economic slowdown caused by the COVID-19 outbreak. From February to March, Grab has onboarded more than 29,000 new delivery-partners and plans to recruit 35,000 more partners in April to serve the rising demand for delivery services as a result of social distancing measures instructed by the government.
GrabCar and GrabTaxi driver-partners whose income have been greatly impacted due to decreased tourist arrivals and reduced travel by local passengers can access alternative sources of income by taking on food and package delivery jobs. Grab started a pilot programme on March 25 in which more than 10,000 driver-partners can earn additional income through food delivery in Bangkok, Nakhon Pathom and Chonburi.
A debt-relief programme is in place to help driver-partners affected by the COVID-19 crisis through a series of measures including the suspension of principal repayments, reduced minimum payments, loan tenure extensions and interest-only repayments.
3.2) Caring for Partners' Health and Safety    
Grab has provided more than 50,000 face masks and over 3,000 disinfectant sprays and hand sanitisers to driver- and delivery-partners since January 2020, along with a 50% discount for car-cleaning services. Going forward, Grab will provide cloth masks to partners due to a shortage of face masks.
From January to February, Grab collaborated with the Department of Disease Control, Ministry of Public Health, to offer free health check-ups and flu vaccinations to over 3,000 GrabTaxi driver-partners. Grab has also provided driver-partners who are at risk a subsidy of THB 500 for medical checkup expenses, as well as financial support of THB 2,000 for driver-partners who have tested positive for COVID-19.
Grab has also partnered with Muang Thai Life Insurance to provide all driver- and delivery-partners who have tested positive for COVID-19 with THB 500 per day in compensation, up to 15 days.
IV: Grab users and the general public   
4.1) Increased safety measures to give users peace of mind and confidence with Grab services
Grab has continued to conduct education and awareness campaigns on health and hygiene practices for driver- and delivery- partners. Grab is also encouraging merchant-partners, including GrabKitchen, to maintain the highest safety standards of food preparation and handling. In addition, Grab has cooperated with the Bangkok Metropolitan Administration (BMA) to implement body temperature checks for delivery partners before entering restaurants in many parts of the city.
We have launched 'Contactless Delivery' to ensure both customers and delivery-partners maintain a 2-meter distance at all times. All partners are also encouraged to strictly follow the eight safe food delivery regulations by the Department of Health, Ministry of Public Health. In addition, delivery-drivers are required to stand at least one meter away from each other while queuing up at restaurants.
To reduce the physical exchange of cash during this outbreak, Grab is promoting the use of GrabPay cashless payments, and working with banks to promote digital payments. In fact, the use of cashless payment for GrabFood orders has doubled in the past few weeks.
4.2 Providing daily essentials to consumers
Grab has partnered with Central Food Retail Group to launch GrabMart, which provides consumers another convenient way to purchase daily essentials online, in addition to the Groceries feature which connects shoppers with Tops Supermarket and HappyFresh delivery services. The first phase of GrabMart was launched on March 27, enabling Grab users to order food and daily essentials from over 230 FamilyMart branches. The service will soon be expanding to include Tops Deli.
"We know this is a very challenging time for everyone, and on behalf of Grab in Thailand, we want to express our appreciation and thanks to the doctors, nurses and healthcare professionals who are working tirelessly to battle this pandemic. We also want to thank our merchant-partners for ensuring the highest food safety standards, as well as our driver- and delivery-partners for providing essential services that keep our communities going. Grab will continue to support the community through this difficult time, and we are fully committed to overcoming this crisis together with the Thai people," said Tarin.
#GrabCares #pullingthroughittogether