Being transparent and accountable for our safety performance is essential for us to give confidence to all our ecosystem stakeholders – be it our users, driver-partners, delivery-partners or merchant-partners. When we launched #SaferEveryday last October, our co-founder Hooi Ling made Grab's safety promise to bring preventable incidents on our platform down to ZERO.
As the leading super app in Southeast Asia, we want to take the lead in not simply meeting, but more importantly, setting a higher bar for safety standards to level up the industry altogether to create a safer Southeast Asia.
Today, when we look at the availability of safety data in the region, we noticed that there is no uniform industry standard for reporting data on safety incidents. To determine whether ride-hailing has contributed to a safer Southeast Asia, we need data to consistently and accurately compare reports against ride-hailing drivers versus other public transportation modes.
This is one key project we want to proactively work with ASEAN governments, global companies and civil society organisations to set for the industry. We are committed to releasing a detailed safety benchmark report later in 2019.
Grab is as Safe as a Singapore Taxi
So how can we measure our safety performance presently? Singapore utilises a standard that measures the Quality of Service (QoS) of taxi operators that includes safety and driver conduct. This standard takes into account driver-caused accidents resulting in injuries, and offences reported to law enforcement and transport authorities where the driver is found guilty.
In our benchmarking against Singapore's QoS, we took a much broader definition of reported incidents. We took into account all driver-caused accidents including those resulting in minor injuries, as well as all alleged offences reported to Grab, and not only those that were reported to law enforcement authorities.
And here's what we found: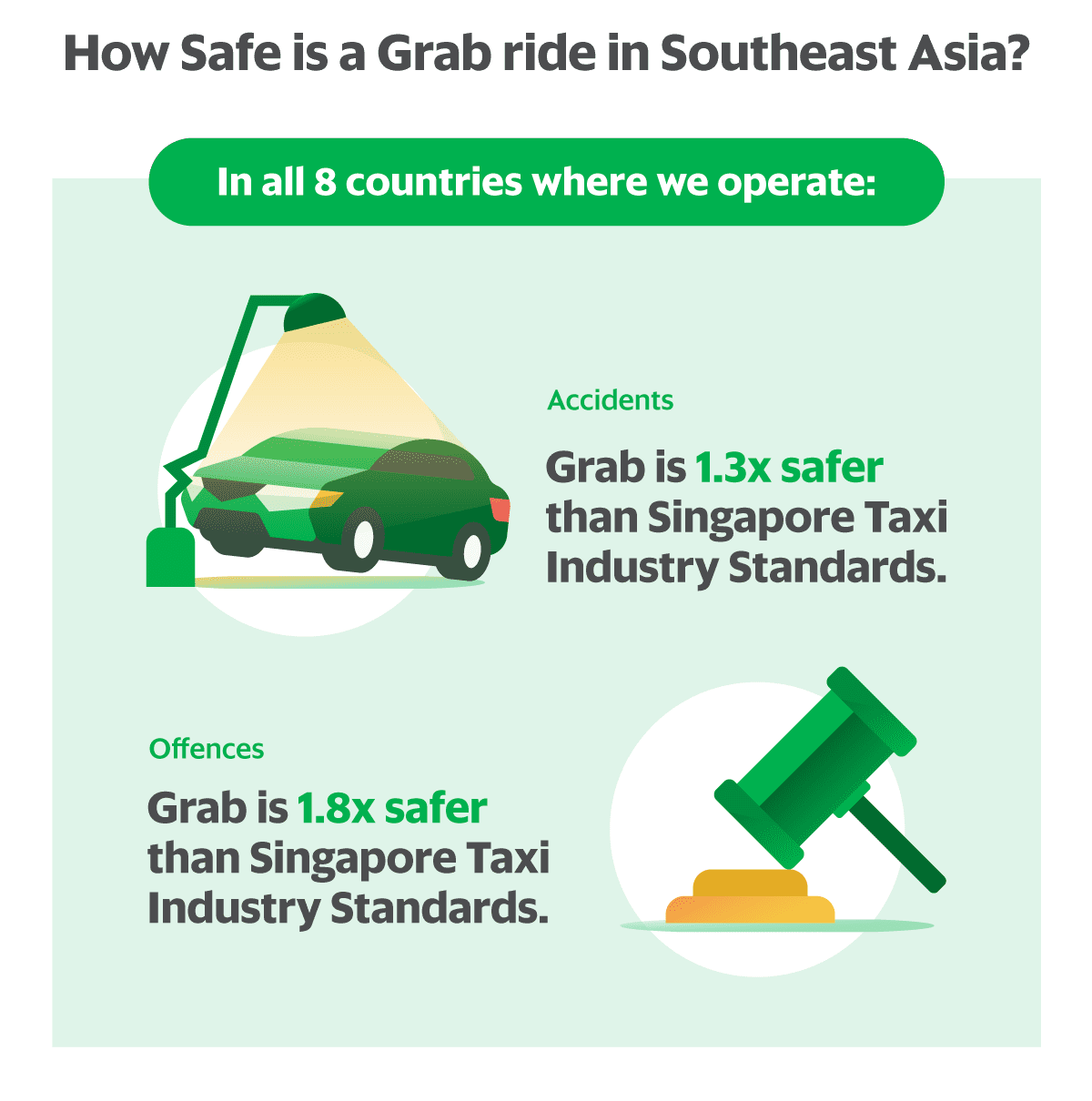 Accidents: Driver-caused accidents involving the injury or death of drivers or passengers

Standard: < 0.02 accidents per 100,000km
Offences: Driver-caused incidents relating to fines by the Police, violence, crimes, and harassment

Standard: < 0.02 incidents per 100,000km
We will not stop until we reach ZERO
This is just the beginning, and we will continue to elevate transport safety standards across Southeast Asia. We have, and will continue to double down on our investment in safety – from talent to tech – to make everyday services from ride-hailing, to financial services and deliveries, safer and more secure for all.
Goal – ZERO preventable incidents.