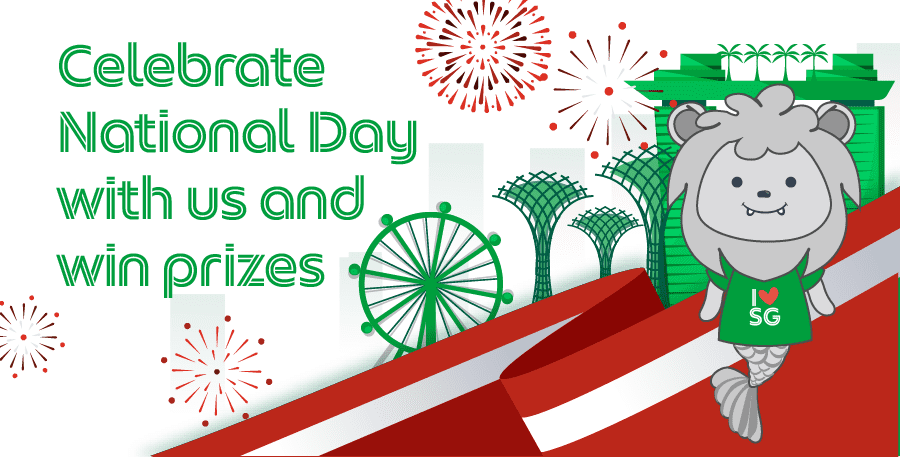 In the spirit of celebration, we've created a few activities for everyone to come together and have some fun this National Day! 
We would like to invite your child to create an artwork of the theme: NDP 2021, it can be a drawing or craftwork(paper cutting, sculpturing, pottery, etc). Top 20 artworks will win a $50 GrabFood voucher each!! Some themes your child may consider:
The Road Ahead (2021 NDP Song)

Together Our Singapore Spirit

Thank You Frontline Heroes (Specifically Grab Partners)

I LOVE SG

Grab Partners working hard on National Day
ONE artwork will be used as our National Day 2021 e-greeting card and the artist will be rewarded additionally. 
Each artist can only submit ONE artwork. If participants submitted multiple artwork, we will take the first one as the submission piece. 
Take a CLEAR PHOTO of the artwork and upload to the submission form by 27 July 2021, 11:59pm (Tuesday), 11:59PM.

Do you have a voice that can touch everyone's heart or do you have the moves or any other performing skills? Show off your talents to us and commemorate Singapore's birthday, to win up to $200 in cash!!!!! You can choose to sing, dance, or play musical instruments to our NDP theme song The Road Ahead (2021). Listen to The Road Ahead here
Performance can be done solo or in a group. Every video needs to have at least ONE Grab Delivery or Driver-Partner in it. There is no limit to how many performers can be appearing in 1 video. 
Record a VIDEO of your performance or your group's performance and upload to the submission form by 27 July 2021, 11:59pm (Tuesday), 11:59PM.
You can submit ONE entry for both Art Competition and NDP 2021 Talent Time too!
Dress yourself to bring up the National Day atmosphere during the online workout and stand a chance to win yourself a $50 GrabFood voucher!
Each Grab Partner can only submit

ONE artwork and ONE video each under one Grab Partner's name.
 License Grant: By entering the Contest, the Grab Partner grants Grab, its agents, licensees, and assigns, an irrevocable, perpetual, worldwide, royalty-free, non-exclusive and transferable right and permission to reproduce, encode, store, copy, transmit, publish, post, broadcast, display, publicly perform, adapt, modify, create derivative works of, exhibit, and otherwise use your Entry as-is or as-edited (with or without your name, image and likeness) in any media throughout the world for any purpose, without limitation, and without additional review, compensation or approval from you. Grab reserves the right to replace the prize/points given with another equivalent prize at its discretion without prior notice. Grab reserves the right to amend or edit at any time the T&Cs listed for this initiative as it deems fit. Grab reserves the right to determine the final winners and Grab's decision shall be final and binding.

By entering, each Grab Partner warrants and represents the following with respect to their Entry.

The Entry is an original work of the Grab Partner's child and does not contain or incorporate any copyright or intellectual property owned by any other party;

The Entry will not infringe on or conflict with the copyright, trademark, trade secret or any other personal or proprietary right of any other party;

The Grab Partner shall be liable for any breach of the warranties in this paragraph 3 and indemnify Grab in the event of any action, claim or proceeding brought against Grab arising from the Grab Partner's participation in the Campaign. 

No responsibility is taken for entries that are lost, delayed, misdirected, incomplete, cannot be delivered  or entered for any technical or other reason,

including such failure which is within the control of Grab or its employees, agents or representatives.

Each prize is non-exchangeable, non-transferable, and where applicable, not redeemable for cash or other prizes. Any prize that remains uncollected for 1 months from the release of the official results shall be forfeited and an alternative winner may be selected. Upon prize forfeiture, no compensation will be given.

Except as provided in these Terms & Conditions, entries on behalf of another person will not be accepted and joint submissions are not allowed.

Entry into the programme is on acceptance of these Terms & Conditions.