Earn points with every Hitch ride you drive.
Move up the tiers.
Unlock exclusive benefits and rewards!
(min 50 points)
Access to all other partner rewards
6.6% Shell fuel cashback
(min 6500 points)
All benefits in Rookie tier
50% rider no-show guarantee
Feature testing
Invitation to exclusive Grab events
6.6% Shell fuel cashback
(min 20,000 points)
All benefits in Go-Getter tier
8% platform fee instead of standard 10%
8.8% Shell fuel cashback
(min 35,000 points)
All benefits in Pro tier
5% platform fee instead of standard 10%
Priority hotline
11% Shell fuel cashback
Earning points:
Every $1 in Hitch fares gives you 10 points.
So according to the basic earn rate, a $10 ride would give you 100 points.
But wait, there's more! Keep your eyes peeled for…
Bonus multiplier
WEEKEND RIDES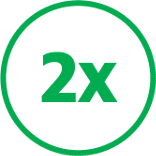 Drive on weekends to double your points
Want to know how many points your booking could earn you?
Use the handy Hitch Club point calculator below!
Reaching the next tier.
You may reach the next tier by earning enough points to meet that tier's requirement during a calendar quarter. Conversely, you will not lose any points or get downgraded during a quarter.
At the end of a quarter, your total points balance determines your starting tier in the new quarter.
Every new quarter, your points will be reset to 0, regardless of which tier you start off in.
Here is an illustration of how your tier and points may change during and in-between quarters, depending on the consistency of your activity.
Tracking your progress.
Your Hitch Club profile (i.e. latest tier and points) is refreshed every Monday* 2pm on your Grab app feed (passenger mode), reflecting your activity from the previous Mon 0000 – Sun 2359.
*If Monday is a public holiday, we'll update it on the next working day.