Grab has collaborated with Cognifyx to bring you this exclusive trial!

Driver attention and concentration is one of the most important measures of safe driving. When you are tired, your reaction time, coordination and judgement abilities are affected and the risk of getting into driving-related accidents is higher.
For this trial, you will need to log in to the Cognifyx app with your phone and complete a simple 3 minutes assessment before you start driving. A similar test will be given to you again after 6 hours.
If you are on the road, don't worry, you can always do it when you have safely parked your car. Remember, safety first! If there is a big drop in your Attention score, we recommend that you take a 15 minutes break to rest and re-focus before driving again. It is that simple!
Interested? Sign up below before 31 Dec 2018 2359hrs
You will receive a message by the end of first week of January 2019, informing you of the login details and what to do.
You'll need to:
Download the Cognifyx app from your app store

Cognifyx will send you via SMS the login details and instructions manual which will give you more details on what you need to do.

The trial will begin on

21 Jan 2019 0000hrs

and end on

20 Apr 2019 2359hrs.

Login

daily

to the Cognifyx app when you start your shift and complete the 3 minutes test. The app will prompt you to do the test again after 6 hours of driving.

Earn points for

Starting and Stopping the app daily

Completing the tests throughout the day

Adhering to recommended break periods

Points are calculated automatically and you will be able to see your score and where you stand in the leaderboard within the Cognifyx app.

At the end of the trial, the

Top 10

driver-partners with the highest scores will win the following CASH prizes!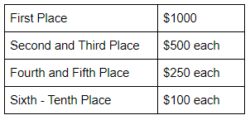 * Grab will contact the winners by the end of May 2019. Grab reserves the right of final decision.
If you have any queries throughout the duration of the trial, you may whatsapp/call Cognifyx at +65 6655 7259 or email them at hello@cognifyx.com
Don't wait anymore. Sign up before 31 Dec 2018 2359hrs