Not all durians are created equal. Some are bitter, some are sweet. Some are fleshy, some have less meat. But one thing makes GrabDurian superior to them all… We use only Grade A Mao Shan Wang – the King of the King of Fruits!
Our durians are also harvested and delivered fresh daily, and only opened hours before they're delivered to you to preserve its freshness.
Available daily from 6 June – 28 August, between 3PM – 9PM.
Get Grade A Mao Shan Wang direct from the farm to your door, anywhere in Singapore, in 35 minutes or less!
There's more! Enjoy FREE DELIVERY when you use promo code FARM2DOOR when you order a minimum of 2 bundles.
(GrabDurians are sold in a bundle of 2 boxes and have a total estimate of 3-3.3kg worth of durian)
---
How much will each box cost?
To ensure the quality of every box, prices may vary on a weekly basis.
But rest assured, we'll try in earnest to offer you the best value for your money.
Prices are as follows:
| | |
| --- | --- |
| Dates | Price (per bundle of 2 boxes) |
| 1 – 7 August 2019 | $58 – $68 |
You can also follow our Instagram stories at @GrabFoodSG daily for the latest updated rates.
---
#GrabDurian Mystery Gift Promotion (5 – 18 August 2019)
Get a box of #GrabDurian and get ready for a surprise! Not only does each box of #GrabDurian contain Grade A Mao Shan Wang, it now also comes with a mystery gift.
From Grab-exclusive National Day pins and mugs, to limited edition #GrabDurian stickers, get your hands on these gifts (limited to 1 per order) with every #GrabDurian order you make today. Promotion lasts till 18 August!
*Please note that gifts will be given at random, and cannot be exchanged. 
---
How do we ensure only the freshest and bestest make it into #GrabDurian?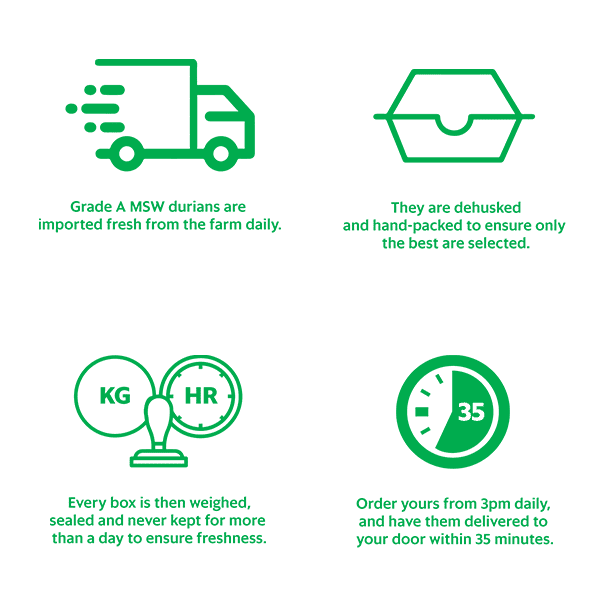 ---
How to Order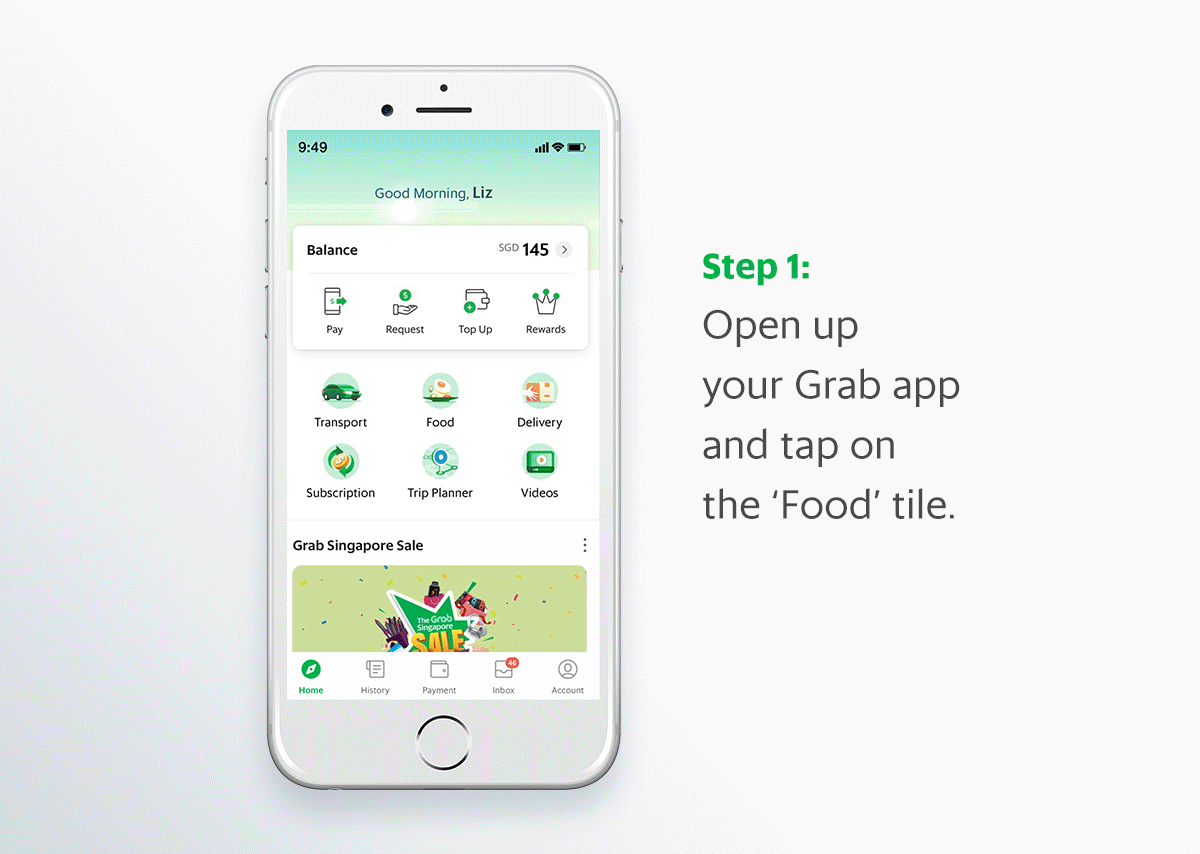 ---
Frequently Asked Questions
General
Does GrabDurian deliver to me?


To find out if we deliver to you, simply launch the GrabFood app. If we deliver to your location, GrabDurian will be listed from 3pm-9pm every day under "Featured Partners". As a general guide, we currently deliver islandwide except for the following areas: Changi, Sentosa, Lim Chu Kang, Pandan Gardens, and Mandai.

When can I order GrabDurian?


GrabDurian will be available from

 3p

m – 9pm

daily. Keep an eye on your GrabFood app then! 
Durian Quality
What kind of durians are in GrabDurian?


All GrabDurians are 100% Mao Shan Wang from Pahang. The durians were freshly delivered to Singapore on the morning of the day that you would've received them, and subsequently de-shelled and vacuum-sealed for freshness and hygiene purposes.

How much durian is in a GrabDurian box?


Each GrabDurian box is guaranteed to weigh at least 400g, and will contain freshly dehusked Mao Shan Wang durian (about 1.6kg of durian). 

How long does my durian keep?


Durian is best consumed within 2 hours of its delivery to you. If you plan on eating it later, make sure you pop it in the fridge to maintain freshness.
GrabFood App
Can I order GrabDurian if I do not have a Grab app?


You'll need to have an existing Grab account with a verified e-mail address in order to use GrabFood.

How do I get the e-mail address I registered with verified?


You'll need to request for a verification e-mail! To find out how, please refer to this

link

for a step-by-step guide.

How do I top up my GrabPay wallet/purchase GrabPay credits?


Topping up your GrabPay wallet or purchasing GrabPay Credits is super simple! Please refer to this

link

for a step-by-step guide!

What if I don't have anyone to receive my order? Am I able to pick it up from the physical store?


No, you will not be able to pick up your GrabDurian from us. If you're not at home, please have someone ready at your delivery address to collect it on your behalf.




Our delivery-partners will not be leaving it by your door as durians can spoil quickly. Do note that refunds would not be available.

Why is my order taking longer than expected?


We seek your understanding and patience as we manage a large demand from fellow foodies! We will get your order to you as soon as possible.

The store is listed as closed and I am unable to place an order. Why is this happening?


Please be advised that we have limited quantity of boxes available. Please try again on the other #GrabDurian days!

I've forgotten to apply the promo code! What can I do?
Unfortunately, this would mean you'll have to pay for the delivery fee for this order. Nonetheless, feel free to apply the GRABDURIAN promo code "FARM2DOOR" to enjoy free delivery on your next order.
---
GrabFood Terms and Conditions
You need to have an existing Grab account with a verified email address in order to use GrabFood.
You need to have the latest Grab app (v. 5.42 and above).
Orders can only be made with GrabPay (credit/debit cards or GrabPay Credits).
Grab reserves the right to change any promotions at their own discretion.
Promotional eligibility is based on the company's own discretion.
Terms and Conditions for FARM2DOOR
*FARM2DOOR promo code entitles user to free delivery for orders of Mao Shan Wang durian with a minimum order of 2 bundles and is available from 6 June – 28 August 2019, whilst stocks last.
*FARM2DOOR promo code has limited redemptions available and is only valid for GrabDurian stores. A successful redemption is only made upon checkout. Any promo code applied without checkout does not guarantee a redemption in the future.
*FARM2DOOR promo code cannot be used in conjunction with any other promos, or for any other merchants.