From 2 May 2019 onwards, delivery fees and incentives will be restructured, along with the introduction of the new Grab Driver app! 
Enjoy fairer trip fares with distance-based adjustments, and top up your earnings with incentives – Gems (formerly known as zone boost) and Quest!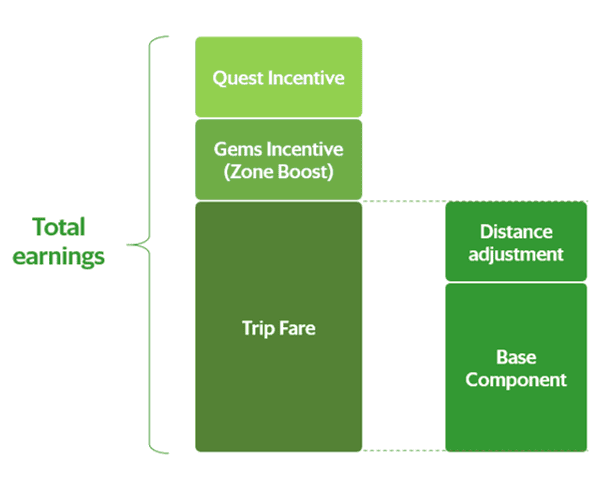 ---
Trip Fares
Distance-based adjustments
We have heard your frustrations with long distance trips; being paid the same when it takes much more time and effort to complete. To ensure you're compensated for going the extra mile, we've restructured trip fares to include a base component, plus additional distance-based adjustments!
Final trips fares (after distance adjustment) are shown upfront on the job card when you receive a delivery job.
Trip fares also differ by vehicle type.
Here's an example, based on a trip for a motorcycle delivery rider:
His name is Ravi.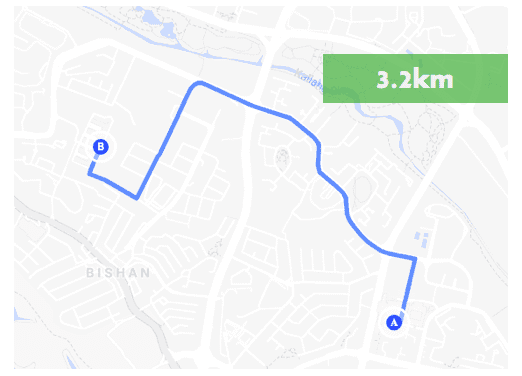 Ravi received a delivery job from point A (merchant) to point B (eater), with road distance of 3.2km. Previously, Ravi would have earned $5 in trip fare, regardless of the travel distance. With the new fee structure, Ravi would earn $6.90 – a 38% increase in trip fare!
---
Grouped orders: single pickup & two drop-offs for higher delivery efficiency
When you have accepted an order and are on your way to pick it up, there's a chance that you'll be given a second order from the same merchant. This process is designed to be as seamless and hassle-free as possible for you, and this improved efficiency for grouped (i.e. batched) orders should see you completing more trips in a shorter span of time!
Grouped orders are compensated based on total distance travelled, and both deliveries count towards quest incentives. The further the distance, the more you can expect to earn!
Here's a continuation of Ravi's story: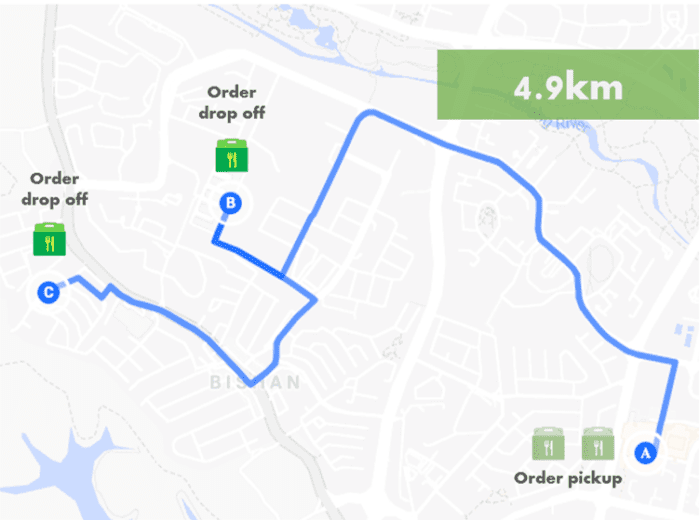 While Ravi was on the way to the merchant, he received a grouped order! The job details appeared in his app – it was automatically assigned, without him having to accept the job (great when you're on the road!).
Ravi arrived at the merchant and picked up both orders, and he then proceeded to deliver the orders to 2 different eater locations. With just one pickup location and delivering to 2 eaters, Ravi earned a trip fare of $10.94 for the grouped order!  
---
Gems Incentives
Boost your earnings with area & time based incentives
Earn varying amounts of Gems per trip depending on merchant location, day and time! This works just like zone boost, but with improved user interface. Directly on your Grab Driver app, you can keep track of the Gems you earn, and also view areas and time blocks that would give you the highest Gems per trip.   
Gems incentives differ across vehicle types.
| | | |
| --- | --- | --- |
| 1. Keep track of your total boost Gems earned for the day | | |
| | | |
| --- | --- | --- |
| 2. View the daily Gems rewards by time and location | | |
| | | |
| --- | --- | --- |
| 3. Check the boundaries of each zone – ensure you're aware of where exactly to go for highest boost Gems ! | | |
Gems are tabulated daily, and will be converted to cash at a rate of 20 Gems to $1 ($0.05 per GEM). The Gems incentives table will be sent to you in your weekly incentive email.
Gems earned is

based on merchant location

and

trip acceptance time

. Familiarise yourself with the new GrabFood zones!

There are no acceptance or cancellation rate requirements for boost Gems.  

The second delivery of a grouped order does not qualify for Gems.  

The Gems incentives table refreshes weekly. Details will be sent to you in your weekly incentive email.
---
Quest Incentives
Unlock higher tier rewards as you complete more trips in the week
Reach your trip targets and unlock additional incentives for both weekdays and weekends. Monitor the number of trips you've completed directly in your app!
Quest incentives differ across vehicle types.
Acceptance rate and cancellation rate requirements apply.

The second delivery of a grouped order counts towards quest incentives.

Details will be sent to you in your weekly incentive email.
---
Other Compensations
Sentosa
With distance-based fares, you can already expect to earn more for long distance trips. To further thank you for your effort, you will receive additional compensation of $2 per trip, for all orders going into Sentosa!
Long distance compensation
Distance adjustments will be made upfront in your trip fares instead! Thus, there will no longer be a need for the delayed distance payment that you have been receiving.  
\