Congratulations to our Coca-Cola®-EPL Contest Winner!
Here's a shout out to Denise Er (XXXX 6919). Ordering all those Coca-Cola® No Sugar bundle meals have scored you the top prize—a trip for 2 to the United Kingdom to watch PREMIER LEAGUE LIVE!  We will be contacting you shortly.
A huge thank you to everyone who participated in this contest 🏆
---
Enjoy $4 OFF exclusive Coca-Cola® No Sugar bundle meals & stand a chance to watch a Premier League match LIVE!
Fuel match nights with these delicious bundle meals, complete with a cool, refreshing Coca-Cola® No Sugar.
Every purchase could win you a trip for 2 to catch a Premier League match LIVE in the United Kingdom!*

Use promo code COKE4GOALSUBWAY to get $4 off!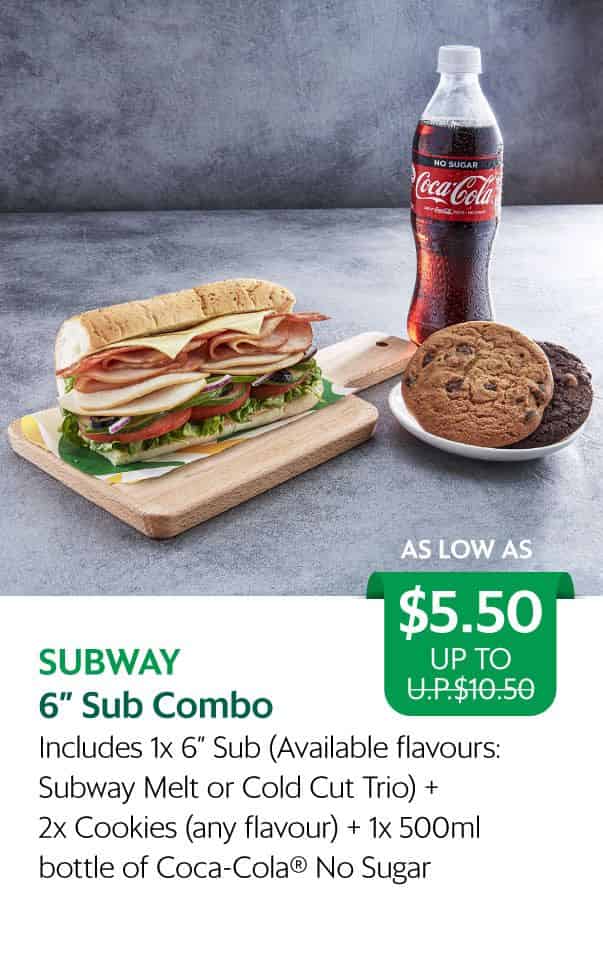 Order in as many of the bundle meals above from 14 November till stock lasts, with promo code COKE4GOAL, COKE4GOALSUBWAY and COKE4OFF upon checkout, for $4 OFF your meal.
Level up to maximise your chances!
The challenge consists of 3 levels (not applicable to Domino's order).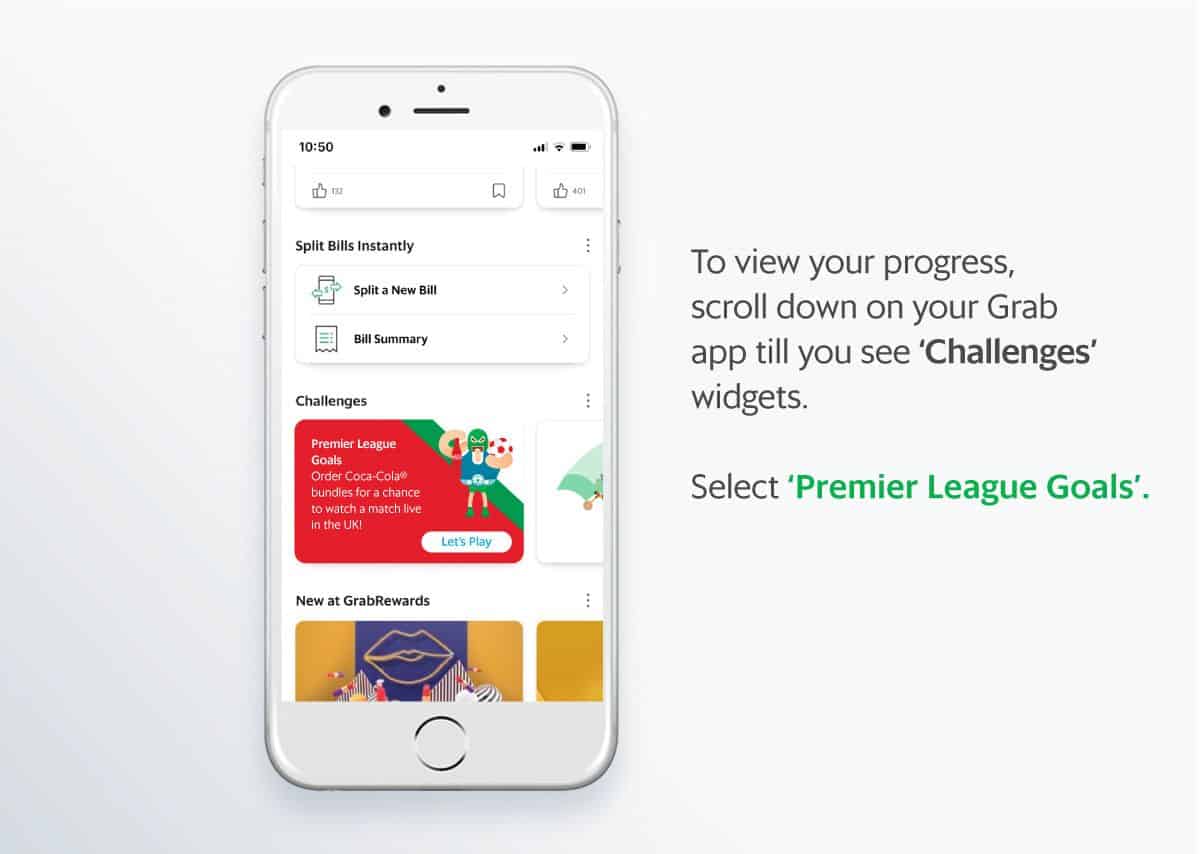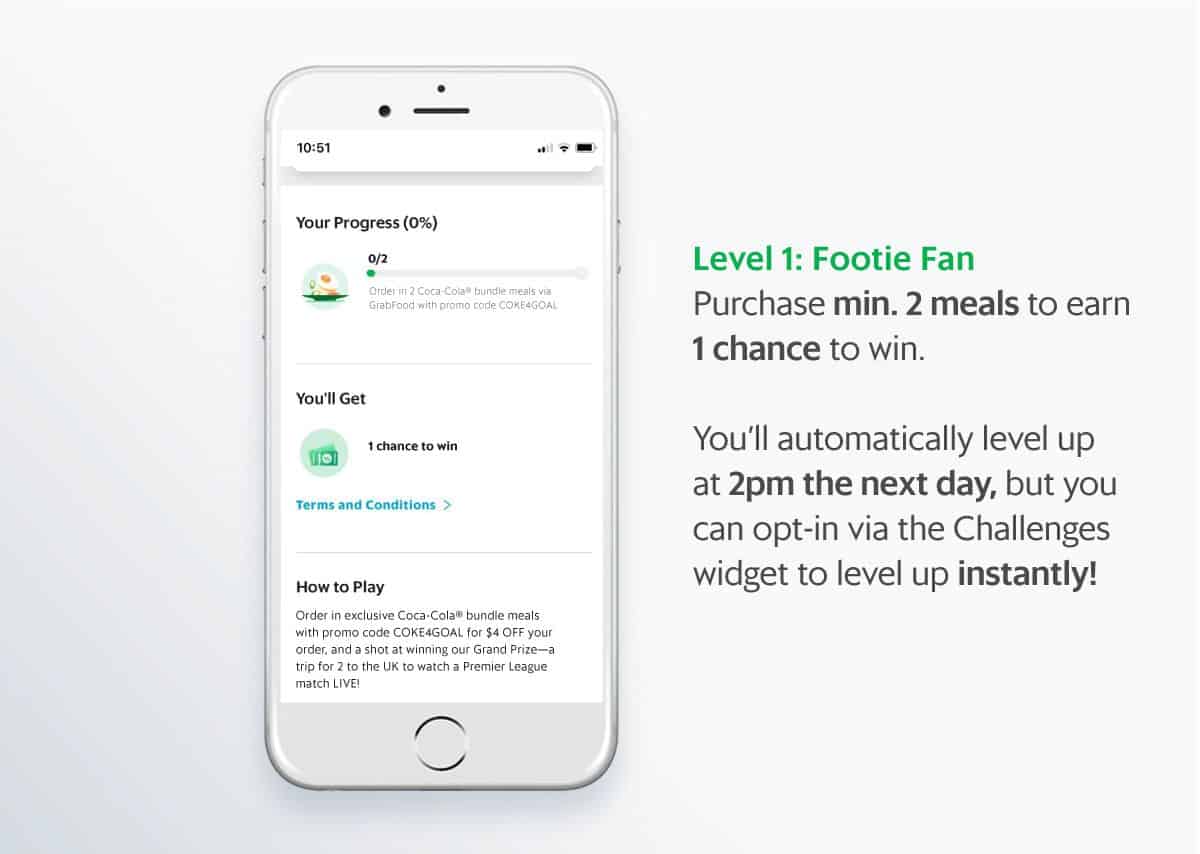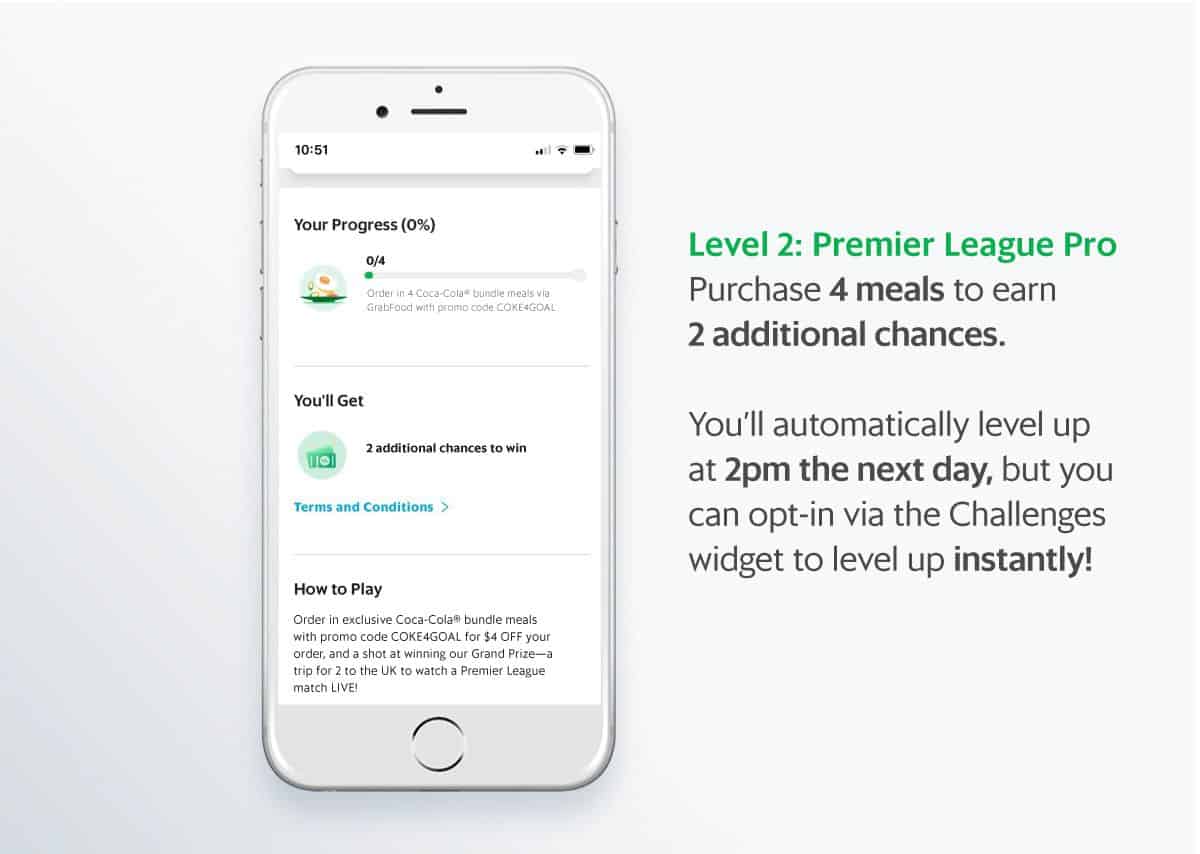 1 lucky Grand Prize winner will be announced by 27 December 2019.
So what are you waiting for? Limited qualifying meals available, so order in ASAP so you don't miss your chance to score an experience of a lifetime…
*T&Cs apply.
---
Terms and Conditions
You need to have an existing Grab account with a verified email address in order to use GrabFood.
You need to have the latest Grab app.
A successful redemption is only made upon checkout. Any promo code applied without checkout does not guarantee a redemption in the future.
Grab reserves the right to change the promotion at their own discretion.
Promotional eligibility is based on the company's own discretion.
Each Challenge cannot be shared. Each Challenge is specially designed for every individual user and may receive different Challenges, limited to the user who has access to the Challenge in their app. Grab reserves the right to limit accessibility of participants to the Challenge in their app.

Challenge is only valid when you are in

Singapore

. Any Grab transaction made outside

Singapore

will not contribute towards this Challenge.

Challenge, COKE4GOAL, COKE4GOALSUBWAY and COKE4OFF is only valid from 14 November 2019 to 7 December 2019, or while promo code redemptions last.
Only GrabFood orders using promo code COKE4GOAL on a single Maki-San's Signature Bundle, PastaMania's Pasta Bundle for 1 and Pasta Bundle for 2, Ayam Penyet's Ayam Penyet Bundle & Grilled Chicken Bundle, Long John Silver's Fish and Chicken Bundle, Wing Stop's 8pcs Boneless Wings Combo, Yoshinoya's Beef & Kaarage Combo, Carl's Jr.'s Original Angus Beef Combo & Hand-breaded Chicken Fillet Sandwich Combo, Wingzone's 6pcs Wing Combo and COKE4GOALSUBWAY on Subway's 6″ Sub Combo count towards the Challenge.
Maki-San's Signature Bundle consists of 1 Mega San + 4 Takoyaki Balls + 1 Canned

Coca-Cola

® No Sugar.

PastaMania's Pasta Bundle for 1 consists of 1 Pasta + 1 Side + 1 Canned

Coca-Cola

® No Sugar.

PastaMania's Pasta Bundle for 2 consists of 2 Pastas + 2 Sides + 2 Canned

Coca-Cola

® No Sugar.

Ayam Penyet's Ayam Penyet Bundle consists of 1 Ayam Penyet + 1 Rice + 1 Canned

Coca-Cola

® No Sugar.

Ayam Penyet's Grilled Chicken Bundle consists of 1 Grilled Chicken + 1 Rice + 1 Canned 

Coca-Cola

® No Sugar.

Long John Silver's Fish and Chicken Bundle consists of 1 Fish + 1 Chicken + 1 Fries + 1 Canned 

Coca-Cola

® No Sugar.

Wing Stop's 8pcs Boneless Wings Combo consists of 8pcs of Boneless Wings + 1 Signature Seasoned Fries + 1 Ranch Dip + 1x 500ml bottle of

Coca-Cola

® No Sugar.

COKE4OFF entitles users to $4 off Domino's 1-for-1 Personal Meal [consists of 2 Personal Pizzas (any flavour) + 4pcs Golden Roasted Drummets + 2 Canned Coca-Cola® No Sugar]. Orders however do not count towards Challenges.
Yoshinoya's Beef & Kaarage Combo consists of 1 Beef & Kaarage Bowl + 1 Canned 

Coca-Cola

® No Sugar.

Carl's Jr.'s Original Angus Beef Combo consists of 1 Burger + 1 Large Fries + 1x 500ml bottle of

Coca-Cola

® No Sugar.

Carl's Jr.'s Hand-breaded Chicken Fillet Sandwich Combo consists of 1 Burger + 1 Large Fries + 1x 500ml bottle of

Coca-Cola

® No Sugar.

Wingzone's 6pcs Wing Combo consists of 6pcs of Wings + 1 Crinkle Cut Wedge Fries + 1 Canned

Coca-Cola

® No Sugar.

Subway's 6″ Sub Combo consists of 1 6″ Sub (Available flavours: Subway Melt or Cold Cut Trio) + 2 Cookies (any flavour) + 1x 500ml bottle of Coca-Cola® No Sugar.
This promotion is applicable to Coca-Cola® No Sugar bundles, regardless if the pack is EPL or ordinary.
Available at all participating merchant outlets and delivery is available to their surrounding areas only.
COKE4GOAL, COKE4GOALSUBWAY and COKE4OFF have limited redemptions available.

Successful completion of the transaction will entitle you a chance to win one prize.

This Challenge cannot be replayed once it is completed or the period has ended.

The Premier League Goals Challenge reward (draw chance) will be issued to the Grab users who successfully completes the Challenge.

Grab users who have completed the Challenge will be awarded a chance.

The Grand Prize reward will be issued after Grab has conducted relevant examinations, which include fraudulent checks on the participants.

Employees of Grab and Coca-Cola® and their immediate family members are not eligible to win this Challenge. 

You agree that you are in compliance with Grab's terms of service applicable for the Grab service provided, as stipulated in the Grab app. Each reward is governed by its applicable terms of use. Please refer to the Terms and Conditions in each reward for such applicable terms.

By participating in this Challenge, you provide consent to Grab and Coca-Cola® announcing your name, and/or releasing a photograph of you as the prize-winner in our winner's announcement. Your prize may be forfeited to the next winner if you are unable to comply with this condition.

The Grand Prize consists of a Trip for 2 to UK worth $8000 – inclusive of flight tickets, 4D3N 4-star accommodation, PREMIER LEAGUE Match Tickets (Category 3 seatings) and Stadium Tour.
The airline, accommodation, date of PREMIER LEAGUE Match, ticket category, and Stadium Tour will be decided by the promoter's third party agency based on availability. Prize will be on available matches within the current season of Premier League.

Grab and Coca-Cola®

reserves the sole and absolute right to withdraw, amend and/or alter any part of the whole terms and conditions in relation to this contest at any time without giving any prior notice to you and you agree to be bound by those changes.

Grab and Coca-Cola®'s decisions in any matter in relation to the Challenge shall be final and conclusive. Grab and Coca-Cola® shall not be liable for any claims by you or third-party claims or losses of any nature, including but not limited to, loss of profits, expectation loss, punitive, indirect, special, incidental, or consequential damages or for other damages and any related claims of any nature, including direct, indirect, third-part, consequential or other damages resulting from or in connection with this Challenge.

Grab and Coca-Cola® may, at its sole and absolute discretion, substitute the prize for another prize of similar value, in circumstances that include unavailability of the original prize, illegality or non-feasibility. 

In claiming the prize, Grab and Coca-Cola® may request for such identification documents or further information to verify and check the identity of the prize winner, to prevent gaming and fraud. 

All prizes must be claimed/redeemed within the stipulated deadline. Any prizes not claimed by the deadline may be forfeited (or disposed of, or donated, all at Grab's discretion), and no claims whatsoever for payment or compensation shall be entertained. 

Unless otherwise provided, all prizes are non-transferable and non-exchangeable for cash/credit in kind.

 These terms are governed by the laws of

Singapore

and the non-exclusive jurisdiction of the

Singapore

courts.