With Halloween just around the corner, we're challenging you to a test of guts! How daring are you when it comes to spicy food? We put our taste buds to the test with some of the spiciest items on GrabFood. Try them yourself and tell us what you think!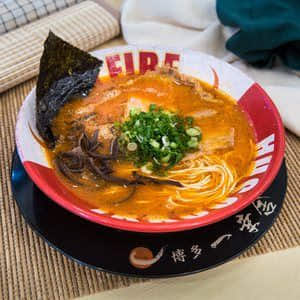 God Fire Ramen – x4 Spiciness
Hakata Ikkousha (CHIJMES Mix & Match, Islandwide Delivery)
Can't get enough of the spicy powder or oil that typically comes with ramen orders? Well, here's an option for all you fiends out there – the God Fire Ramen (be sure to opt for the highest level of spice!) from Hakata Ikkousha.
Featuring thin noodles, tender chashu, and a tonkotsu broth with a fiery punch, this steaming bowl of goodness left our tongues tingling – but still able to make out the delicious layers of flavour that the pork broth brought to the table.
W.T.F. Meal
Papa Ayam (313@Somerset)
If you enjoy the kickass sambal from ayam geprek (crispy fried chicken, smashed and then smothered with chili), then it's time to try Papa Ayam's W.T.F. Meal – which is said to be 27 times the heat. This meal comprises a piece of Ayam Geprek Level 27, served with rice and a drink to douse those flames.
Armed with a box of tissues, we dug into this tear-inducing masterpiece. And wow, did our eyes water. The Ayam Geprek Level 27 is most certainly not for the faint hearted, and gulping down the lime juice barely helped. The sambal, however, was garlicky, tasty, and an absolutely shiok companion to the rice, which we shovelled down in large mouthfuls in a bid to combat the spice.
Of course, if you're not that ready for the Level 27 option, Papa Ayam also serves up a selection of Ayam Geprek dishes with a much more manageable spice level. Simply pick from Levels 1-15, depending on how gutsy you're feeling!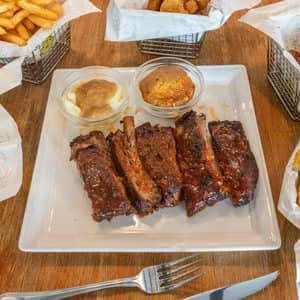 Pork Ribs – The Spicy #Yolo Challenge 
Meat N' Chill (Sixth Avenue, Islandwide Delivery)
The name says it all. Looking to do something fun and extreme with your friends? Why not? After all, #YOLO – you only live once! This #Yolo Challenge brings you three different levels – "Walk in the Park", "On Cloud Nine", and "Live Free or Die Hard".
We had to try the spiciest one, "Live Free or Die Hard". Setting up the challenge at home, we had the ribs delivered, along with a banana smoothie for some sweet relief.
And the ribs were great. Slow-cooked and fragrant, they fell off the bone easily. Made with some of the hottest peppers known to humans, they were painfully spicy but provided an exhilarating experience nevertheless.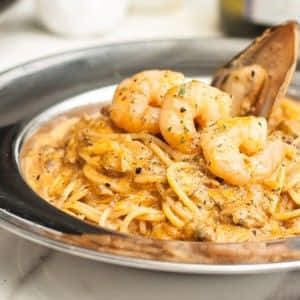 Tom Yum Seafood Pasta – Level 49 Spicy
49 Seats (The Centrepoint, Islandwide Delivery)
Late night cravings? Be sure to, well, spice it up. Open till 2am, 49 Seats is set to make suppertime with your slumber party besties all the more exciting. 
Challenge them to the Tom Yum Seafood Pasta – but be sure to check the option "Add Level 49 Spicy" when you order! While it actually holds its own for chilli chasers out there even without the added spice, let's just say that it's nothing compared to the hellish burn that awaits you at Level 49. 
Sichuan Boiled Fish
Old Chengdu Restaurant (Pagoda Street, Islandwide Delivery)
How could we leave out mala from this list? Old Chengdu Restaurant brings you the real deal with their Sichuan Boiled Fish. Packed to the brim with red chilis and peppercorn, this classic dish looks intimidating – but tastes pretty pleasant. While it was definitely tongue-numbing, the vegetables added a lovely crunch to the soup, negating the spice a little. We had great fun slurping it up through forkfuls of sprouts.
Don't forget to add to this chilli party by ordering more mala dishes! The Old Chengdu Chilli Chicken is a great addition to any meal with crispy pieces, each perfectly marinated and spiced.
So, what do you think of this list? Try these dishes yourself and share the verdict. Or, feel free to tag us in your Instagram Stories if you've got any other suggestions!