The 2019 SINGAPORE GRAND PRIX returns to Singapore! We've made it easy for you to book a Grab ride to or from the race grounds, simply key in Formula 1 Singapore Grand Prix 2019 Gate(number) and select your pick-up or drop-off location nearest to the gate for a seamless experience.
As the event will be flooded with race enthusiasts and exits may be jam-packed, Grab recommends all users to be ready at their pick-up locations before booking for a ride.
Pick Up & Drop Off Points
Heading to Gate
Recommended location
1
Concourse Skyline Bldg
Park Royal Hotel
2
Conrad Centennial
3, 7
South Beach Tower (Middle Rd)
Raffles City (North Bridge Road)
Capitol Piazza (Coleman Lane)
4, 5, 6
UOB Plaza Driveway
One Raffles Place
8
Marina Bay Sands Casino Driveway
Road Closures
If you're driving down in your own car, do also take note of the roads highlighted in the map below, as they'll be closed before, during the race weekend, 21-22 September.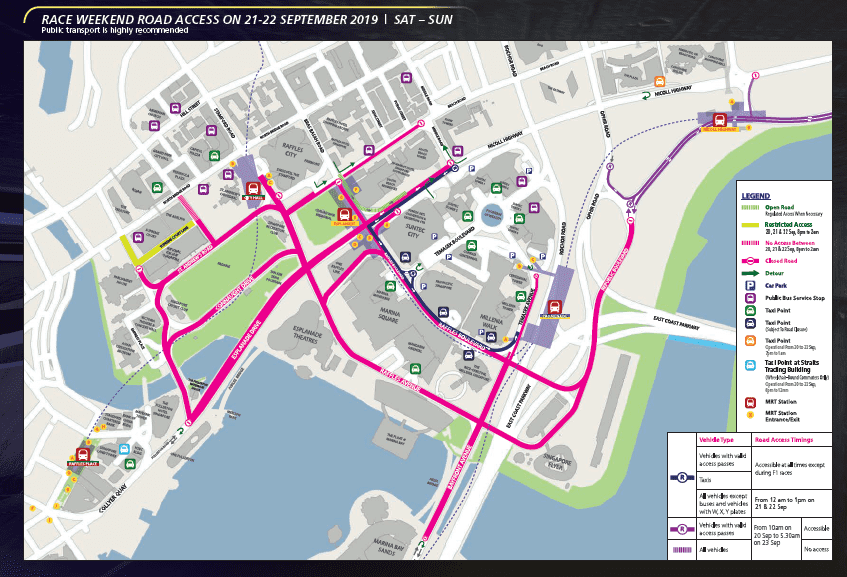 For more info on 2019 FORMULA 1 SINGAPORE AIRLINES SINGAPORE GRAND PRIX road closures before and after the race, please click here.