According to our survey results, food allowances are the #1 most desired employee benefit by employees across Southeast Asia. However we also know from speaking to clients that introducing food perks is a logistical nightmare as well as a heavy cost burden. But it doesn't have to be.
We have launched a new feature that helps organisations manage the cost and operational challenges commonly associated with offering food as an employee experience benefit.
Bringing operational efficiency to food perks
With GrabForBusiness, you can easily deploy food perks to employees across the region by allowing them to order from GrabFood and bill directly to the company. To ensure full control over budgets, you can set customisable GrabFood policies – based on order value, frequency or even location – on the GrabForBusiness Portal and generate reports in real-time.
Through this feature alone, you can skip the headache of managing operational processes and instead provide freedom of choice to your employees to order from the Grab app that they know and love.
If you'd like to learn more, leave your details here and we'll reach out.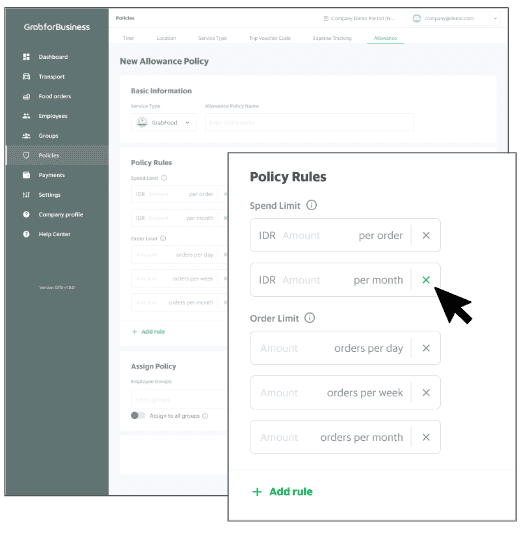 More flexibility for an enhanced employee experience
A common challenge for our clients is managing the balance between providing the best employee experience for their people and stewarding budgets for employee perks. Through our new feature, employees can select from the variety of choices available through GrabFood, utilise their food allowance, and pay any remaining balance using their usual personal payment method.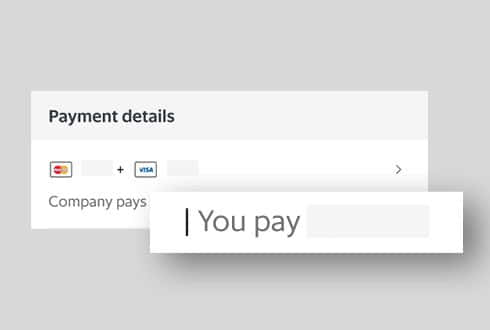 GrabFood employee perks for budgets of any size
The new feature provides greater flexibility and unlocks an opportunity for teams looking to start employee meal programmes with smaller budgets. Through this added flexibility, you can set GrabFood allowances at any amount whilst allowing employees to fully enjoy the full available offering.
So whether you're looking for options to subsidise meals for employees working overtime or simply want to enhance your overall employee benefits programme, GrabForBusiness is ready to support you.
Get started with GrabFood for your business
If you're already a GrabForBusiness client, this feature is automatically enabled as long as you have food policies set for your employees. Go to the GrabForBusiness portal to do this now, or contact us, for help.
Looking to get your company on GrabForBusiness? Reach out to us for a demo or to learn more by leaving your details here.