Challenge
PUMA wanted to set a new standard in sports-fashion retail with the unveiling of their first flagship store in Southeast Asia. Located in the heart of Singapore's trendy retail district, the 7,100 square-feet space was designed to offer fashion enthusiasts a unique shopping experience to captivate their attention, and by extension their wallet share. 
However, located nearby were also their competitors' outlets, such as Nike and Adidas. PUMA knew it needed a fresh way to gain word of mouth amongst both loyal PUMA and new customers, in order to stand out from the crowd and drive high-value shoppers into their brand-new store.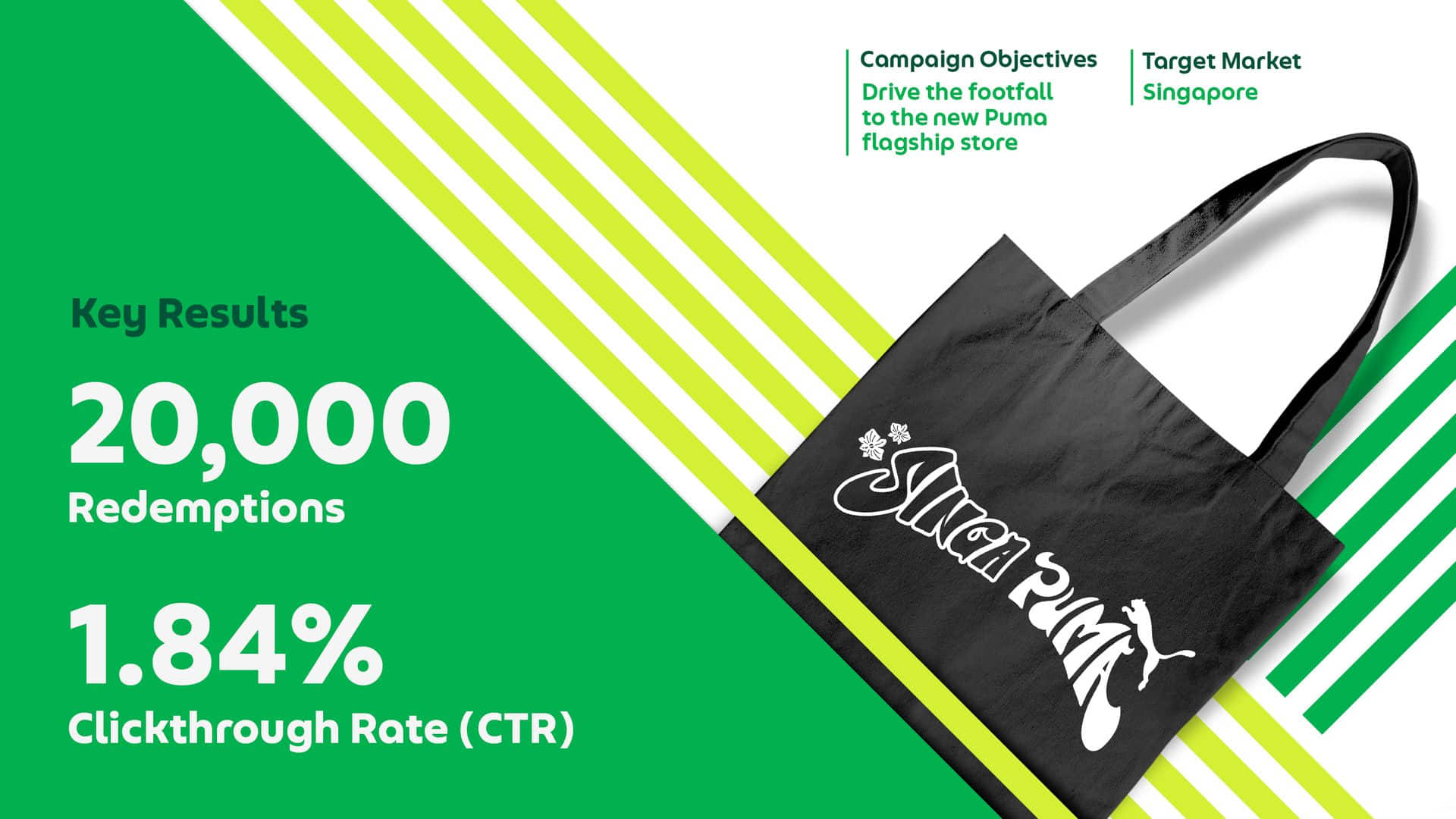 Solution
To start, PUMA tapped into the power of GrabAds' data insights to reach shoppers with an interest in sports, fashion and beauty within a five-kilometre radius of their new store. Then, the brand used GrabAds' rewarded campaign feature within the app to raise awareness of the store opening and drive results.
How it worked: the campaign served stunning visuals to the targeted users within the Grab app, promising a complimentary PUMA gift bag if they visited their flagship store. Users who tapped on the ad banners would be taken to their reward folder where the PUMA Reward awaited them. All the users had to do was visit PUMA's flagship store to present the reward within the Grab app to the cashier, and request the staff to key in a code to receive the bag.
The entire campaign from awareness to reward redemption verification took place within the app. It was seamless and convenient for the users and highly measurable for PUMA, whose team appreciated quantifiable metrics to help ascertain return on their investment.
Results
PUMA's online to offline rewarded-campaign was a success: more than 20,000 customers made their way to the flagship store to claim PUMA gift bags after seeing the PUMA ads in the Grab app. Additionally, the campaign also brought in an average click-through rate of 1.84%, which is among the highest of GrabAds campaigns that ran in Singapore.