Does it take a Rolex to show your appreciation for employees? Nah. Employees can already feel appreciated with a practical and personalised e-gift during the holiday season.
Here are seven ways to use e-vouchers to show love for your employees this holiday season:
1. A pre-paid Grab trip with Shangri-La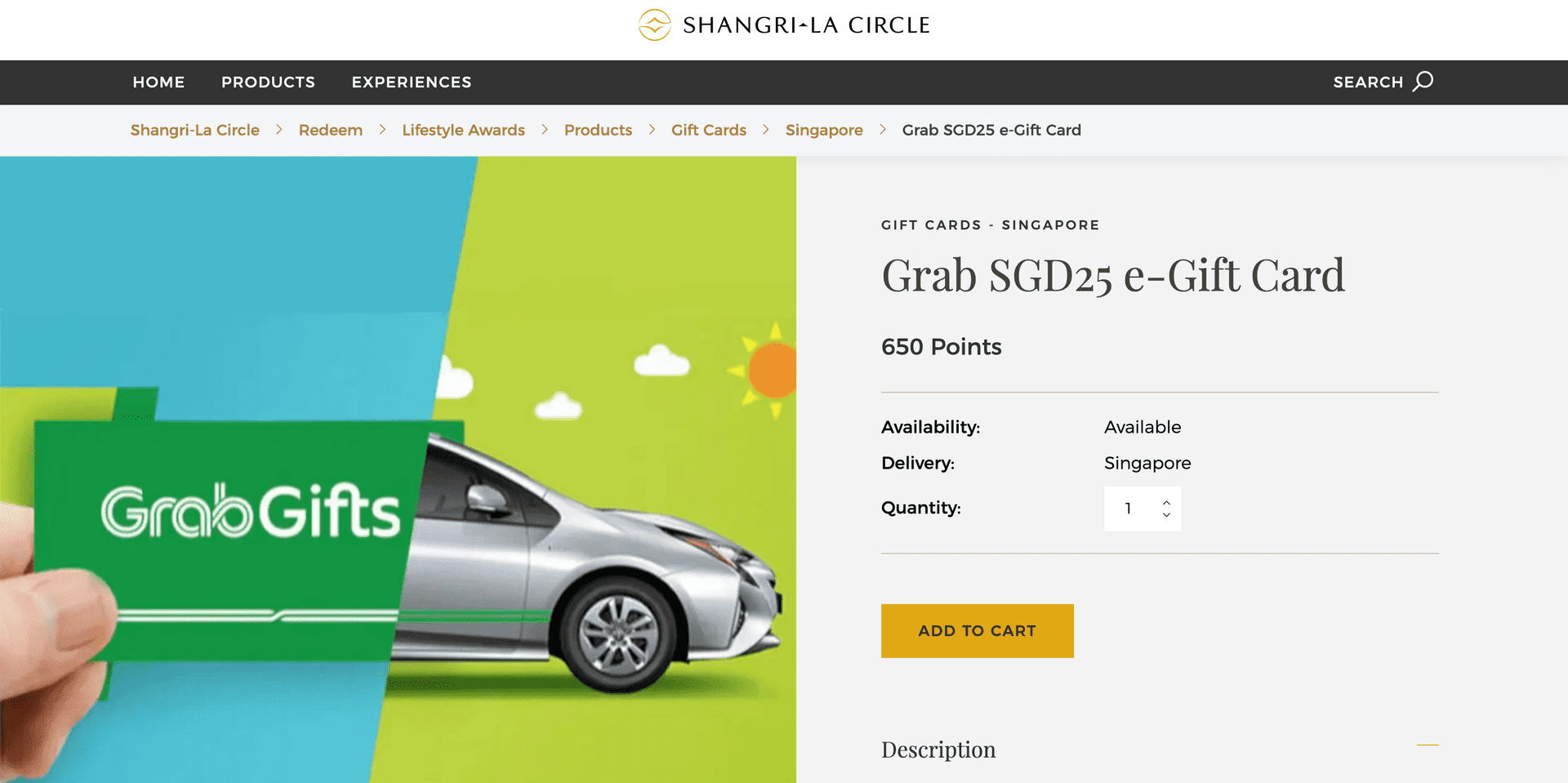 Image from Shangri-La
What is the campaign about?
Shangri-La offers GrabGifts for guests and employees to use for Grab rides. Customers can purchase an e-voucher via Shangri-La's website and claim for one-time use in Singapore. Employees can also use this voucher, which is valid on GrabCar, GrabFamily, GrabPet, JustGrab and Standard Taxi.
You can offer these vouchers to employees as a means of transportation to the corporate year-end gathering. Free trips can show them how much their presence in company events means to you and are a great way to express appreciation.
Best practices from this campaign
Visually, the campaign is simple and easy to understand. Employees instantly recognise the value of a Grab perk. The process of redeeming these vouchers is entirely online, which means it's swift and hassle-free.
Another notable aspect is the flexibility. These vouchers aren't exclusive to employees; even customers and their families can benefit from them.
2. Nestlé creates a feast for employees
What is the campaign about?
Nestlé Malaysia celebrated Deepavali or the Festival of Lights, bringing together employees of different nationalities, races and religions. Food was a focal point in the celebration, which included authentic delicacies like chicken chilli varuval, Moghul cashew nut and raisins pulao, vegetable dalcha, and more. 
In the same way, you can make the food more exciting during your Deepavali celebration or year-end gathering. Let employees order their preferred delicacies for delivery to the office party. Distribute GrabGifts vouchers to employees so they can choose from a range of restaurants.
Best practices from this campaign
The campaign played on the universal love for food. The messaging from the company was clear: "We recognise culture, heritage and gastronomic traditions." It's a nod to people's diversity and complexity and helps establish deeper connections among employees.
3. Thank-you cards from Siemens
What is the campaign about?
Siemens ASEAN ran a campaign that centred on cultivating appreciation amongst colleagues. Employees could send 'thank you' cards to each other to help foster a culture of mutual recognition. Plus, Managers could give 'points' for commendable work, which employees could accumulate over time and exchange for prizes.
Looking to replicate this? Consider GrabGifts vouchers. As a manager, executive or owner, you can give an employee a personalised note of thanks, coupled with a voucher. This approach acknowledges their hard work over the year. Not only does it hand out a tangible reward but also boosts morale through personalised recognition.
Best practices from this campaign
Personalisation of the messages was a key part of this campaign. Each 'thank you' card was uniquely tailored for the employees, which made it more meaningful. More than that, the campaign was about connection – managers and colleagues alike could directly send words of gratitude to their peers. This hands-on involvement created a personal, meaningful experience and underlined the true value of appreciation in the workplace.
4. Gift a cup of Starbucks with additional rewards on the side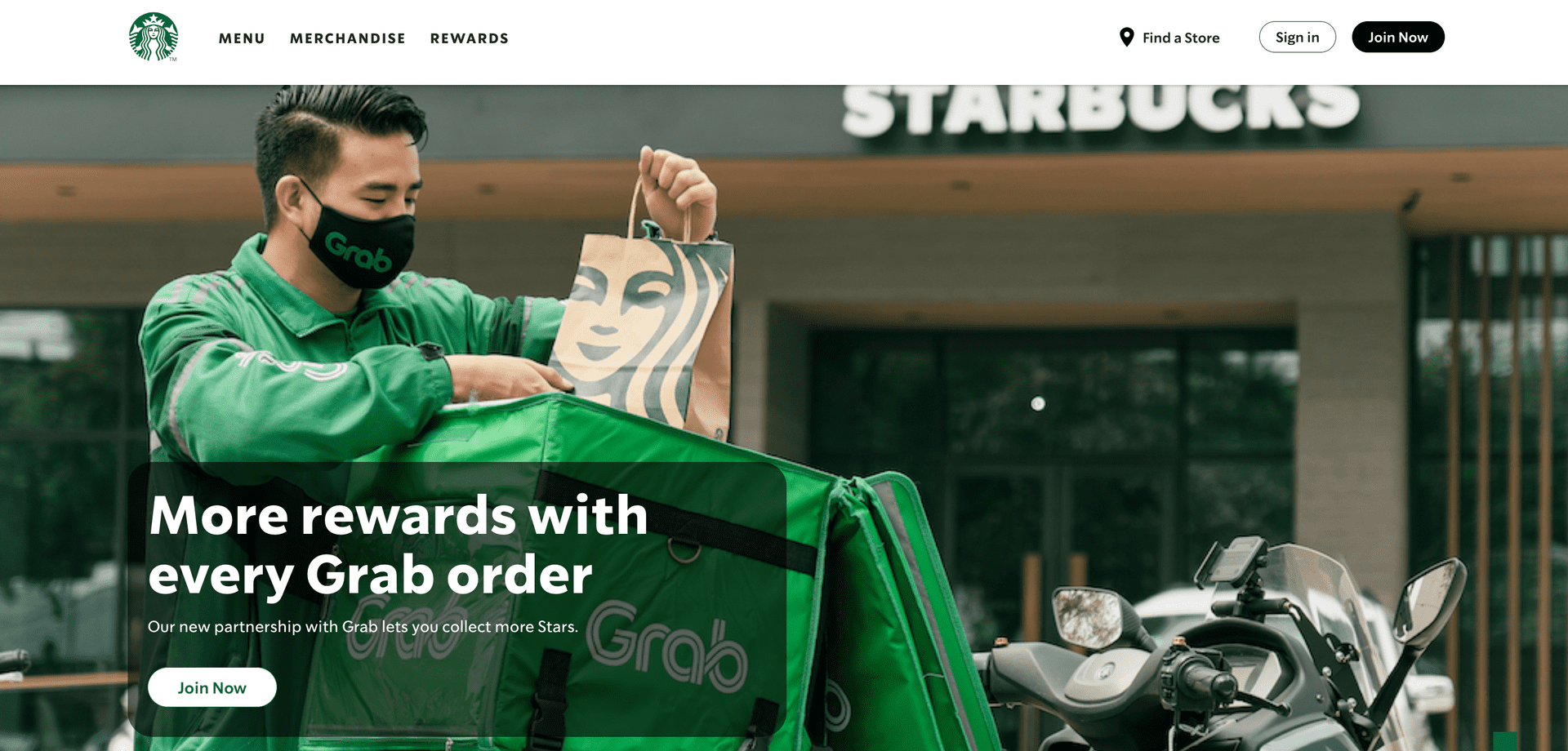 Image from Starbucks Philippines
What is the campaign about?
Starbucks Philippines and GrabGifts have teamed up to offer gift cards for coffee purchases. This scheme also integrates with Starbucks' existing loyalty programme where each payment earns Stars. Collect 100 Stars, and it's possible to redeem a free item from any Starbucks store.
Transferring this concept to a business setting, you can consider giving Starbucks gift cards to employees for year-end celebrations. It is a practical perk that allows employees to enjoy a coffee break, either with colleagues or outside of work. It is also an effective way of showing appreciation and fostering a positive company culture.
Best practices from this campaign
GrabGifts digital vouchers are very easy to use. Employees appreciate the fact that the reward – coffee, a near-universal favourite – can be delivered quickly and conveniently through the Grab app. This strategy acknowledges employees' preferences, providing a reward that is both appealing and practical.
Moreover, the campaign integrates with Starbucks' established rewards system. Employees who are already Starbucks Rewards members gain Stars every time they redeem their gift, creating a satisfying and beneficial experience.
5. Mölnlycke Health care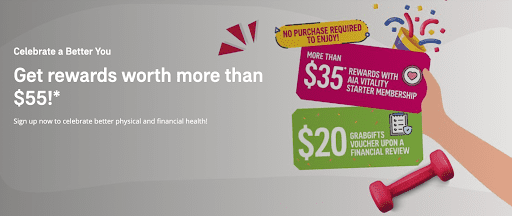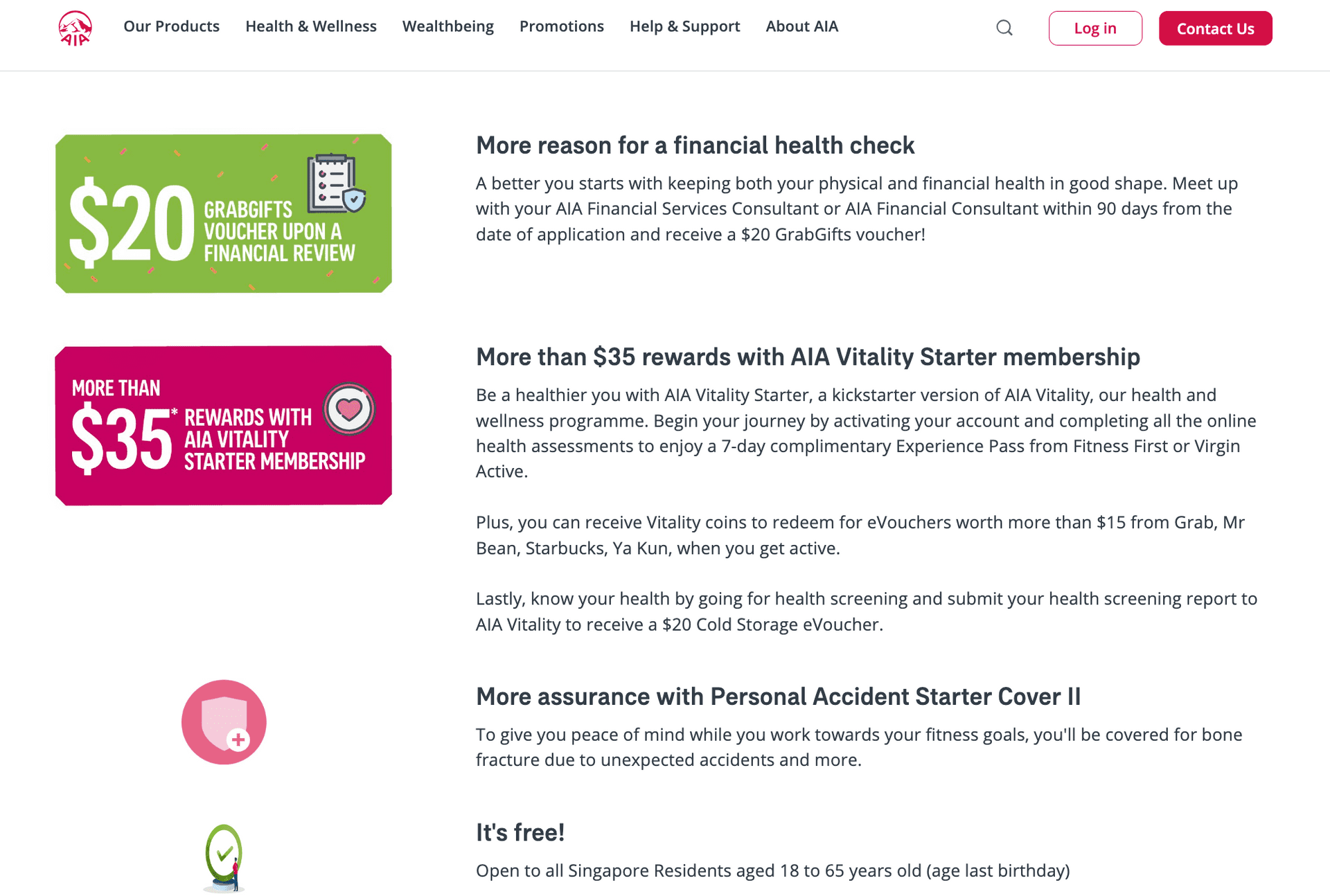 Image from AIA
What is the campaign about?
Mölnlycke Health Care recognises employees by acknowledging the value of health and overall well-being. The company worked with a teleconsultation service provider in Singapore to provide medical coverage to employees and extend their insurance coverage to employees' spouses.
AIA, a Singapore-based insurance company, does something similar. It offers a S$20 GrabGifts voucher to people who go for a financial health review. It also offers a complimentary fitness pass worth over S$35.
Companies can do something similar by having a tie-up with health and wellness service providers and insurance companies to recognise employees' hard work. Using e-voucher rewards makes it easier for employees to redeem, considering many of them are likely setting new health goals for the new year.
Best practices from this campaign
This campaign shines because of its great visuals and clear message. The images are eye-catching and deliver a simple, powerful, and direct corporate message: Let's boost your physical and financial health. Best of all, it's free, showing care for employees' well-being in more ways than one. 
6. Spreading the word on Facebook about Transcom Asia gifts for employees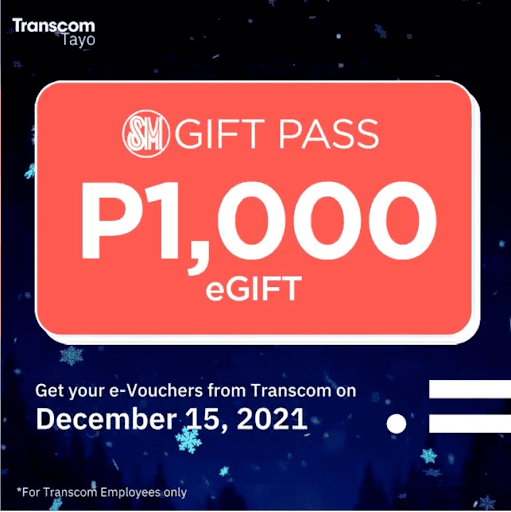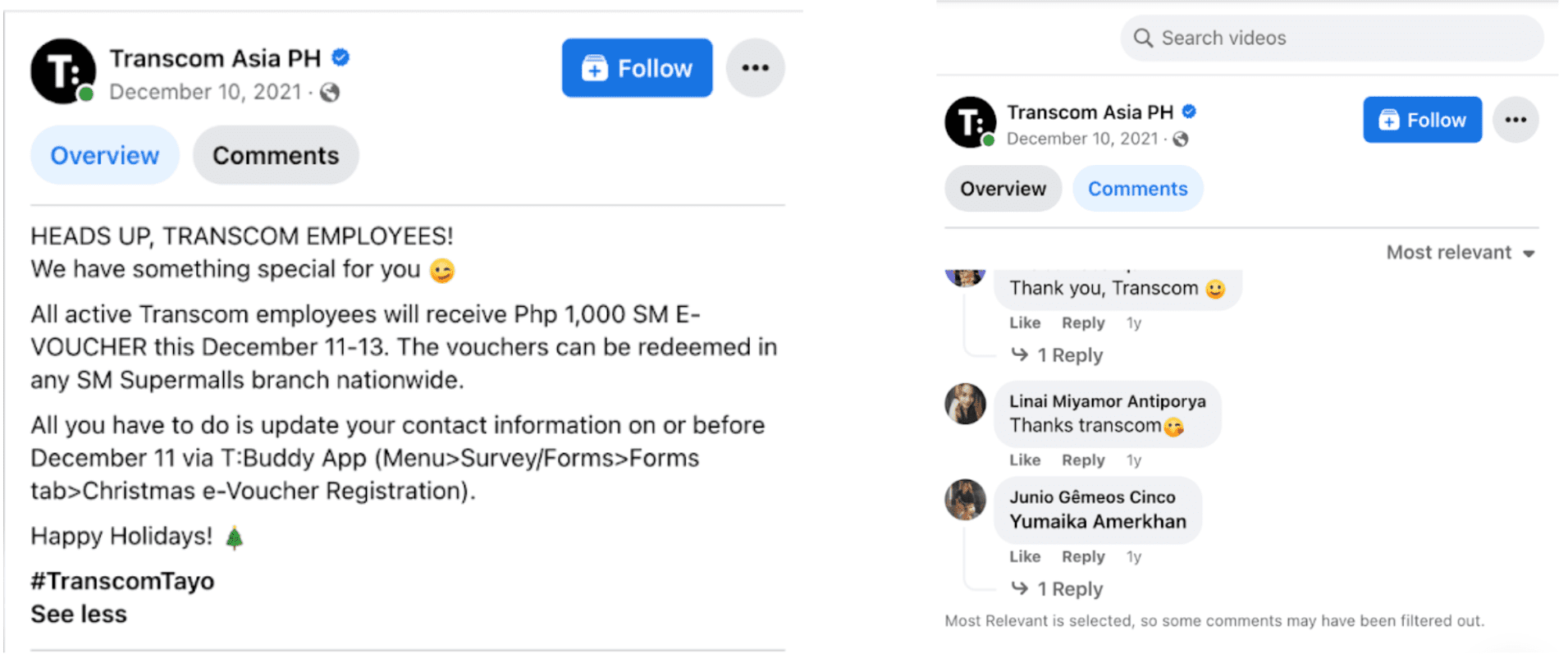 Images from Transcom Asia Philippines
What is the campaign about?
Transcom Asia is a business outsourcing company with more than 8,000 agents throughout the Philippines. To make the big announcement that the company was giving away a shopping e-voucher worth P1,000, it turned to social media where employees could share and comment on the post.
Companies can also do this by giving shopping e-vouchers to employees for them to enjoy during the busy holiday season. Giving them the opportunity to choose how to use up the value of the voucher is an extra perk.
Best practices from this campaign
The campaign's image is simple and presents the value in a big font size. The company used Facebook as its messaging channel, which reaches thousands of people easily. The vouchers are also very easy to redeem. With SM Malls dotted around the country, employees can swap their e-vouchers for items they like, virtually anywhere.
7. Let your employees travel a bit (Hong Kong Goodies)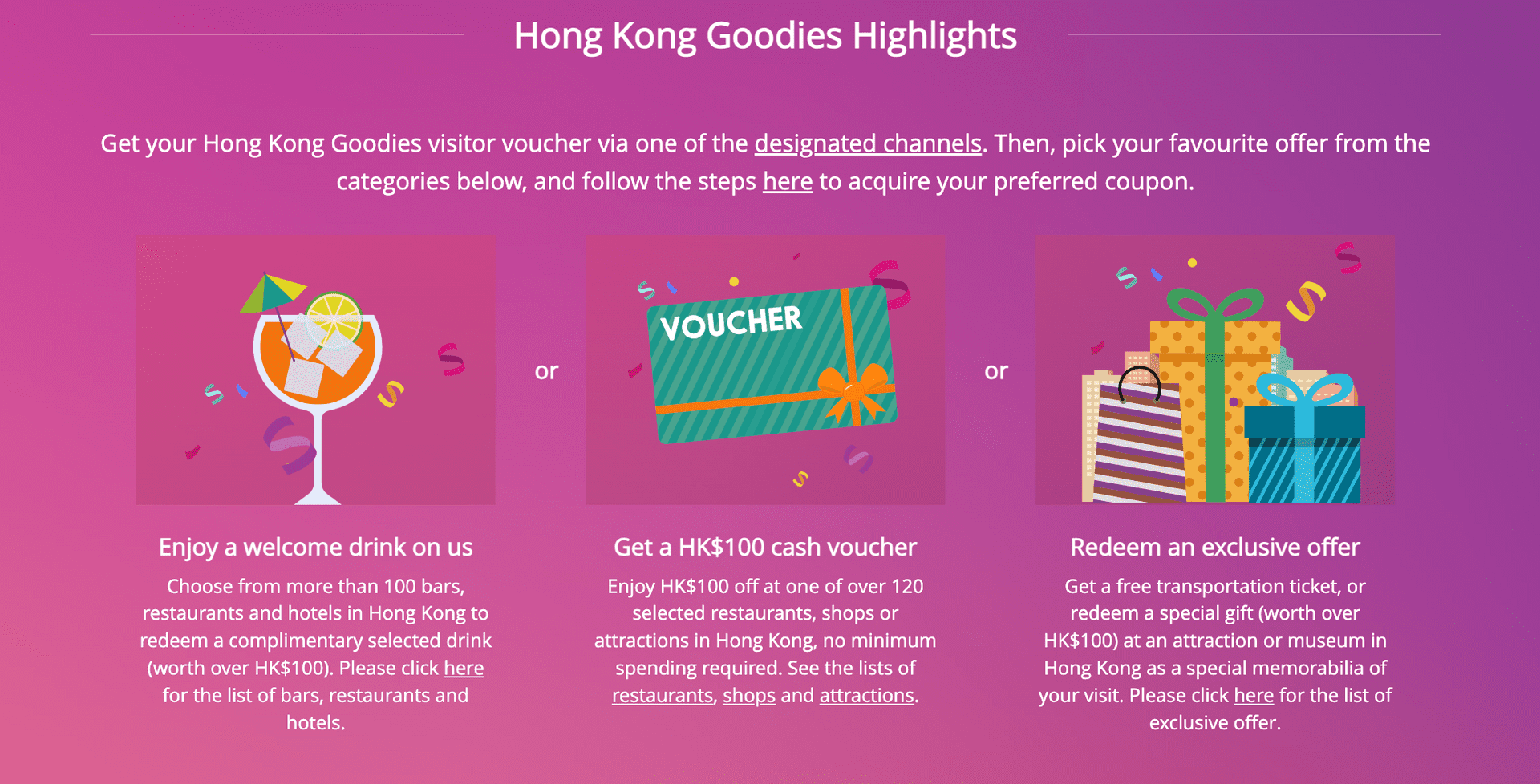 Image from Hong Kong Tourism Board
What is the campaign about?
This campaign revolves around Hong Kong Goodies, offering exclusive vouchers to city visitors in a bid to rejuvenate local tourism. Visitors have some enticing options: they can claim a HK$100 cash voucher, sip on a complimentary drink at any one of the 100+ partner restaurants, bars, and hotels, or get free transportation tickets to explore attractions or museums.
The campaign is applicable across multiple industries. Companies can adopt a similar strategy of rewarding employees by gifting them with a free trip or free ride. It does not even have to be an international trip; employees have much to see and experience locally, whether it's new attractions, restaurants, or hidden city gems. It's a fantastic way to help employees unwind, explore, and feel valued.
Best practices from this campaign
This campaign stands out with its dynamic and colourful visuals. Flexibility is another strong point; customers can use the vouchers in different ways such as shopping, dining, or exploring attractions. Adding to the appeal is the element of choice, bringing in a sense of gamification that engages the customer. Essentially, combining attractive visuals with flexibility and choice could be an effective strategy for similar initiatives.
Make your year-end rewards more meaningful
They say it's the thought that counts. Grab can do most of the thinking if you buy GrabGifts. You can purchase these digital vouchers in bulk, simplifying your gift-giving process in just a few clicks.
Once your employees receive their GrabGifts, they gain the freedom of choice. They can use their digital vouchers to pay for a range of services including Grab Transport, Food, Mart, or Express. It's entirely up to them how and when they choose to redeem their vouchers in the Grab app. This flexibility adds a personal touch to your gift.
Further personalisation comes in the form of custom messages. With GrabGifts, you can add a message tailored to each employee, making your gift unique and thoughtful.
We're here to make your office holiday celebration as smooth as possible. Contact us for bulk orders or to talk to a consultant on how best to utilise GrabGifts this holiday season.