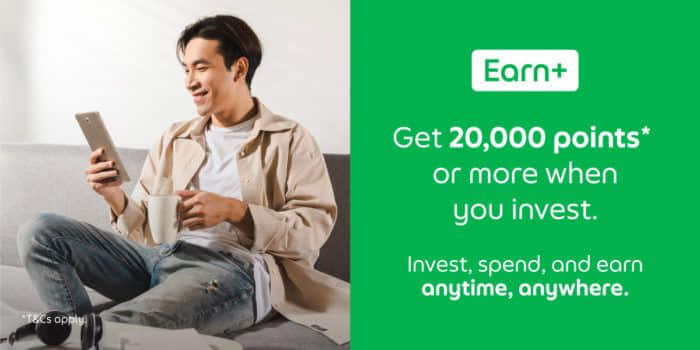 Earn+ September Promotion Terms & Conditions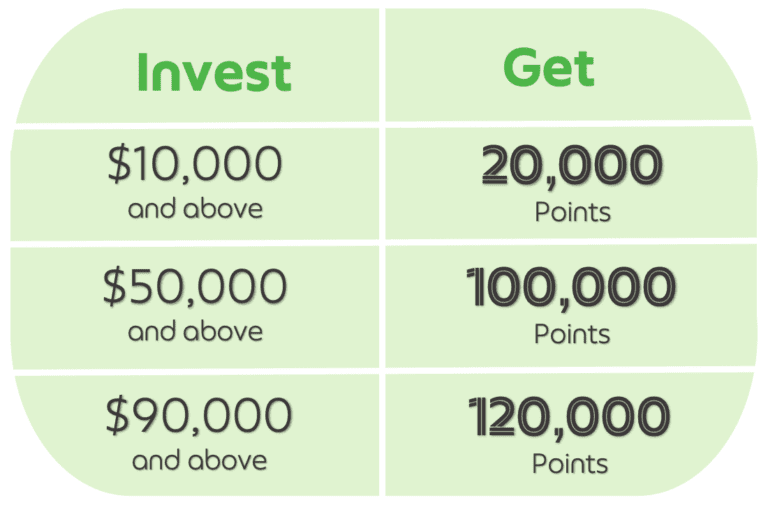 Earn+ September Promotion ("Promotion")
Make nett investments of $10,000 or more into Earn+ to be eligible to earn up to 120,000 GrabRewards Points ("Reward") as a part of this campaign.
1) Terms that are not defined herein have the same meanings as those used in the Grab application.
2) By taking part in the Promotion, each user agrees to be bound by the terms and conditions herein.
3) The Promotion is valid for new and existing Earn+ users with Eligible Investments (as defined below) made from 5 September 2022 00:00 to 16 October 2022 23:59 (the "Promotion Period").
4) "Eligible Investments" are nett amounts that have been transferred into Earn+ each time an eligible user uses Grab. This excludes any returns from the portfolio. The Eligible Investments must be fully and successfully invested in the underlying funds, with the transfer status being "Invested" and the investment status being "Bought".
5) Eligible Investments do not include: 
a) amounts transferred into Earn+ with any of the following transfer statuses: 
i) Awaiting transfer;
ii) In progress;
iii) Pending refund;
iv) Refunded;

v) Cancelled;
vi) May be delayed;

vii) Accept investment;

viii) Check your email; or

ix) Checking things over;

b) investments in Earn+ with any of the following investment statuses:
i) Buying;
ii) Cancelled;
iii) Selling; or
iv) Sold; and
c) amounts of which a withdrawal from Earn+ has been initiated, including those with any of the following withdrawal statuses:
i) In progress;

ii) May be delayed;

iii) We'll be in touch;

iv) Check your email;

v) Checking things over; or

vi) Complete.

6) Each eligible user will win one Reward only.
7) The Reward will be awarded to eligible users 90 days after the last day of the Promotion Period (14 January 2023). Rewards will be awarded based on the nett investment amount made during promotional period, taking into account any withdrawals.
8) Only users who maintain at least the invested amount in Earn+ until 90 days after the last day of the promotion period (14 January 2023) will be eligible for the Reward.
9) The Promotion will end on the last day of the Promotion Period, or immediately after all available Rewards have been awarded to eligible users, whichever is earlier. 
10) Grab reserves the right to limit accessibility of users to the Promotion or offer different users different Promotions, and therefore users may receive Promotions with varying terms, or may not receive any Promotion.
11) GrabRewards Points awarded in the Promotion will not count towards tier qualification. 
12) Unless otherwise provided, all Rewards are non-transferable and non-exchangeable for cash/credit in kind.
13) Grab reserves the right to, at its sole and absolute discretion: 
a) alter, extend, shorten, terminate, withdraw, amend, change, or in any way modify this Promotion or the terms and conditions of this Promotion at any time, without giving prior notice, or compensation in cash or in any other kind, to any user or any other person;
b) disqualify or reject any user deemed ineligible for the Promotion, be it under these terms and conditions or, in Grab's sole opinion, having engaged in conduct that Grab considers inappropriate or unacceptable in any way; and/or
c) substitute the Reward for another prize in any circumstance, including but not limited to, unavailability of the Reward, illegality, or non-feasibility.
14) Grab's decisions in any matter in relation to the Promotion shall be final and conclusive. Grab shall not be liable to any user or any third-party for claims or losses of any nature, including but not limited to, loss of profits, expectation loss, punitive, indirect, special, incidental, or consequential damages or for other damages and any related claims of any nature, including direct, indirect, third-part, consequential or other damages resulting from or in connection with the Promotion.
15) Grab may request for such documents or further information to verify and check the identity of any eligible user to, amongst others, prevent gaming and fraud.
16) These terms are governed by the laws of Singapore. Any dispute, action, claim, or causes of action arising out of or in connection with these terms shall be referred to the Singapore International Arbitration Centre ("SIAC"), in accordance with the Rules of the SIAC, as modified or amended from time to time (the "Rules") by a sole arbitrator appointed by the President of the SIAC in accordance with the Rules. The seat and venue of the arbitration shall be Singapore, in the English language, and the fees of the arbitrator shall be borne equally by the parties, unless otherwise determined by the arbitrator.
The content on this website is for information purposes only. For full GrabInvest Terms and Conditions, click here.
Any advertisements on the website have not been reviewed by the Monetary Authority of Singapore.
GrabInvest (S) Pte Ltd is regulated by the Monetary Authority of Singapore and holds a Capital Markets Services licence (CMS100908).