Traditionally, work is classified generally into formal and informal work. Formal work is typically characterized by full-time employment. It is governed by labor laws and a contractual employer-employee relationship stipulating an employee's job scope, schedule, remuneration and benefits.
Informal work, on the other hand, is largely unregulated and ad-hoc. It has neither fixed pay nor social protections, and is epitomized by roles such as odd-job laborers and media freelancers. In contrast to regions such as North America or Europe, informal work is predominant in Southeast Asia and estimated to account for over 70 percent of workers.1
In recent years, a third type of work known as platform-enabled gig work has emerged. Gig work itself is not new, however, platform-enabled gig work is a hybrid form of work made possible through digital technology and enabled by platform companies like Grab. Each type of work carries its own advantages and trade-offs.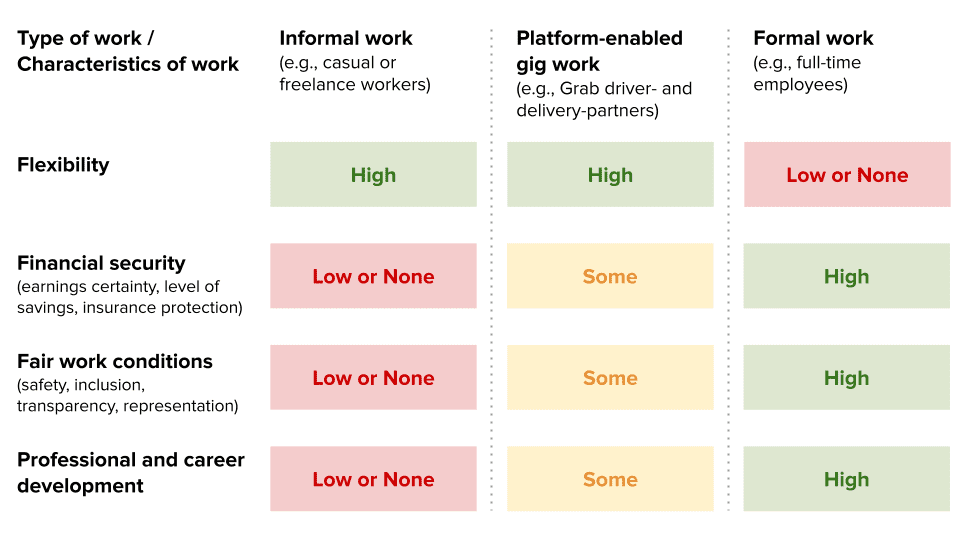 Benefits and challenges of platform-enabled gig work
Platform-enabled gig work brings significant benefits to the region. It harnesses digital technology to create income opportunities. It provides flexible and accessible livelihoods to people who do not fit traditional work models given lifestyle choices or constraints, such as entrepreneurs and caregivers. It makes flex work more scalable, somewhat more predictable, and viable as an alternative source of income. This allows economies to adapt as businesses get disrupted and jobs lost, cushioning the impact of transformation as industries decline and new sectors emerge.
The gig economy also helps consumers access services more conveniently. It allows small businesses to digitalize to expand their operations and reach. In Grab's case, 46 percent of driver-partners did not earn an income prior to accessing work on its platform – a testament to its role in livelihood creation.2
That said, platform-enabled gig work is not without its concerns. There are questions on the viability of the platform company model, and whether livelihood opportunities will be compromised if it is not sustainable in the long run. There are concerns that gig worker protections are inadequate and their incomes uncertain as compared to formal work. Gig workers may have a weak bargaining position versus platform companies. They may also find it difficult to build skills to advance as compared to their counterparts in more formal positions that have well-defined career progression pathways.
Grab's journey to improve platform-enabled gig work
Grab recognizes these concerns and has been engaging deeply with them. We started out to unlock the potential of gig work in facilitating economic empowerment in Southeast Asia.
Since our founding in 2012, the welfare of our driver- and delivery-partners has been top of mind. We have introduced policies on safety and inclusion, and provided benefits such as fuel discounts and training.
Around 2 years ago, we made a decision to double down on these efforts and improve gig worker protections in a much more structured way, in collaboration with a broad range of public and private sector stakeholders.
November 2020: Grab Conversations podcast
on the
Gig Economy
launched, featuring chats with partners and industry experts to better understand gig workers' needs
April 2021: Grab announces the GrabForGood fund
to provide
benefits to partners
, such as insurance subsidies and education scholarships
Grab's guiding principles on the gig economy
Our journey continues. Our aim is to achieve a sustainable and beneficial gig economy for all stakeholders. We believe that the gig economy can serve as a pillar of the region's labor markets and economies. A set of principles guides our approach and commitment towards this vision:
1. Preserve flexibility: Flexibility is an important tenet of gig work. Over 70 percent of Grab's partners cited flexibility as the reason they chose to take up work via the Grab platform.3 
We commit to preserving our partners' ability to choose when to work and how much to work based on their preferences. We want to engage with governments and society to support the preservation of flexibility and autonomy while maintaining adequate gig worker protections.
2. Sustainable earnings: For partners on our platform, we commit to nurturing a marketplace that enables them to earn an income that is competitive relative to local market conditions and their effort. We are transparent on expected earnings ranges so that they can make an informed choice. Where feasible, we commit to setting guardrails around partners' earnings levels so that these are sustainable for them. 
We will carefully balance between earnings levels and consumer prices, while ensuring best-in-class service quality and safety for everyone. To continue benefitting all users, we also need to ensure that our platform remains financially sustainable.
3. Insurance protection: We provide work-related accident insurance coverage for our partners to protect them from accidents and incidents that may arise in the course of their work. We also aim to provide further support beyond work-related coverage via our GrabForGood fund, to augment insurance protection for our partners.
4. Fair work conditions: Gig work needs to be fair work. This means four things for us:
First, we are committed to promoting a safe environment for all platform users. 
Next, we are committed to ensuring that gig work is inclusive for all demographic groups.
Third, we are transparent with our codes of conduct, so that partners know what they have to abide by. We also ensure earnings are paid out in a timely manner, and where appropriate seek to consult relevant partner community representatives in advance of material actions we take that affect our partners. 
Finally, we commit to ensuring our partners have a voice, so that they can communicate their concerns and engage with us. This means setting up multiple and frequent channels of communications with the diverse group of partners that are on our platform.
5. Savings: The ability of gig workers to put aside savings is critical for their long-term retirement adequacy. This is especially important for partners who derive their primary income from our platform. 
We seek to encourage our partners to participate in national savings schemes for gig workers where these exist. Where they do not, we plan to work with governments and industry to tailor existing schemes to gig workers, or create new ones via fintech innovation. 
Where needed, we provide courses on financial literacy that emphasize the importance of savings, to promote good financial habits that build financial security amongst our partners. We will also strive to help our partners gain access to other financial instruments that can contribute to their long-term retirement adequacy needs.
6. Professional development and career transition: Gig work should facilitate upskilling and reskilling, and promote lifelong learning. Around 70 percent of our partners have expressed interest in attending training and skills development programs to improve in their current role, while two-thirds of our partners hope to leverage skills gained to transit into other career fields.4 
We commit to facilitating these programs in partnership with governments and industry, to help our partners professionalize in their current roles or develop new skills in preparation for career transition.
Collaboration between stakeholders is critical
Building a sustainable and beneficial gig economy is a joint effort with governments, other platform companies and broader society. It requires balancing delicate trade-offs between these different groups, whereby optimizing for one stakeholder may lead to costs imposed on another. 
To make this ecosystem a win-win-win for gig workers, consumers and platforms, we are fully supportive of robust dialogue about what a sustainable and beneficial gig economy could look like and how we will get there.
To support effective policy making and industry development to create solutions for a sustainable gig economy in each of our markets, Grab is fully committed to engaging in dialogue to share our practices, our experiments, our challenges, and our learnings together with governments and industry partners. 
We will be publishing a series of case studies on various topics across different markets to help provide more transparency to assist policymakers and industry to better understand the issue.
We want to thank our driver- and delivery-partners for coming along on this journey with us. Together, we can work towards building a sustainable gig economy for all.
1  ILO, 2018. Women and men in the informal economy: a statistical picture (third edition), p.35 [Link]
2 Grab ESG Annual Report, 2020, p.7 [Link]
3 Based on a randomised online survey of ~5,000 respondents, conducted by Nielsen from 4 April to 9 April 2021 in Singapore, Indonesia, Malaysia, Vietnam, Thailand, and the Philippines.
4 Based on a randomised online survey of ~5,000 respondents, conducted by Nielsen from 4 April to 9 April 2021 in Singapore, Indonesia, Malaysia, Vietnam, Thailand, and the Philippines.