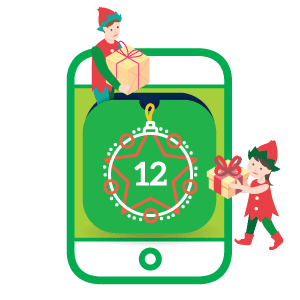 Santa's Little Helpers are just
minutes away.
The days before Christmas are always a mad rush. Presents need to get sent and
work documents needs to be rushed out. Luckily our team of GrabExpress elves
are ready to help! And they're so fast that even if you send some freshly baked
goodies, they'll stay fresh.
On-demand delivery
service


Package Size Guide

Size: 32cm x 25cm x 12cm

Weight: Below 5kg

Fast pick up and
delivered within 90
minutes

Upfront fixed price
with no surcharge

Insured up to $200
Book one now to save time and hassle so you can focus on the celebrations.
It's as easy as booking a Grab ride!
Pro tip:

You can book up to 10 GrabExpress elves to help you save time.
How to book GrabExpress
Step 1:

Open your Grab app, and click on the 'Delivery' thumbnail.

Step 2:

Enter your pick up address and your recipient's address.

Step 3:

Fill in the recipient details.

Step 4:

Click 'Confirm' and 'Book' and your package will be picked up and delivered within minutes.
HELP ME DELIVER
GrabFood delivery-partner, Thailand
GrabFood delivery-partner, Thailand
COVID-19 has dealt an unprecedented blow to the tourism industry, affecting the livelihoods of millions of workers. One of them was Komsan, an assistant chef in a luxury hotel based in the Srinakarin area.
As the number of tourists at the hotel plunged, he decided to sign up as a GrabFood delivery-partner to earn an alternative income. Soon after, the hotel ceased operations.
Komsan has viewed this change through an optimistic lens, calling it the perfect opportunity for him to embark on a fresh journey after his previous job. Aside from GrabFood deliveries, he now also picks up GrabExpress jobs. It can get tiring, having to shuttle between different locations, but Komsan finds it exciting. And mostly, he's glad to get his income back on track.