Deliver you Christmas packages nationwide with Ninja Van on GrabExpress at Flat Fare P180 per delivery (maximum of 5kg)!
Tech-enabled express logistics company Ninja Van and Grab Inc. ("Grab"), Southeast Asia's leading super app, forges a strategic partnership that integrates Ninja Van's logistics services on the Grab app via GrabExpress, Grab's on-demand parcel and courier delivery service.
Launched in the Philippines in 2016, Ninja Van became the country's fastest growing and most reliable last-mile logistics company, powering businesses with innovative logistics solutions. Today, Ninja Van Philippines has a 95% coverage of the Philippine population, with over 9,000 riders serving e-commerce players such as Shopee and Lazada.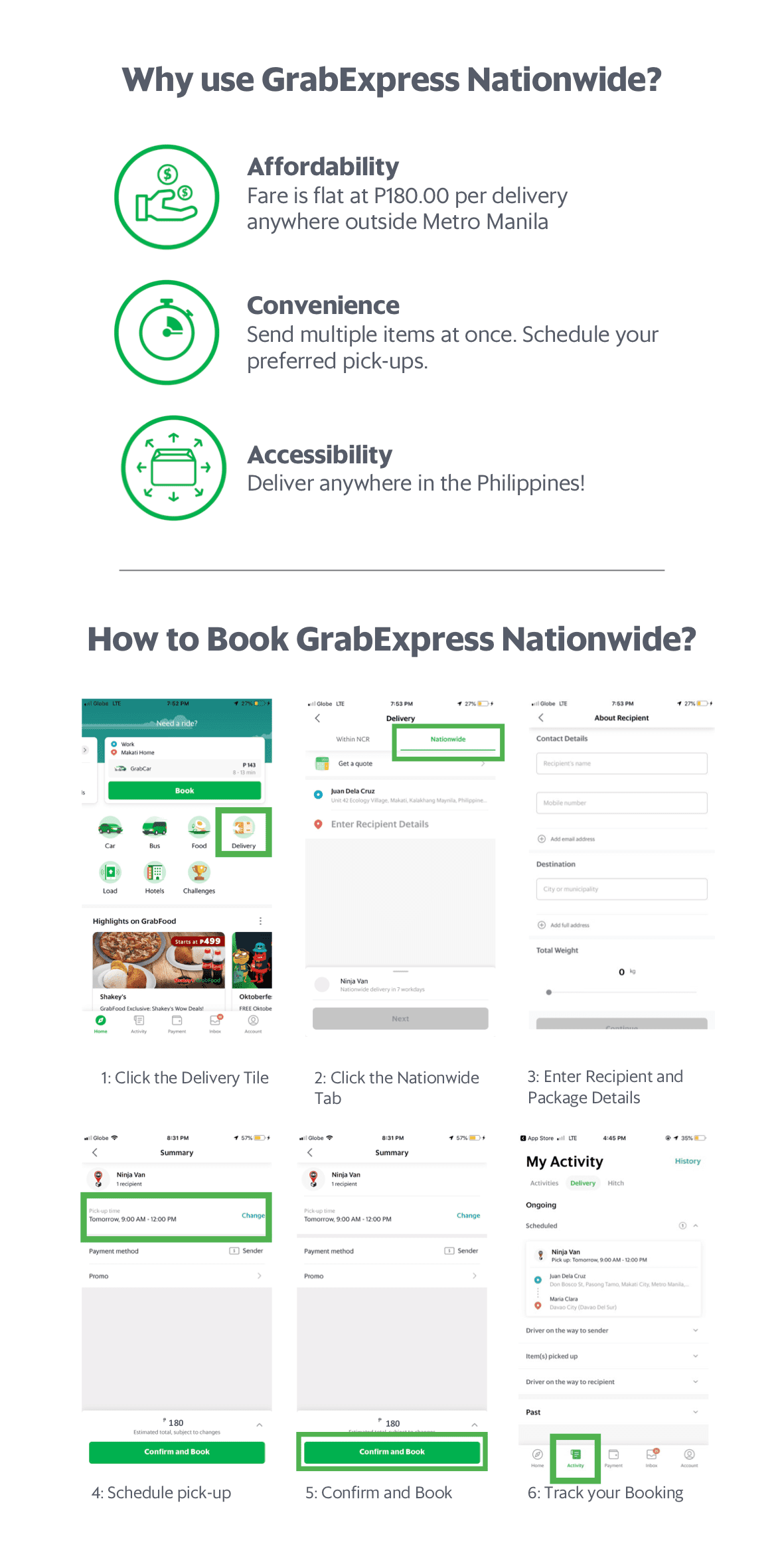 Guidelines
Packaging is required. Ninja Van will provide a pouch (12 in x 16 in). If your package doesn't fit the Ninja Van pouch, please pack it using your own materials.
Maximum of 5 kilograms.
Maximum of 100 centimeters per side.
Provide recipient details on the packaging: 1) Full name of recipient 2) Contact number of recipient 3) Tracking ID 4) Complete delivery address.
Frequently Asked Questions (FAQs)
Q: What is this delivery?
A: It is a new service available on the Grab app, which allows you to send multiple items across the country. The delivery will be fulfilled by our delivery partner Ninja Van.
Q: Who will deliver my item?
A: Your item will be picked up and delivered by our delivery partner Ninja Van.
Q: How much do I need to pay for my item?
A: The total price is calculated as pick-up fee + delivery fee. Pick-up fee is a flat surcharge for a single pick-up request. Delivery fee is flat P180 for deliveries outside Metro Manila. You can check the price from within the Grab app. Tap on the 'Delivery' tile, go to 'Nationwide', and select 'Get a quote'. Enter the pickup and destination details to get price.
Q: What payment methods are available?
A: At launch, you can only pay by cash. We will be introducing other payment methods in the future.
Q: How can I track my order?
A: You can go to the 'Activity' section from bottom navigation on the Grab app home screen to access 'Delivery' orders. Tap on the order card to view tracking details.
Q: How much insurance coverage is applicable for a delivery?
A: You can get 10 times the delivery fee or up to P2,500.00, whichever is lower, as insurance coverage.
Q: Can I purchase additional insurance?
A: No, we do not currently offer purchase of additional insurance for this service.
Q: How can I schedule a pick-up request?
A: You can schedule 1 pick-up request for the next day. You need to create the request before the service cut-off time for the day.
Q: What are the available time slots for pickup?
A: There are 4 time slots: 9AM-12PM, 12PM-3PM, 3PM-6PM, 6PM-9PM. Please note that the availability of the time slots is dependent on delivery partner. Service is not available for public holidays.
Q: What are the delivery hours for drop-off?
A: Delivery can happen during Monday to Saturday, 9AM-10PM. Service is not available for public holidays.
Q: How many pickups can I schedule for a day?
A: You can schedule 1 pick-up request per day. However, you can send multiple items in the same pick-up.
Q: Can I change my scheduled pick-up?
A: No, you cannot change the pick-up time. You will need to cancel your existing pick-up and schedule another timing. User can choose the pick up time for the next day before the cut off time for each country, which is 9pm in the Philippines.
Q: Can I cancel my scheduled pick-up?
A: Yes, you can cancel your scheduled pick-up anytime before the time slot for your pick-up begins. For, e.g., if your pick-up was scheduled for 9AM-12PM slot, then, you can cancel before 8:59 AM.
Q: Where is the service available?
A: Currently, the pick-up is available only in Metro Manila. However, drop-off is available nationwide.
Q: How should I pack my items properly?
A: Ninja Van will provide a pouch. However, if your item does not fit the pouch, please pack your items with your own materials. Please ensure that all items have external packaging that covers 100% of the exposed area. Please label the parcel with full recipient details (tracking ID, recipient name, mobile number, full address). If the parcel is fragile, please bubble wrap to provide an additional layer of protection and label it with a 'fragile' sticker.
Q: What are the prohibited items that I cannot send using this service?
A: The following items cannot be shipped through this service:
Power Banks

Aerosols / flammable gas (e.g. hair spray, insect repellent, shaving cream, spray deodorants, lighter fluid, gas canisters for camping stoves, paint thinner)

Firearms and explosives (e.g. fireworks, explosive weapons)

Toxic/poisonous/infectious substances

Items containing lithium batteries (both chargeable and non-rechargeable)

Perfume

Alcoholic beverages

Liquids (e.g. shampoo, liquid soap, cooking oil)

Powders (e.g. detergent, milk powder)

Gold and silver jewellery 

Gemstones

Live animals

Perishable/frozen/fresh items (e.g. fruit, meat, flour)

Credit cards or ATM cards

Examination certificates, passports, and insurance documentation which cannot be reproduced

Written drafts, original films, tapes, and film material which cannot be reproduced

Cash, cheques, bills, stocks and other marketable securities
Q: How can I claim my insurance in case of lost or damaged parcel?
A: Please contact Grab customer support team to file claims, and share the following details:
Email Subject: 

Loss / Damage Claim for [Tracking ID(s)] 

Information: 

Tracking ID(s)

Reason for the claim 

Exact item description for all items involved in the claim

Pictures of packaging and items (include as file attachment)

Invoice containing item value (include as file attachment)

Sender's bank details (to which claim payment will be made)

Claims due to loss or damage of items must be submitted within 14 days from successful delivery of the item. Any claims received after this period will not be recognized. 

Please allow for 3 working days from receipt of complete details of the claim for investigation to confirm the status of the claim. 

In the event that we confirm/accept our liability, we will send an email to inform that the parcel is declared lost or damage as well as a claim form. Sender will have to fill in the claim form and send back to us. We will make the bank transfer within 14 working days of receipt of the completed claim form.

For a successful claim, we will refund invoice value up to the agreed liability* (refer to Insurance Coverage)