Delight in over 50 choices of
Yee Sang on GrabFood!
Usher in the New Year with the iconic Yee Sang delivered to your doorstep. With a variety to choose from, you can indulge in a burst of flavours and still be craving for more!
Available until 9 Feb 2020.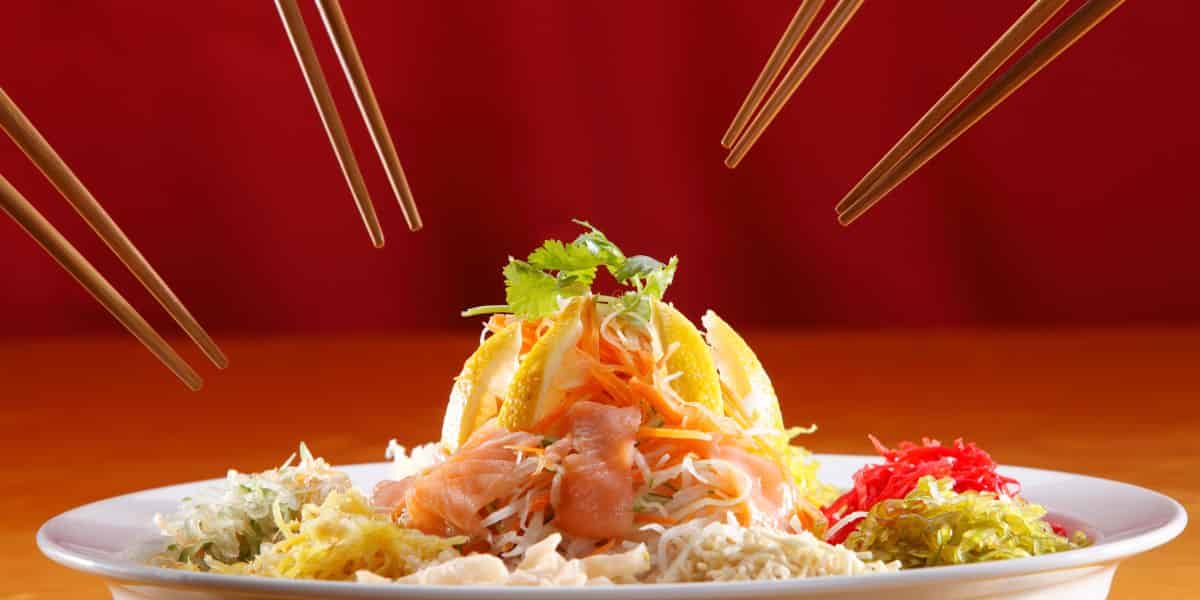 …and many more!
Order Now
An Viet
Canton Kitchen
Delicious
Din Tai Fung
Dragon-i
Dynasty Dragon Seafood Restaurant
Eatomo
Esquire Kitchen
Golden Thai Seafood Restaurant
Isaki Japanese Restaurant
Janxden Greenlife
Kiararia Cafe
La Gourmet Dessert
La Juiceria Superfoods
LaLa Chong Seafood Restaurant
Little Ma Hotpot
Loyal Gourmet Seafood
Lushbowl
M Chef Seafood Restaurant
Madam Kwan's
Mei by Fat Spoon
Michele's Kitchen
Mohammad Chow Express
myPizzaLab
Nagomi Teppanyaki & Okonomiyaki
Nyonya Cuisine
One Roast Kitchen
Paradise Dynasty
Pilipala Poke Bowl
Pinxin Vegan Cuisine
Projek Nasi Lemak
Purple Cane Tea House
Restaurant Aunty Lee
Restaurant Mable Vege
Restaurant Pin Xiang
Restoran Gao Ren Guan
Restoran Jin Dong Fang
Restoran Makanan Tien Xia
Restoran Mawar Gembira
Restoran Mei Kheng
Restoran Song Lim
Sakae Sushi
Salad Atelier
Samurai Ramen
Shiro Hokkaido
Simply Green Salad Gallery
SOULed OUT
Super Saigon
Sushi King
Tayo Bowl
The Fish Bowl
Tian Pin Vegetarian Restaurant
Tiny Times Restaurant
Together Vegetarian Restaurant
Tokyo KItchen
V Garden Restaurant
Wong SengHin Seafood Restaurant
Xin Hua Restaurant
Ying Ker Lou
Zen House Japanese Vegetarian Restaurant
Zhai Min Vegetarian Restaurant
List of participating merchants


Enjoy 50% off on your cravings!
Use GrabFood promo code: HUATEVER
This year, GrabFood brings you more varieties to choose from with 50% off your orders (up to RM15 with a minimum spend of RM28) to make your celebration extra special. Huatever you crave for, just order lah!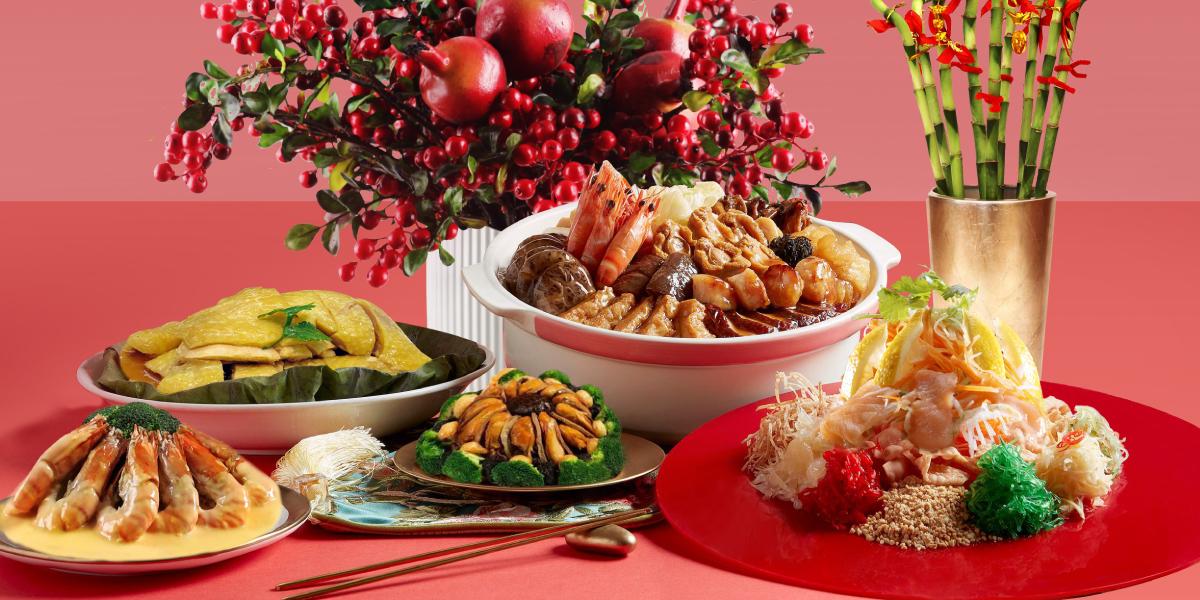 …and many more!
A&W
A1 Bak Kut Teh
Ai Nasi Lemak Ayam Berempah
Alibaba And Nyonya
Arabica Restaurant
AROI Mak Mak
Ayam Bakar By BIG
Baskin Robbins
Bean Brothers
Bens
Bens General Food Store
Beyond Veggie
Big Juiceee
Boran Classic Thai Street Food
Bowl Bowl by Rinse
BreadFruits
Buharry Briyani Bistro
Butaya izakaya
Buttermilk Kitchen
Chai Thai
Chakri
Charlies Cafe And Bakery
Chatime
Chuan Chiew Bak Ku Teh
Coffee Stain
Cojiitii
Daves Deli
Define Food
Delicious
Devis Corner
Dome Cafe
Drink2u
DT Cafe Shellout And Western
Durian SS2
Eatomo
Esquire Kitchen
Gajah Mada
Glow Amazingraze
Hayaki
Heaven Eat
HeyCha
Hokkaido Baked Cheese Tart
Hong Kong Sheng Kee Dessert
Hot And Roll
Hui Lau Shan
Jassal Tandoori
Jinjja Chicken
Juicy Fresh Juice Bar
Kenny Rogers Roasters
KGB
Kiararia Cafe
Knowhere
Koay Teow King
Kokioh
KopiClub
Lacher Patisserie
Leng Zai Bak Kut Teh
Lim Fried Chicken
Little Fat Duck
Loo Kee Chicken Rice
Lou Yau
Lushbowl
M Fried Chicken
Macha And Co
Madam Kwans
Madinah Cafe
Maluri Tomyam
Markonah Food And Co
Mikeys Original New York Pizza
Mios Kitchen
Mohammad Chow Express
MTR 1924
Mushroom Panda Xiao Chao
My Cravings
MyeongDong Topokki
Nagomi Teppanyaki And Okonomiyaki
Nasi Lemak Antarabangsa
Nasi Lemak Saleha
Nasi Pak Man
Nest
NY Burger Co
Onde Onde
Original Rice Plate
Papa Gyoza
Paperfish
Pasta Panas
Pasta Zanmai
Penang Road Famous TeoChew Chendul
Pizza House
Plan B
Prawn Noodle King
Purple Cane Tea
Purple Monkey Cheesecakes
Rain Cafe
RawSome
Real Penang Restoran
Red Lobster
Restoran D Chow Kit
Restoran Seri Sentosa
Restoran Uncle Rahmat
Roast And Grill
S Wine
Sabah Chilli Pan Mee
Salad Atelier
Saladstop
San Francisco Coffee
Sanoook
Secret Recipe
Shen Heong Bak Kut Teh Restaurant
Simply Green Salad Gallery
Sixty Bites
Sweetooth Cafe
Tail and Fin
Tansen Izakaya
Tasticious
Tasty Chapathi
Tealive
Tedboy Bakery
Tedboy Express
Teppanyaki
Tetangga Kita
The Alley
The Black Whale
The Butter Chicken
The Majapahit
The Manhattan Fish Market
The Rhythm Lab
The Steam Room
Tony Romas
Tuts Egyptian Eatery
Two Pesos
Udang King Cafe
Wasabi
Whans Thai Food
Wingstop
Yakitori Haki
Ying Ker Lou
Yumi Bubble Tea
YUN Bridge Noodle
Zenjo
List of participating merchants
The Huatever Challenge
Just make three transactions to complete the challenge. Three winners will win a Starbucks Chill Patrol Van party! Challenge ends 23 January 2020.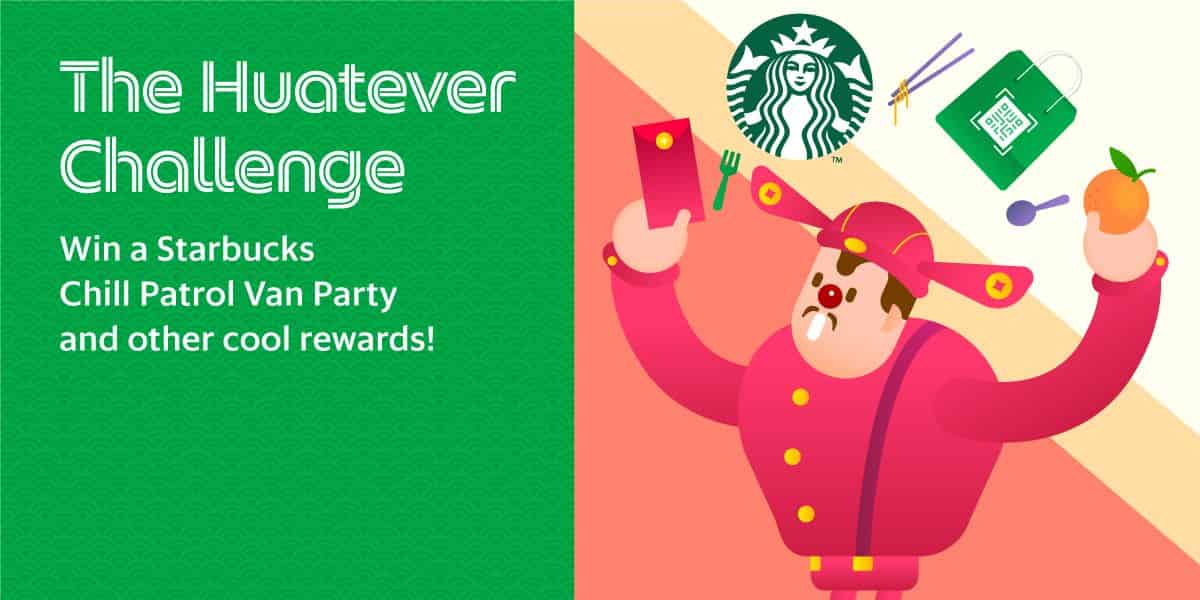 Learn the art of Tai Chi to solve Huatever problems this Chinese New Year. Watch the film now!