There's no better way of pleasing a crowd (or a partner) than with a truly epic birthday cake. We're lucky here in KL to have a plethora of bakeries and cake shops, from the established to the boutique, and therefore an incredible range of cakes to choose from for those special days. Here are some of the best cakes in KL, and lucky you, you can order them online via the new GrabFood whole cakes delivery service.
Psst! Delivery is just RM7, and you can enjoy 15% off with the code CAKESOTW from now until 31 December 2019. Don't forget, this offer is valid for selected merchants in the Klang Valley.
Modern cakes

For a real wow-worthy cake, you can't look past Ennoble by Elevete (pictured top), the brand behind several of Instagram's most showstopping cakes, and the supplier to some of your favourite cafes. One of its most popular creations: the Popstar, a salted caramel chocolate cake crowned with a delicious and photogenic ring of popcorn. Another crowd-pleaser is the Locale, featuring the familiar flavours of pandan and gula melaka; a towering green dream of pandan cake layers sandwiched with addictive gula melaka icing and topped with caramel and coconut shavings. And of course, Ennoble by Elevate does the classic Burnt Cheesecake.
Ennoble by Elevete
Pricing: from RM80–145 for whole cakes
Available online only

Over in Bangsar, family favourite Tedboy bakery is known for its great pastries and sandwiches, but don't skip its elegant, sophisticated cakes. The Pear Helene would impress any mother-in-law, while the Salted Hazelnut Praline, covered in glossy chocolate ganache, is a winner at any occasion.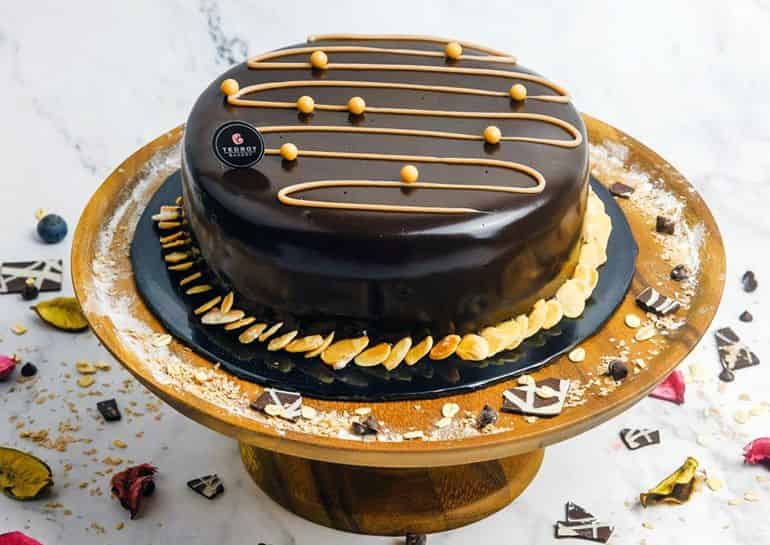 This is Tedboy's most luxurious cake, with Valrhona chocolate and Pearls. Photography: courtesy of Tedboy
Tedboy
Pricing: from RM68.90–84.80 for whole cakes
Phone number: 03-2202 1312
Opening hours: Monday–Friday: 7.30am–9.30pm; Saturday–Sunday: 8am–9.30pm
Or try Kiara Cakes, a homey cafe with a seriously impressive cake display. We love its famous Cempedak Kek Lapis for a comforting twist on a classic, or the beautiful Strawberry Lychee Rose Cloud Cake.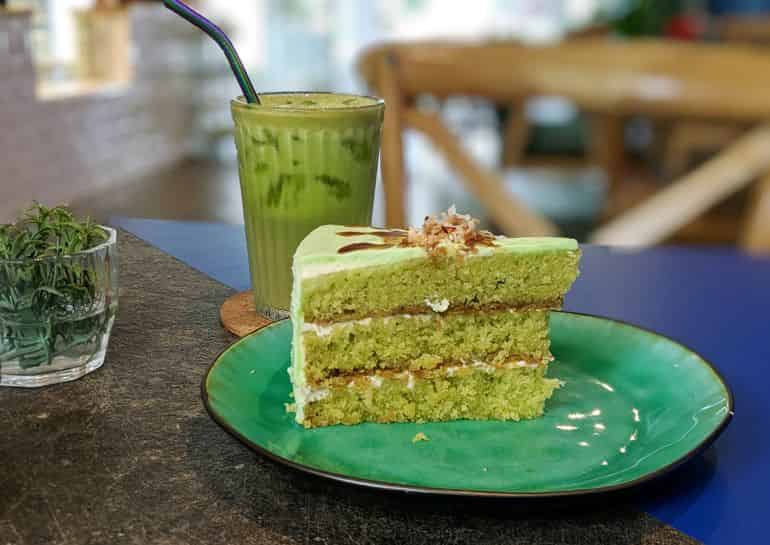 Sample a slice of Kiara Cakes' bestselling pandan gula melaka cake
Kiara Cakes
Pricing: from RM12.50–16.50 for cake slices (please note whole cakes are currently not available on GrabFood)
Phone number: 013-518 8000
Opening hours: Monday–Tuesday: 9am–7pm; Thursday–Sunday: 9am–7pm
Ice cream cakes

Can you say "ice cream cake" and not think immediately of Baskin-Robbins? The place is an ice cream institution. And before you ask, no, ice cream cakes are not just for kids — though Baskin-Robbins definitely knows what will appeal to its younger consumers. There's the adorable Happy Bunny cake for young'uns, or the rather more grown-up Chocolate Tuxedo, encased in bars of milk chocolate and sprinkled with chocolate shavings, for the adults.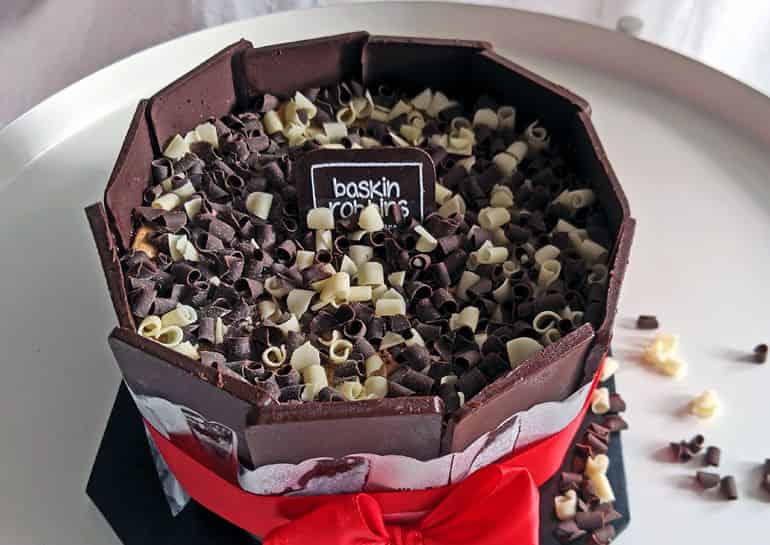 Baskin-Robbins' Chocolate Tuxedo cake comes in a variety of three chocolatey ice cream flavours
Baskin-Robbins
Pricing: from RM105–239 for whole cakes
Phone number: 03-2391 9931
Opening hours: Monday–Sunday: 10am–10pm
Or support home-grown brand Inside Scoop, beloved by KLites for its innovative, nostalgic flavours. The Bombe Alaska is an absolute stunner, with layers of Inside Scoop's bestselling durian and Valrhona chocolate ice cream perched on a crunchy peanut base, beautifully finished with a lightly torched layer of sweet meringue.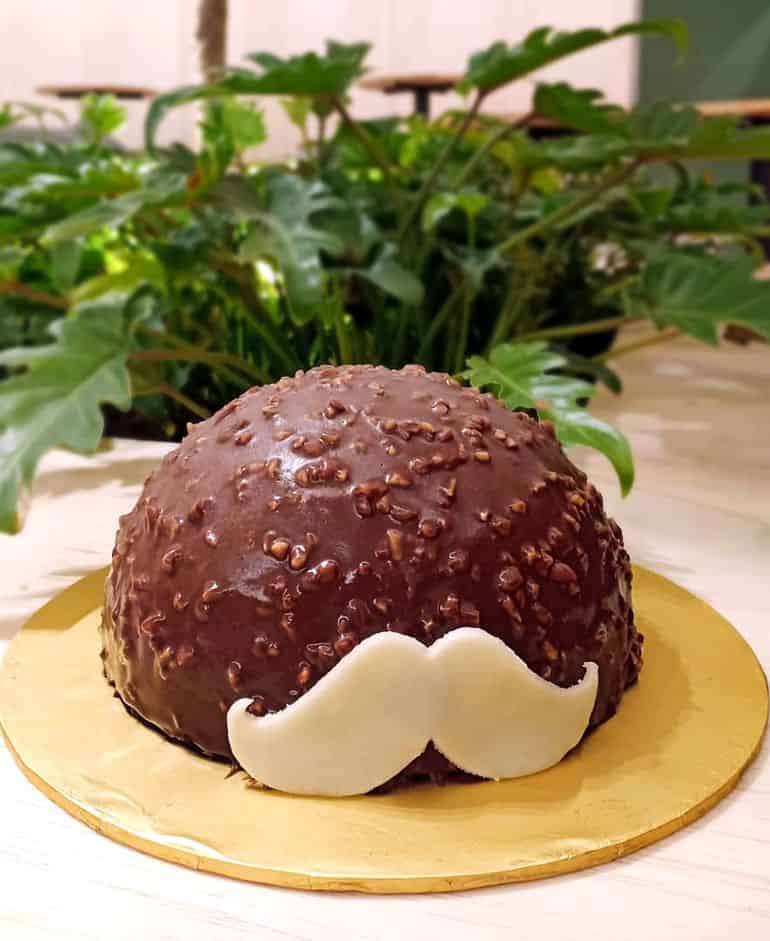 The Rocher cake features Inside Scoop's Rocher ice cream at its heart, nestled in chocolate mousse and finished with peanut chunks and more chocolate. Photography: courtesy of Inside Scoop
Inside Scoop
Pricing: from RM93.30–135.70 for whole cakes
Phone number: 03-2202 0235
Opening hours: Monday–Thursday: 1pm–11pm; Friday–Saturday: 12.30pm–12am; Sunday: 12.30–11pm
Classic cakes

is loved by mothers and grandmothers all over KL, and for good reason — its cakes have come to represent classic celebrations, from birthdays to anniversaries to graduations. For a no-brainer, pick a chocolate option; the Chocolate Indulgence combines layers of dark, milk and white creamy filling, while the Moist Chocolate Cake delivers a straightforward chocolatey hit (perfect with a glass of milk). And that '90s standard, the New York Cheese, is still celebrated here.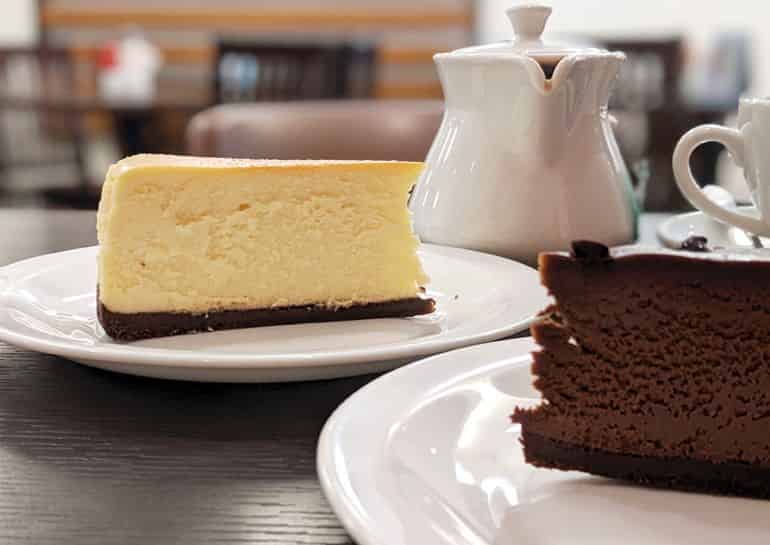 Great with a hot cup of tea: Secret Recipe's bestselling chocolate and New York cheesecakes
Secret Recipe
Pricing: from RM70–130 for whole cakes
Phone number: 03-2095 8678
Opening hours: Monday–Saturday: 10am–10pm
Japanese bakery Komugi does a range of cakes from simple cream-filled Swiss rolls to decadent chocolate layer cakes. Must try: the layered Chocolate Tiramisu.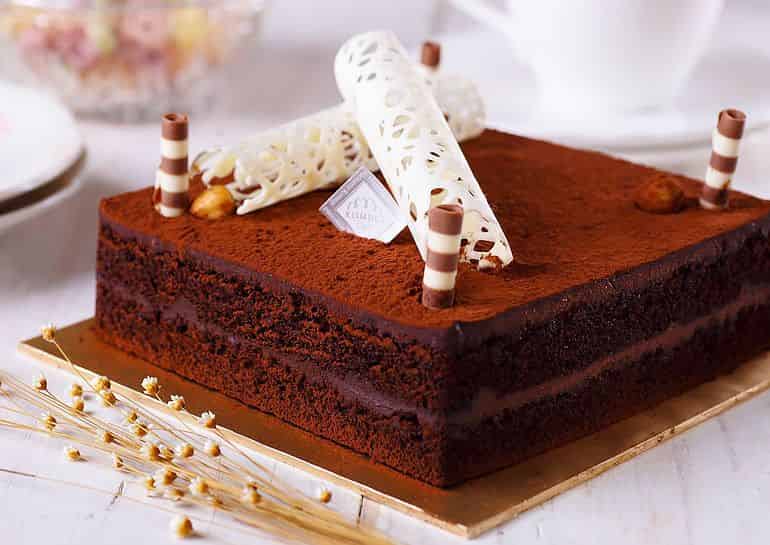 Komugi offers chocolate cake that is dark and intense, with hazelnut cream. Photography: courtesy of Komugi
Komugi
Pricing: from RM49.98–79.50 for whole cakes
Phone number: 03-2110 5022
Opening hours: Monday–Sunday: 10am–10pm
Cheesecakes

No one does cheesecakes like Purple Monkey does — its creations are works of art, topped with beautiful arrangements of sliced fruit. For a definite crowd-pleaser, try the Sinful Mango, a creamy cheesecake adorned with whirls of sweet sliced mango. But for the real money shot, order the Flower Garden, which is topped with a delicate arrangement of mango, peach, kiwi, blueberries and strawberries, forming a bouquet that's a feast for the eyes as well as the taste buds.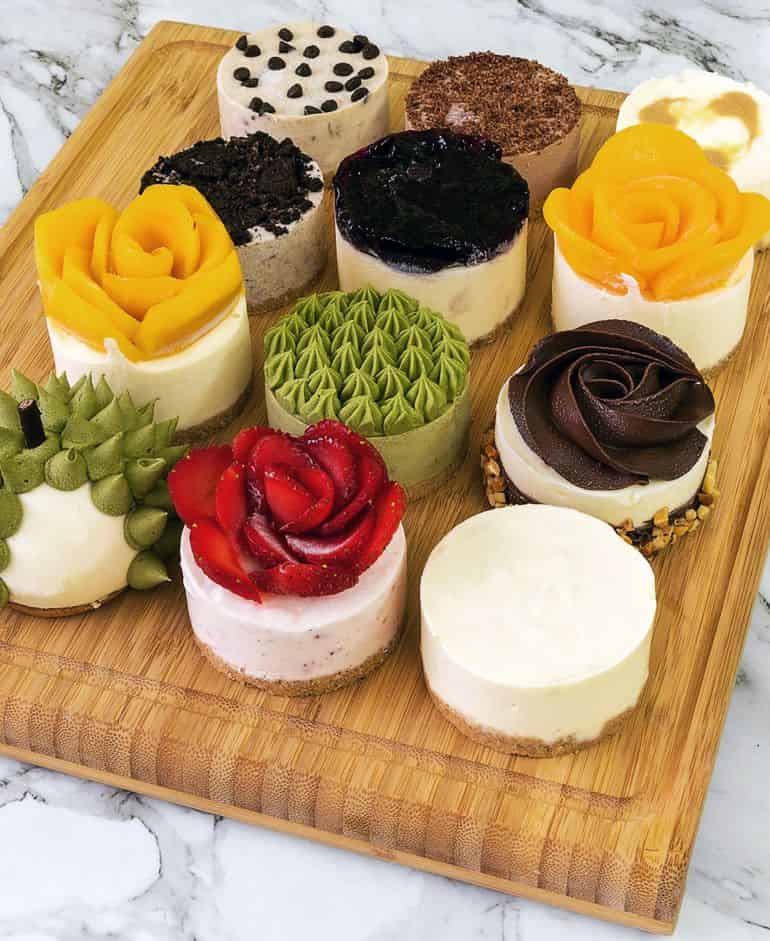 The Mini Monkeys selection of small cheesecakes lets you try more flavours. Photography: courtesy of Purple Monkey
Purple Monkey
Pricing: from RM65–230 for whole cakes
Phone number: 017-260 4781
Opening hours: Monday–Sunday: 10am–9.30pm
Mr Chizu specialises in Japanese-style, light and fluffy baked cheesecakes, in smaller individual servings or traditional whole cakes. If you're not after a cheesecake, try their light-as-air Black Sesame sponge, or a many-layered mille crepe cake.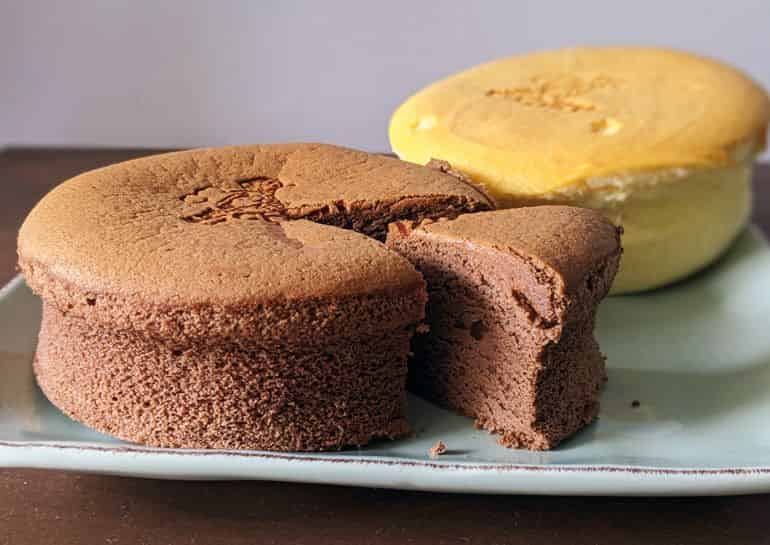 Mr Chizu's signature cheesecakes come in original and chocolate
Mr Chizu
Pricing: From RM13.80
Phone number: 017-888 2180
Opening hours: Monday–Sunday: 10am–10pm