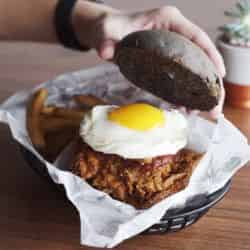 This just in! We got some great news for you with 2 items available exclusively on GrabFood and in-store if you pay via GrabPay, and we call it the #MashupMeletop. We present to you, myBurgerLab's Nasi Lemak Ayam Rendang Burger and myPizzaLab's Apam Baling Balik Pizza! 
myBurgerLab discontinued their famous Nasi Lemak Ayam Rendang burger late last year (if you do not know, pretend you know lah!). BUT, BUT… this 'national treasure' is making a comeback and it's only available exclusively for you! 
It was quite a frenzy when the Nasi Lemak Ayam Rendang burst into the scene in 2017. Imagine… the country's undisputed unofficial national dish transformed into burger form. 
So what can you expect from myBurgerLab's Nasi Lemak Ayam Rendang burger?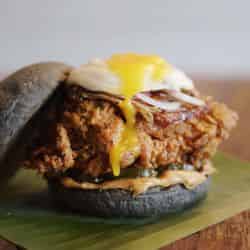 A big and crunchy fried chicken patty is sandwiched between the famous myBurgerLab's signature bamboo charcoal buns.
In between that is a layer of sambal, rendang sauce, chopped fried anchovies, and pickles – all familiar condiments of the Nasi Lemak. A layer of peanut butter jam is under all that to give you a different sensation to the peanuts that's usually found in Nasi Lemak. This is sure to give you that buzz!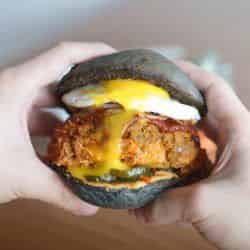 The real treat comes after the first bite when the egg yolk from the Sunny Side Up oozing out.  You know it's time for a messy, but delightful experience. 
Now, some may be divided over this (people can get personal over the Nasi Lemak). but let's just say that the burger do in fact taste close to the original national dish. 
It could be the sambal (a total winner) and the Rendang sauce (with a distinct coconut milk aftertaste) that gives the distinct flavours. At the same time, the fried anchovies and pickles gives that crunch that is expected from a Nasi Lemak dish. 
Can't wait to get your hands on this Nasi Lemak Ayam Rendang Burger? Get it with RM5 off until 9 July, 2019 when you order on GrabFood or when you pay with GrabPay in-stores!
Before you get excited over the Nasi Lemak Ayam Rendang Burger… hold on… there's more!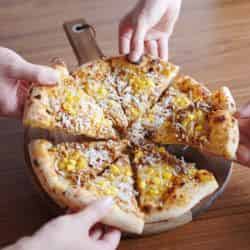 Get myPizzaLab's latest dessert pizza named the Apam Baling Balik Pizza for FREE when you spend a minimum of RM25 in a single receipt at myPizzaLab on GrabFood or when you pay with GrabPay in-stores. 
Always at the forefront of experimenting with local tastes and flavours, myPizzaLab (another brainchild from the founders of myBurgerLab) have created this delicious dessert pizza.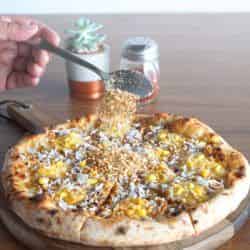 Apam Balik is a favourite snack, whether you're getting a bag full from the pasar malam or from the Abang on the tricycle carts.  The crunchy texture with its sweet fillings is oh-so-addictive! 
How's the verdict when the same recipe is replicated as a pizza? 
At first bite, the taste will definitely remind you of the original Apam Balik. 
Imagine a hot pizza crust fresh from the oven with a generous layer of creamy peanut butter, sweet golden corn and dessicated coconut. 
It's sweet, it's crunchy and you'll soon realise one slice is never enough. This is definitely a great dessert pizza that's sweet and easy on the stomach.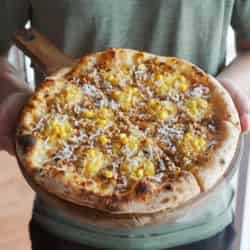 There you have it folks! This is a great time to feast again on your favorite burger. Or if this is your first time (where have you been?!), then wait no further. YOU HAVE TO TRY IT! 
Get FREE Apam Baling Balik Pizza with a minimum order of RM25 on GrabFood or when you pay with GrabPay in-store.
Remember that these two items are exclusively on GrabFood… order je lah, we'll deliver it!
For more information on our Mashup-Meletop campaign as well as the Terms & Conditions, click here (link: https://www.grab.com/my/food-blog/mashup-meletop/)