Support eco-friendly restaurants on GrabFood 
 In support of  'No Plastic in Nature by 2030', GrabFood has joined a Regional Plastic ACTion Platform (PACT) with WWF Malaysia. As part of our initiative to go green, we do encourage restaurants to also do their part in creating a positive impact on the environment towards a greener planet.
To be included as eco-friendly restaurant, merchants must meet a list of criteria.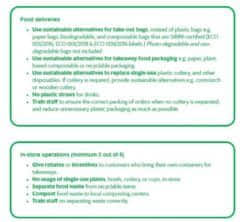 This marks the start of GrabFood's initiative to encourage restaurants to make more eco-conscious decisions, and your support for these eco-friendly restaurants could make a big difference in the long run.
Now, let's say hello to these eco-friendly restaurants.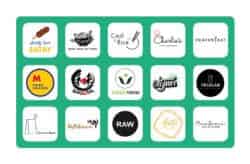 More to come soon!
These are some of the first few restaurants that have embraced sustainable practices in their outlets, and for GrabFood deliveries. If you want to do your part for a greener Malaysia, order from them on GrabFood!


---
Frequently Asked Questions (FAQ):
My GrabFood order came with small plastic containers for sauces, and also plastic lids on soup bowls. Why was this merchant listed in the eco-friendly restaurant? Unfortunately there aren't any affordable sustainable alternatives for these packaging needs in the market currently. Hence, GrabFood has not made it mandatory for merchants to do away with single-use plastic packaging completely. However, merchants are advised to reduce single-use plastic packaging as much as possible.
What was the rationale for these criteria guidelines? All merchants have their list of priorities, and going 'fully eco' might be a huge leap that requires a big change in business operations. Hence, GrabFood set achievable criteria that would make businesses feel more compelled to take the first step, and gradually embrace more eco-friendly initiatives for their operations.
What else is GrabFood planning to do for the eco-friendly restaurant? This is just the first step, and Grab will continuously get more businesses on-board the eco-journey, and engage with other eco-driven partners to provide business solutions for Grab's merchants.
I want to recommend some eco-friendly restaurants. Who should they contact? Get them to fill up the Eco Merchant registration form here: https://www.grab.com/my/goinggreen/ Do note that they must be registered as a GrabFood merchant.