Be the first to be featured in this NEW category –
Eco-Friendly Merchants
Grab has embarked on a journey towards a greener tomorrow. We are working on minimising impact on the environment in all our services. Together with our partners, we are confident of driving change. We are introducing a
new category in our everyday everything app, which Grab's partner merchants can be a part of – Eco-Friendly Merchants.
Eco-Friendly
Merchants

 

 

Find out about
eco-packaging deals

 

 
New category: Eco-Friendly Merchants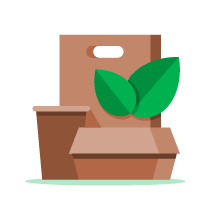 Benefits in joining the Eco category
Gain higher visibility in Grab's everyday, everything app.

Build better brand value and get more volume from more than 4 million Grab users.

Get exclusive deals with eco-friendly suppliers and organisations through Grab.
Did you know?
84.25% of GrabFood eaters requested NOT to be provided cutlery in November and December of 2019.
What are the criteria to join?
Food deliveries
Use sustainable alternatives for take-out bags, instead of plastic bags e.g. paper bags, biodegradable, and compostable bags that are SIRIM-certified (ECO 001/2016, ECO 001/2018 & ECO
009/2016 labels.) Photo-degradable and oxo-degradable bags not included.
Use sustainable alternatives for takeaway food packaging e.g. paper, plant-based compostable or recyclable packaging.
Use sustainable alternatives to replace single-use plastic cutlery, and other disposables. If cutlery is required, provide sustainable alternatives e.g. cornstarch or wooden cutlery.
No plastic straws for drinks.
Train staff to ensure the correct packing of orders when no cutlery is requested, and reduce unnecessary plastic packaging as much as possible.
In-store operations (minimum 3 out of 5)
Give rebates or incentives to consumers who bring their own containers for takeaways.
No usage of single-use plates, bowls, cutlery, or cups, in-store.
Separate food waste from recyclable items.
Compost food waste to local composting centers.
Train staff on separating waste correctly.
Grab has signed the No Plastic in Nature by 2030,
a Regional Plastic ACTion Platform (PACT) with WWF, underpinning Grab's commitment to be a more eco-friendly business. GrabFood will introduce initiatives and educational toolkits to
assist restaurant-partners to adopt more sustainable business practices.
How to get started?
If you are keen to join us on this journey to becoming an Eco Merchant, click on this button below to fill up a form, and we will get back to you soon!
Save On Saving The Earth
At Grab, we are committed to adding value to your business. We will continuously introduce initiatives to:
Help your business be more environmentally friendly

Optimise your business' operational cost
Therefore, Grab has partnered with Foodabox and Team Recycler Malaysia to offer competitive deals on biodegradable packaging and cutlery.
Exclusively for GrabFood merchants


Click here to
order from Foodabox

Enjoy free delivery for orders above RM1,000.