There's always a solution to everything
Tekan sini untuk terjemahan Bahasa Melayu
Spending hours behind the wheel as a driver-partner is no easy task. You may encounter unfavourable circumstances while on the job. Don't worry! Here are some of the common scenarios that you may encounter and tips on what you can do to resolve the issue.
Scenario A – Passenger overpaid
Double payment is a common scenario, especially for frequent Grab passengers. Sometimes they forget that they have selected GrabPay as the mode of payment.
If this happens, please return the cash immediately and inform the passenger that they have paid through GrabPay. In case the passenger have exited the car before you realised they overpaid, you may visit here to report the incident.
Scenario B –  Delayed Transit Time
Multi-stop Rides is a great feature that allows passengers to add an extra stop in a single trip. However, some passengers might take advantage of this feature by stopping at a location for a prolonged period of time. We advise you to practise informing passengers politely at the beginning of a multi-stop ride that you are only allowed to wait for a maximum of 3 minutes at the extra stop.
If your passenger leaves you waiting for more than 3 minutes, kindly call us and we would cancel the trip on your behalf. Rest assured that your cancellation rate will not be affected.
Scenario C – Passenger didn't pay
Sometimes we might come across passengers who are in a rush and they may unintentionally exit the car without paying. Other times, they may have forgotten that their mode of payment is cash.
If you are caught in this kind of situation, you may report cases of passengers not paying for their ride here. It is best not to go chasing your passengers as leaving your vehicle unattended may cause a bigger problem.
The scenarios above are just some of the common issues that Grab driver-partners face every now and then. You can always refer to this article if you have to deal with these types of unfortunate situations. Nevertheless, we got your back! You may always visit the Help Centre here. Our customer service is just one call away if you need further assistance.
---
Updates and new features!
Cashless Tipping Feature
We have launched a tipping feature for passengers. Passengers can now tip driver-partners for exceptional service. Click here to learn more!
Cancellation Policy Updates
From 25 March 2019 onwards, the RM3 Cancellation Compensation will be charged to passengers when they cancel their booking after 5 minutes or when they don't show up for their booking and you cancel the ride with reason "Passenger no-show". Click here to find out how this will work if passengers pay by cash.
Job Card Redesign
New Job Card Design will be available from 18 March 2019 onwards.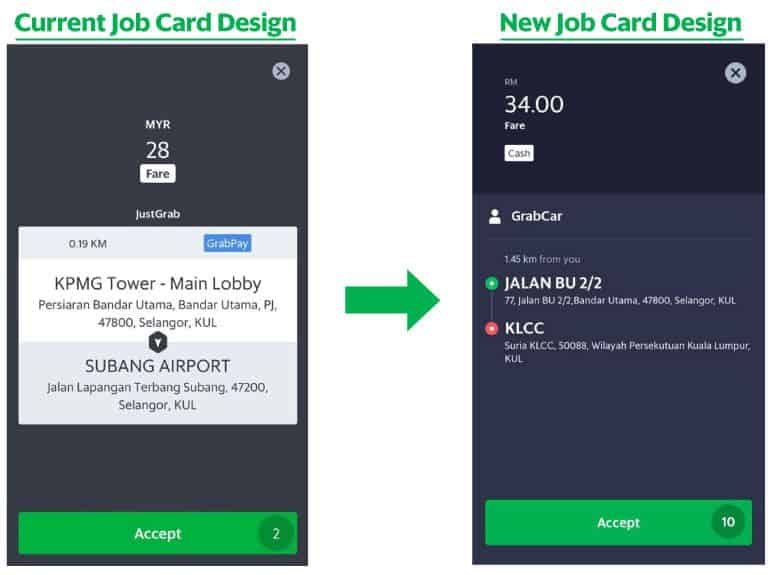 For GrabShare, (available in Klang Valley only) the passenger icon will indicate the number of passengers boarding your car.
---
Gong Xi Sama-Sama Reunion 2019
This year, the Chinese New Year celebration was conducted in 24 Grab operated cities. It gave us an opportunity to be up close and personal with all our driver-partners across the country as Chinese New Year is all about reunion.
If you would like to read more about the celebration, click here.
---
GrabAllStars Rewards – Monthly Highlights
GrabAllStars is a programme that provides benefits to driver-partners, through a wide selection of merchants. This includes cheaper pricing to reduce your daily expenses.
Here are some of the attractive rewards available for you to redeem this month:
Kindly be reminded that all members of the Grab community are required to follow the Code of Conduct and Terms of Services.