Dengan mudah melalui aplikasi pemandu anda!
Click here for the English version
Rakan-pemandu & rakan-penghantar boleh menambah nilai dompet kredit anda melalui GrabBenefits!
Cara untuk melakukannya:
Langkah 1: Buka GrabBenefits, cari untuk ganjaran 'PayHub' dan tekan 'Save This Benefit'.
Langkah 2: Tekan 'Use Now'.
Langkah 3:  Anda akan dibawa ke laman PayHub. Masukkan telefon nombor berdaftar dengan Grab, beli jumlah kredit pilihan anda (RM10, RM30, atau RM50).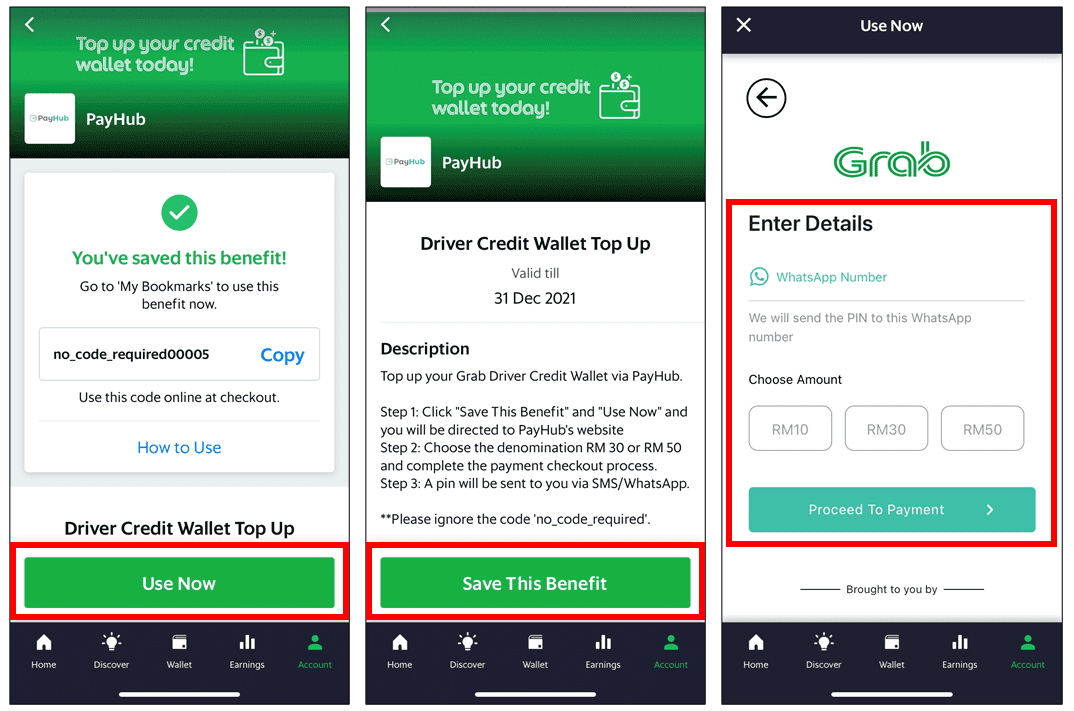 Langkah 4: Anda akan menerima kod 16 digit melalui WhatsApp (jika terdapat gangguan rangkaian, anda akan menerimanya melalui SMS biasa)
Langkah 5: Pilih 'Wallet' pada aplikasi pemandu anda and pilih 'Credit Wallet'. Tekan 'Top up with Pin'.
Langkah 6: Masukkan kod 16 digit dan tekan 'Confirm'
---
Sila harap maklum bahawa semua ahli komuniti Grab diwajibkan untuk mematuhi Kod Tatalaku dan Terma & Syarat Perkhidmatan.