Grab launches 'Trip Planner' feature to enter mass market transportation services in Indonesia
Grab, the leading super app in Southeast Asia, today announced its first foray into mass market transportation.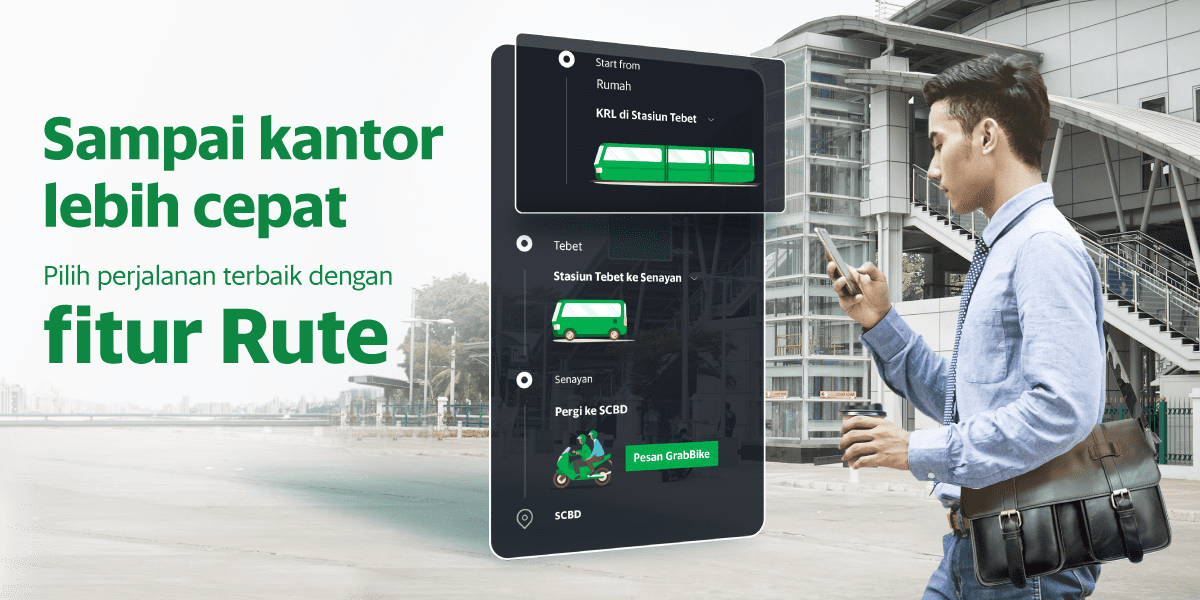 Starting with Jabodetabek in Indonesia, Grab integrates public transportation options into its app, with Grab services offering first-mile-last-mile trips through a new Trip Planner feature – a first-of-its-kind in SEA
Partners with MRT Jakarta to provide shelters for safe and convenient pick-ups and drop-offs near stations and support the development of Lebak Bulus Grab station for the next 5 years
This foray into mass market transportation establishes Grab as Southeast Asia's super app for everyday mobility needs
JAKARTA, 26 March 2019 – Grab, the leading super app in Southeast Asia, today announced its first foray into mass market transportation. Starting with Jabodetabek area in Indonesia, Grab has launched a new Trip Planner feature that integrates public transportation options directly into the Grab app. To complement these public transportation options, Grab has also connected its services such as GrabBike or GrabCar to serve first-mile-last-mile trips to and from public transit stations or bus stops – a first-of-its-kind in Southeast Asia. The launch is in time with MRT Jakarta Phase 1 inauguration that will start serving Jakarta commuters.
This significant step goes toward realizing Grab's mobility vision of making daily commutes more seamless, accessible and affordable for millions in Indonesia and Southeast Asia. In partnership with cities, public transit agencies and private companies, Grab is committed to reducing reliance on private car ownership to bring about less-congested and less-polluted cities. For Jakarta city, Grab aims to support its city government's vision to shift 60% of urban mobility to public transport by 2030.
As a natural extension of Grab's existing offerings of GrabCar and GrabBike, the new public transit offering caters to mass market consumers and provides access to public transportation options that are affordable enough for everyday use. Launched first in Indonesia, the new inapp Trip Planner feature will offer mass transit options that are up to 70% cheaper than privatehire car hailing services, while offering users reliability and convenience.
"Today, in Jakarta for example, more than 70%1 of daily trips are taken on motorcycles and private cars rather than public transportation when commuting to and from city centres. The number of motorised vehicles has increased by about 8.1%2 each year. These trends underpin the massive congestion problems plaguing the city. Our long term vision is to make everyone's everyday commute so reliable and seamless that they eventually choose to leave their vehicles at home. Mass transit – via buses, shuttles or high-quality public transport – is the only way to achieve this without adding cars to the roads. With Trip Planner feature, we are giving access to more affordable mass-transit options for everyday use, and more importantly, a compelling substitute to private vehicles," Ridzki Kramadibrata, President of Grab Indonesia, said.
Making mass transit more accessible, reliable and integrated in Jabodetabek
Users in Jabodetabek who prefer to use public transit options can now use the new Trip Planner feature to plan their journey with accurate public transportation information and endto-end directions within the Grab app. Since its introduction in Jabodetabek less than a month ago, almost half a million users have tried the Trip Planner feature or "Rute" (in Indonesian) within the first three weeks of rollout3.
Following the launch of the new MRT in Jakarta recently, public transportation users will benefit from Trip Planner in their daily commute as Grab has collaborated with MRT Jakarta to integrate its public transit information into the Grab app. Grab will also provide shelters for pick-ups and drop-offs near the stations to better serve users' first-mile-last-mile needs and ensure the safety of driver-partners and passengers. One of the biggest MRT stations with a densely populated residential neighbourhood will also be co-branded with Grab as Lebak Bulus Grab station for the next 5 years, which serves as a commuter hub for all the key districts in the southern part of Jakarta.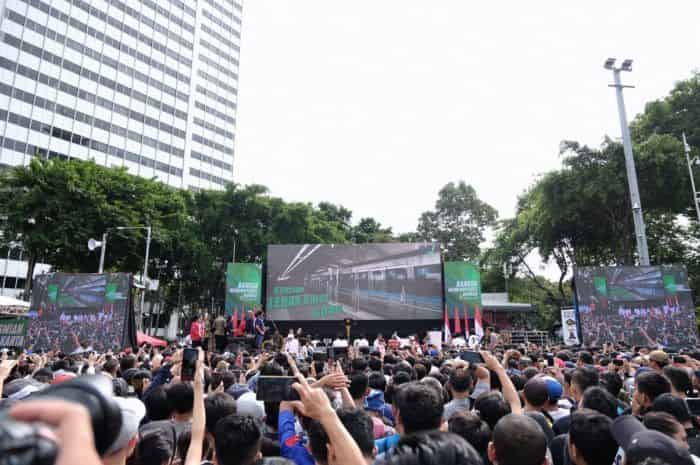 "We are committed to promoting the use of public transport in Jakarta, and the launch of the new MRT is a great start to changing the way people travel and reducing congestion in the city. We are happy to partner with Grab to make public transit more accessible, reliable and seamless for our commuters in Jakarta. Through the integration of real-time transit schedules on the Grab platform, we believe that we can increase our ridership by tapping into the wide user base of Grab. More people will get to enjoy a more seamless experience as they now have better visibility, predictability and reliability of when the next train will arrive and plan in advance," William Sabandar, President Director, MRT Jakarta, said.
"I am glad that we have chosen Jabodetabek as the first area to have Trip Planner feature. This is especially timely with the launch of the new MRT in Jakarta. With the integration of public transportation options into the Grab app, we are excited to find out how commuters interact with the public transit information in their journey planning and whether it helps to serve their everyday mobility needs better. After all, our ultimate goal is to learn and iterate with this initial public transit offering and see how we can best solve consumer pain points in daily commute. Whether it is to take public transit (bus or train) for most of the distance and ride a GrabCar or GrabBike for some part of the way, the power of choice is now put into the hands of commuters at the price point and convenience level that they desire," Ridzki Kramadibrata, President of Grab Indonesia, said.
Besides the new MRT lines, the Grab app will also display live public transit schedules from commuter rail, Airport Rail Link, and Transjakarta public bus services, as well as more than 50 other fixed schedules of public buses across Jabodetabek.
How Trip Planner works:
Once a user enters their destination via Trip Planner, they will be able to view available public transit routes nearby that will get them to their destination, along with real-time departure and arrival times for some of the public transport services. They will also receive walking directions or recommendations of first-mile-last-mile transportation options such as GrabBike or GrabCar to and from the public transit that they can book right away. This offers greater predictability and certainty for daily commute and allows users to plan their end-to-end journey better.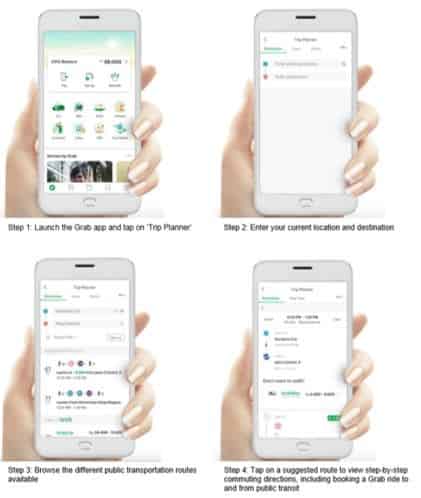 Public transit partners will benefit from increased ridership as Grab helps to extend the reach of mass transit by leveraging Grab's network of ride-sharing services and journey planning. They will also get to understand how commuters use public transportation services in-app, and identify any gaps in existing public services that need to be plugged to improve accessibility for all. Grab welcomes more public transit companies to come on board and collaborate with Grab to serve commuters better. For more information on Trip Planner, please visit https://www.grab.com/id/en/trip-planner/ .
Public-private partnerships the way forward
Grab laid out its future mobility vision to ASEAN senior transport officials at last November's ASEAN Summit – one that is Shared, Seamless and Smart. Grab has built a strong foundation for a one-stop shop for different mobility needs by having the widest range of transportation modes all in one Grab app. Over the years, Grab has already been closing the transit gap by supporting the first-mile-last-mile needs of commuters in Southeast Asia. This latest foray into mass market transportation will be a real game changer for mobility in Indonesia and Southeast Asia.
"We share the same vision as the city governments in Indonesia. All of us want cleaner, lesscongested cities where everyone can move freely. By partnering with cities and public transit agencies in Indonesia, we are best-positioned to help make transportation truly accessible and seamless for everyone," Ridzki added. "Ultimately, the mass mobility ecosystem we want to build is one that allows anyone to plan their trip end-to-end, book, buy electronic tickets, and pay for their entire journey across all modes of transportation, public or private, through one integrated payment system, while reaping the benefits of GrabRewards loyalty programme simply by going about their daily commute. This is when we can truly make a difference to people's daily lives and change for the better the way people travel in Indonesia and Southeast Asia."