Grab Sends 60 Selected GrabBike Driver-Partners to Umrah Through #ImpianUmrahItuDekat Program
Grab, Online-to-Offline (O2O) mobile platform terkemuka di Asia Tenggara, hari ini melepas keberangkatan mitra pengemudi GrabBike terpilih menuju Tanah Suci untuk menunaikan ibadah Umrah.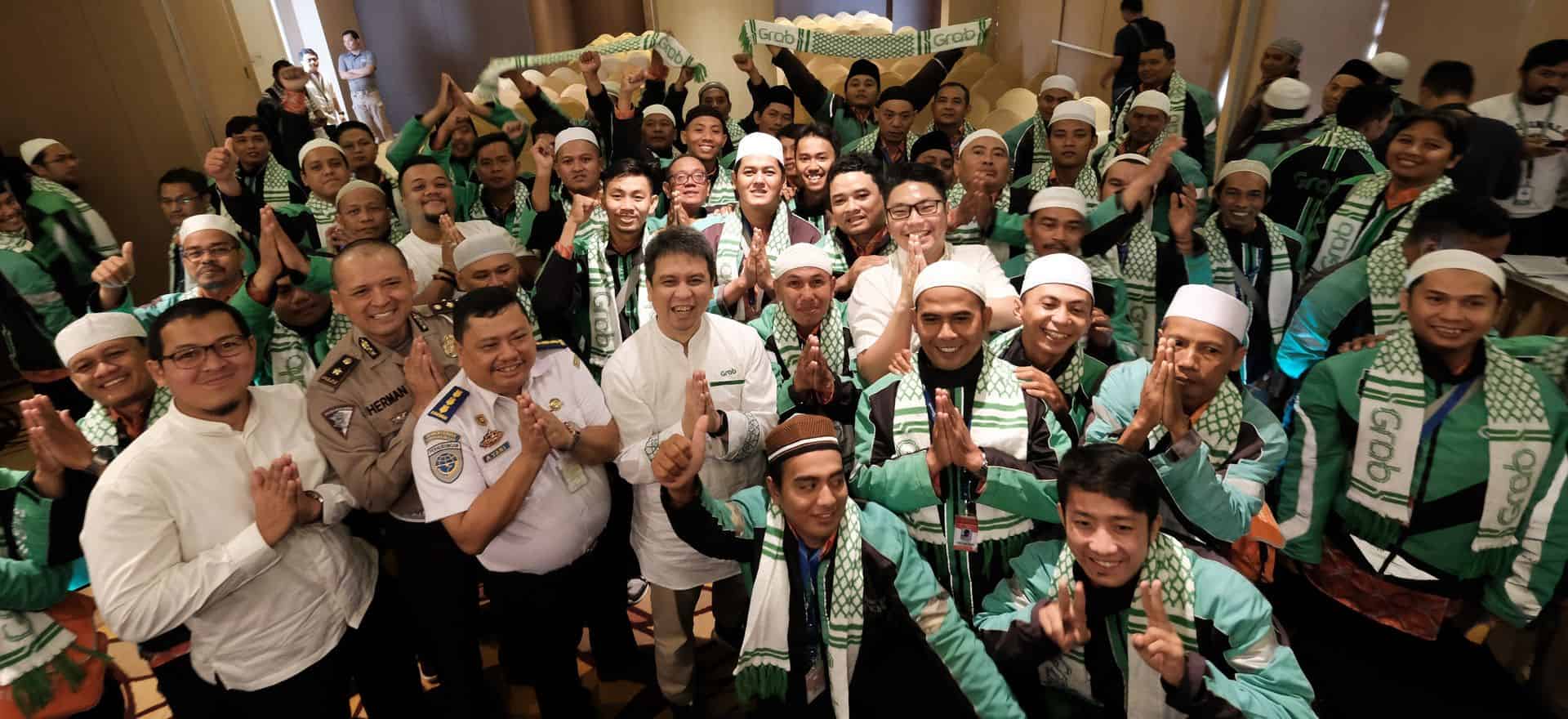 60 GrabBike driver-partners from seven cities in Indonesia are selected to be the first batch of the

#ImpianUmrahItuDekat program

This program is part of the "Grab Mitra Sejahtera" initiative to improve the welfare of driver-partners and their families

The Umrah opportunities are still open to 140 other GrabBike driver-partners for the second and third batches in 2019
Jakarta, 28 January 2019 – Grab, the leading online-to-offline (O2O) mobile platform in Southeast Asia, today sent 60 GrabBike driver-partners to Umrah through #ImpianUmrahItuDekat program, which started in October 2018. These 60 driver-partners from Jakarta, Bandung, Medan, Surabaya, Makassar, Yogyakarta, and Semarang with the best performances were selected for the first batch of the program. This program is still open until April 2019, looking for the best 200 driver-partners to receive the opportunity for a free Umrah.
The #ImpianUmrahItuDekat program is a part of the "Grab Mitra Sejahtera" initiative, which aims to improve the welfare of driver-partners and their families including education, health services, financial services, social life, and work-supporting facilities that have been provided to Grab driver partners.
Ridzki Kramadibrata, Managing Director Grab Indonesia, explained: "The #ImpianUmrahItuDekat program for GrabBike driver-partners is a form of our appreciation for the hard work and commitment of our best driver-partners who always prioritize the work standards and Grab code of ethics. This initiative is also our effort to pay attention to their welfare, not only materially but also spiritually. We thank them for their hard work and hope that this welfare program can improve the quality of services for our customers. For other GrabBike driver-partners, the opportunity is still open for you to realize the dream of worship in the Holy Land. Let's prepare ourselves to go to the Holy Land and increase our spirit to continue to be sincere and honest when working for sustenance."
The #ImpianUmrahItuDekat program was also welcomed by the DKI Jakarta Transportation Agency. Ahmad Yani, Transportation Ministry Public Transportation Director, expressed: "I really appreciate Grab's step in improving the welfare of the driver-partners through the #ImpianUmrahItuDekat program. I hope this program can motivate driver-partners to improve their performance by prioritizing customer safety. Also, the #ImpianUmrahItuDekat program could be the right tool to improve relationships between Grab and driver partners so they can work together to provide the best service for customers."
Grab continues to improve the welfare of the driver partners by providing various facilities such as:
Aaffordable credit program for home and vehicle ownership, so that driver-partners can start owning assets through collaboration with

Bank BTN

by giving driver-partners payment and home ownership opportunities with affordable installments and low interest rates.

Collaboration with

Telkomsel

,

Samsung

, and

Erafone

to provide special prices for Internet packages and smartphones for GrabBike driver-partners.

Collaboration with

bank bjb

for the integration of the installment program for motorcycle vehicle tax with "T-Samsat" vehicle registration documents, which is the first for online driver-partners in West Java.

GrabBike Lounge

, which provides a comfortable, accessible, and affordable place to rest for GrabBike driver-partners to support them in their work. Now, GrabBike Lounge is available at Daan Mogot and Kebayoran Lama, Jakarta.

The

Mitra Terbaik GrabBike

program to appreciate the GrabBike driver-partners with the most active and best performances. Mitra Terbaik GrabBike drivers are entitled to pension funds, cash incentives, scholarships for their children, and facilities for easy payment of motorcycle purchases with low interest rates.

Improvement technology as an effort to protect driver-partners who work hard and honestly by improving anti-fraud technology to detect fake orders, as well as the

Grab Lawan Opik

program to capture fraudulent syndicates.
Deddy Haryanto, a GrabBike Driver Partner who won the first-period of #ImpianUmrahItuDekat program, said: "I have had the intention to go to Umrah for a long time. I am very grateful to have this opportunity able to realize my dream. I would like to thank Grab, with whom I have working over the past four years. Grab has provided me with an opportunity for driver partners like me to go Umrah. This program makes us more enthusiastic to work."
The second batch of #ImpianUmrahItuDekat program driver partners ran from 1 December 2018 until 31 January 2019 to send 65 selected driver partners for Umrah in March. The third batch is open from 1 February to 31 March, to find the 75 best driver partners for Umrah in May.
Grab provides services with the widest range in Southeast Asia with 336 cities in eight countries, with more than 100 million users, including Indonesia in which Grab operates in 222 cities from Sabang to Merauke. In line with Grab's vision as an everyday superapp and its open-platform strategy, Grab currently provides a variety of services to meet the daily needs of people in Indonesia, from two- and four-wheeled transportation services, gift deliveries, digital payments, to food and groceries deliveries.