GrabFood announces "30 Best Food Delivery Merchants of the Year" guaranteed by #GrabThumbsUp Awards 2022 Giving Thumbs Up to 572 Restaurants Voted by GrabFood Users Nationwide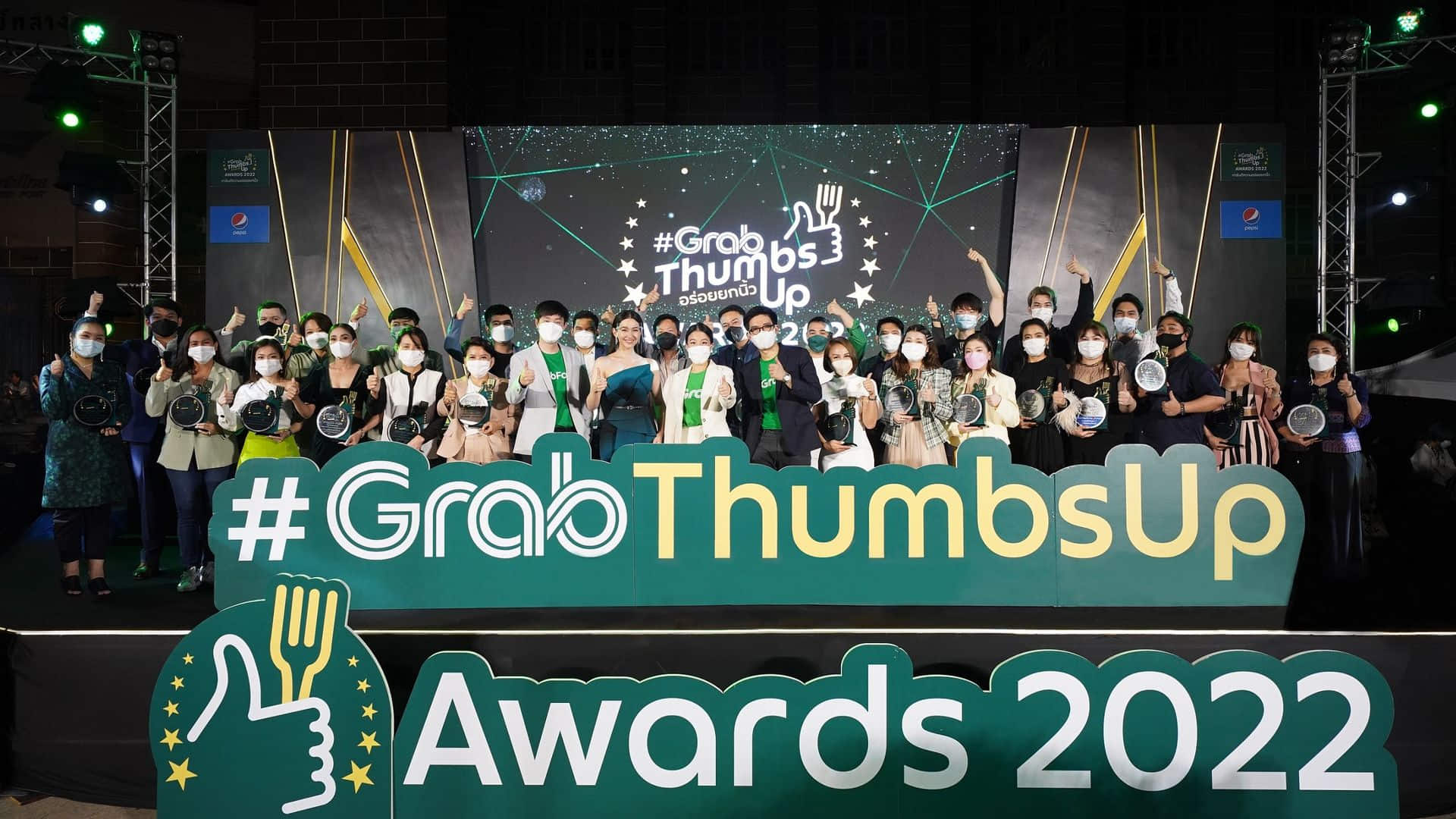 GrabFood, No.1 Brand Thailand 2020-2021 in food delivery category*, reinforces its position as industry leader and trendsetter, announcing the "30 Best Food Delivery Restaurants of the Year" together with the first-ever #GrabThumbsUp Awards to guarantee the quality of restaurants or food merchants selling on the food delivery platform like GrabFood. Grab selects the best of over 200,000 merchants on GrabFood with the top-notch standards in various aspects, including taste, popularity, number of orders, as well as, customer satisfaction score. Furthermore, the selected restaurants will have to be certified by the food experts of GrabFood until the final 572 best quality restaurants become the winners of this prestigious award this year.    
Chantsuda Thananitayaudom, Country Marketing & Partnership Head, Grab Thailand, said, "The popularity of the food delivery business in Thailand has been growing over the past two years as a result of consumer behavioral changes and the impacts of the COVID-19 pandemic. The food delivery business is expected to grow continuously with a total market value of over THB 79 billion in 2022.** Besides the rapid growth of food delivery service users, many restaurant business operators are also enhancing their business adaptation by expanding more selling channels on the delivery platform as shown by the increasing number of GrabFood's merchant-partners of more than 800% (comparison period from the end of 2019 to 2021), totaling over 200,000 merchant-partners today."
Late last year, GrabFood launched the GrabThumbsUp programme to guarantee the savory taste of high-quality restaurants and to provide more variety of services for users. Grab selects the best GrabFood restaurants from all over the country based on the taste, popularity, and total food delivery orders. From street food to Michelin Bib Gourmand restaurants, over 7,000 restaurants have been selected and promoted as GrabThumbsUp merchants on the Grab application, to reaffirm their qualified standard and taste for the users.
"To uplift the standard of the #GrabThumbsUp to the next level and reaffirm our consumers' trust towards the restaurants on our platform, this year GrabFood hosted the #GrabThumbsUp Awards presentation ceremony for the first time to honor and recognize restaurants with high quality and savory taste nationwide. In addition to the multiple intensive qualifications, the selected restaurants must also receive at least a 4.5 (out of 5) rating or satisfaction score from customers with at least 100 positive reviews, and finally, be certified by the food experts of GrabFood." Chantsuda added.
This year, a total of 572 restaurants were granted the #GrabThumbsUp Awards with 30 restaurants winning "The Best Food Delivery Merchant of the Year" award, showcasing their various outstanding areas as follows:
1) The Best Restaurant Awards by food categories
Best Street Food Restaurant: Saeng Chai Pochana and KuaKai Hybrid Chiangmai
Best Yum-Tum Restaurant: Praram 9 Kaiyang and Yumpumajedyod
Best Thai Cuisine Restaurant: J'Khai Seafood and Hia Tue Jim Preaw
Best Korean Restaurant: ChonSons
Best Japanese Restaurant: Isao and Fin Sushi
Best Italian Restaurant: Mozza by Cocotte
Best Meat Restaurant: El Toro House
Best Coffee Speciality: Nana Coffee Roasters and Sri Brown cafe
Best Cafe and Dessert: Tiengna Viennoiserie Restaurant and W Cafe
Best Healthy and Vegetarian Restaurant: Plantiful Restaurant
2) The Best Restaurant Awards by 2022 special categories
Best of Popular Local Restaurant: KhunJeedYodPak, Baan E-San, Changphuak Suki ChiangMai, and Zabsaderd Khonkaen
Best of Popular Restaurant of the Year: Suki Teenoi and SALAD:D
Best of Popular GrabKitchen Restaurant: Elvis Suki
Best Innovative Packaging: Hong Pao Restaurant
Best Restaurant with full operation on the Delivery platform: Charoengang
Best Favorite Restaurant on social media: The Rolling Pinn
Best Selling Restaurant by the Celebrity: Madam Mae
Best Selling MICHELIN Guide Restaurant: Kway Chap Mr. Joe and Go Benz Khao Tom Haeng Phuket
Best Restaurant recommended by Pepsi: Somsak Pu Ob
"GrabFood hopes that the #GrabThumbsUp Awards 2022 given to all winning merchant-partners this year will be a huge and valuable encouragement to maintain their delicious food standard and continue to uplift their level of service and quality as guaranteed by the consumers' votes and trust. We will continue to enhance our high-quality standard and intensive award criteria next year to present the #GrabThumbsUp Awards as an iconic symbol of the high quality and standard, truly guaranteed by the users' trust, as well as, the ultimate destination for food lovers to experience the savors that they will always give a Thumbs Up," Chantsuda concluded. 
For more information about the winners of the #GrabThumpsUp Awards, please visit https://www.grab.com/th/en/blog/gtuaward22/
*Marketeer's No.1 Brand Thailand is a crowd favorite survey, where Marketeer Research has worked with Kadence International (Thailand) and Marketing Moves to study the popularity and preference of brands, from its quality, marketing initiatives to their substantial involvement and impact to society, among over 4,000 samples nationwide.
**According to Kasikorn Research Center), the food delivery business is expected to grow continuously with a total market value of over THB 79 billion in 2022