We want to get you to vaccination appointments safely
Thank you for verifying your details!
As we continue the fight against Covid-19, we want to help as many Malaysians get to their vaccination appointments safely and conveniently, especially senior citizens in the high risk group aged 60 and above. We know that for many of you, transport can be a challenge, but it should not be the reason you miss your doses. 
So when you book a Grab to and from your vaccination centre, you'll enjoy an exclusive ride discount on us. 
Just check your Grab app Messages for your unique discount code to get RM8 OFF four (4) rides for both vaccination appointments. 
Follow these two (2) simple steps to share the code if you would like someone to book a ride on your behalf: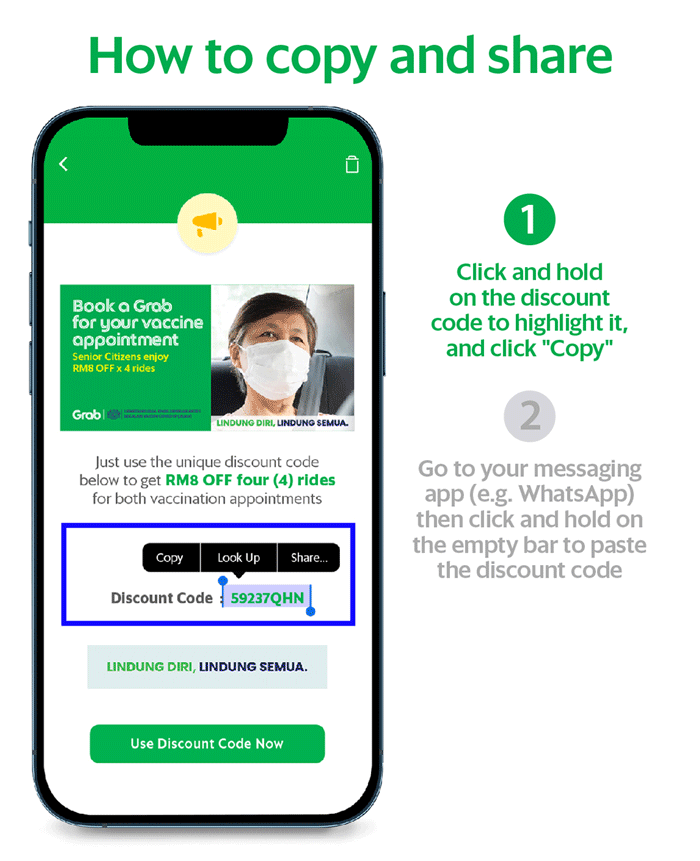 Or you can book a ride in five (5) simple steps. Watch the video below: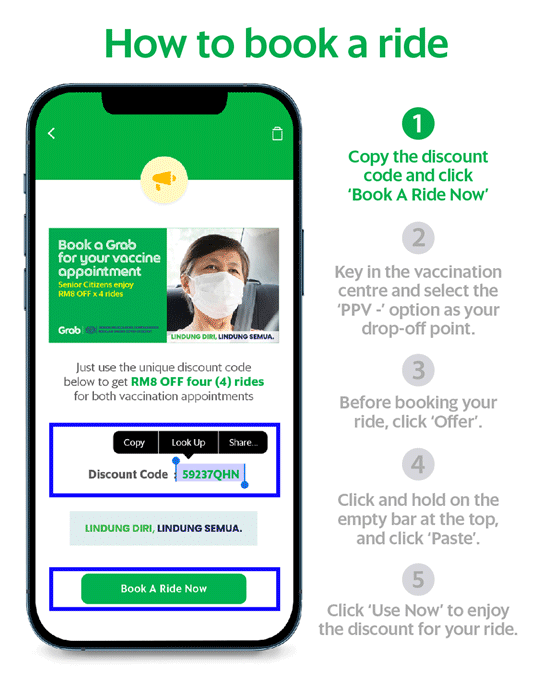 Some important things to remember:
We encourage you to bring a friend or family member along with you to your appointment. The FMCO SOPs allow two passengers per Grab ride to obtain medical services, including vaccinations (more info on SOPs at www.mkn.gov.my).


Do not book rides for strangers nor ask a stranger to book a ride for you. This is to protect your account and also our driver-partners.
T&Cs for Discount Code Usage
Valid for eligible users who are senior citizens aged 60 and above, and have verified their details on the Grab app by 7 June 2021.
Valid for ride bookings to and from authorised vaccination centres nationwide.
Each discount code is limited to four (4) redemptions for ride bookings throughout the campaign period.
Usage is valid from 12 June 2021 to 31 August 2021.
Valid for all payment methods.
Users must click 'Use Now' on the discount voucher before booking a ride.
Promotion is not valid with any other vouchers or promotions.
Grab reserves the right to alter, extend or terminate the promotion, or amend the terms and condition at its sole discretion at any time without prior notice. In case of any disputes directly or indirectly arising from the promotion, the decision of Grab shall be final.
These terms and conditions shall be governed by the laws of Malaysia and any dispute arising out of or in connection with promotion shall be referred to the exclusive jurisdiction of courts of Malaysia.
Who is eligible to receive this discount?
All seniors citizens (aged 60 and above) who have a registered Grab account and verified their details on the Grab app.


I am a senior citizen. Once I have verified my details, how do I get my discount code?
Once you have submitted your details to verify your age, you will receive a discount code in your Grab app Messages by 12 June 2021 that you can use for your rides to the vaccination centre.


Which vaccination centre can I use my discount to?
Rest assured your discount code will be applicable to and from all authorised vaccination centres nationwide.


How do I tell that I am selecting the right vaccination centre?
When you type in the name of your vaccination centre, it will be displayed as 'PPV-' at the front. For example PPV – MITEC (South Entrance).


Can I use my discount code for my return trip?
Yes your discount code can be used for your return trip.


Can my discount code be used for my 2nd vaccination trip?
Yes your discount code can be used to and from your 2nd vaccination trip.


How do I use my discount code?
Share the code if you are getting a family member/friend to book a ride for you. Follow 2 simple steps:
1. Go to your Grab app Message, click and hold on the discount code and click 'Copy'.
2. Go to your messaging app (e.g. WhatsApp), then click and hold on the empty bar to paste the discount code.
Or you can book a ride in 5 simple steps:


Go to your Grab app Message. Copy the discount code and click 'Book A Ride Now'.
Key in the vaccination centre and select the 'PPV-' option as your drop-off point.
Before booking your ride, click 'Offer'.
Click and hold on the empty bar at the top, and click 'Paste'.
Click 'Use Now' to enjoy the discount for your ride.



How much can I save with the discount code?
Your code gives you RM8 off four (4) rides which covers for both your vaccination trips. You will save a total of RM32.


What is the validity of the discount code?
It will be valid from 12 June to 31 August 2021.


How many senior citizens can enjoy the discount
There is no limit, any Malaysian citizen aged 60 and above who verify in time will receive the discount code.


Is this discount applicable for any types of Grab rides, including GrabCar Plus, GrabCar 6-seater, GrabCar Premium and etc.?
Yes the discount code for senior citizens will be applicable for all Grab ride types.


Can my family member or friend accompany me to take a Grab ride to my vaccine appointment?
Yes you can and this is encouraged. The FMCO SOP allows 2 passengers in a Grab ride for trips to get vaccinated (visit www.mkn.gov.my for more info on SOPs).


Can we book the rides on behalf of a senior citizen once they have received the discount code?
Yes you may. All you need to do is ask the user to share their unique discount code with you in order to help them book the ride.