Fairer compensation for peak hours – Klang Valley
We're changing the fare and incentive structure to accommodate the longer times our driver-partners spend in traffic 
Tekan di sini untuk terjemahan Bahasa Melayu
Driving during rush hour can be frustrating, especially in busy areas. Traffic has increased and you can end up spending hours on the same two kilometer stretch.
Grab is taking important steps to ensure that you're better compensated for your time on the road. You'll see fairer compensation during peak hours, and you can rest assured that the entirety of your trip, from pickup to drop off, will be worthwhile.
3 Steps to Better Peak Hour Compensation
Time-based fares
Far Pickup Bonus
Bonus Cashback
With these changes, your time in traffic will be more fairly compensated. These changes will come into effect on 16 January 2023 (with an incentive update on 6 March 2023).
Click the tabs below to find out more.
Driver-partners have complained that when traffic is bad, fares often do not compensate them sufficiently for time spent in a jam. We hear you, and we will be revising the fare structure so that fares are based more on the time taken to complete the ride and less on the distance of the ride.
Notes:
Fares are calculated upfront based on system estimated distance and system estimated trip time.
KLIA fares are not affected by this change.
We will be rolling out a new incentive, Far Pickup Bonus, for all transport services in Klang Valley.
WHAT IT IS
You will receive compensation for each minute of pickup after 5 minutes. This will apply to all Transport services in Klang Valley except JustGrab (from KLIA).
A higher Far Pickup Bonus rate will be applicable during peak hours (please refer to your incentive table this Sunday for more details).
WHY
We have heard your feedback that compensation during far pickups can be unsatisfactory. The new Far Pickup Bonus will be based on your pickup time regardless of your fare, providing fairer compensation for your effort.
EXAMPLE
This is what your weekly incentive table will look like: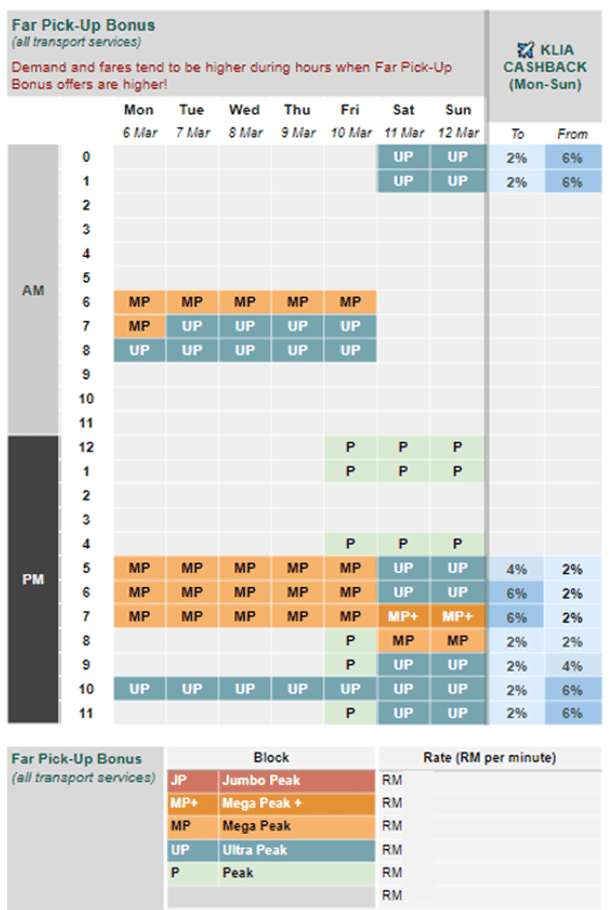 💡 IMPORTANT
The amount shown is calculated

upfront

based on system estimated pickup time and is not subject to change during or after the trip.

The Far Pickup Bonus will appear as a bonus on the in-transit screen of each ride, where applicable.

The payout will be made into your cash wallet as soon as the ride is completed.

Taxi driver-partners are not eligible for this incentive.

The Far Pick-Up Bonus will apply to all Transport services except JustGrab (from KLIA)
Bonus Cashback returns and will be available for all transport services in Klang Valley.
💡 IMPORTANT
Bonus earned this week will be paid in your cash wallet on the following Monday

.

Bonus will be provided on top of any other incentives that driver-partners are eligible for.

Only

transport bookings

completed in your home city will be counted for this bonus.

Not in your home city? Don't worry, you can still

earn fares

by completing bookings anywhere in Malaysia where we offer

transport services

.

To qualify for the bonus:

CR < 5% and DR > 4.7

.

Cancellation will be monitored closely for this bonus. Excessive cancellations may result in your bonus payout being

withheld

.
Notes:
MyDestination rides are not eligible for cashback.

Taxi driver-partners are not eligible for this incentive.

The Bonus Cashback will be visible in the Incentive section of the app.
What are the incentives I will be eligible for starting 6 March 2023?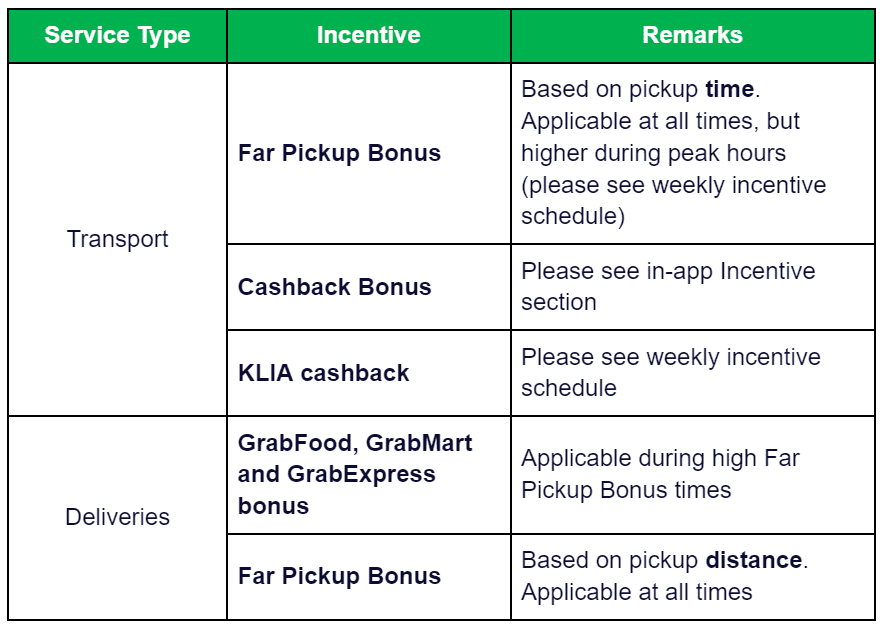 Note: Taxi driver-partners are not eligible for the above incentives
How accurate are your trip duration estimates?
Our estimates of trip duration have improved considerably over time, with real time traffic signals.
We believe pricing your fares by time is still better than pricing it by distance, which does not vary much even in the worst congestion.
Will the Far Pickup Bonus and Bonus Cashback incentives still be applicable if I drive in another city using the Multi-city Support feature?
The Far Pickup Bonus incentive will be available when you drive in another city, but it will be subject to the Far Pickup Bonus incentive of that city. The Bonus Cashback  incentive will still be available when you drive in another city.