Tekan sini untuk terjemahan Bahasa Melayu
The National Urgent Response (NUR) Alert system is a national initiative that helps spread information related to missing children under the age of 12, as quickly as possible. Beginning 1 March 2019, we are collaborating with the Polis DiRaja Malaysia (PDRM) to support this community focused effort on child safety. Click here to read more about it.

Through this collaboration, we will disseminate the NUR Alert immediately to assist in finding the missing children. While the authorities do their best to locate these children we will work together with you to do our part as concerned citizens to be the eyes and ears on the street.  For information about the latest NUR Alert, please refer below.
---
Most Recent Missing Children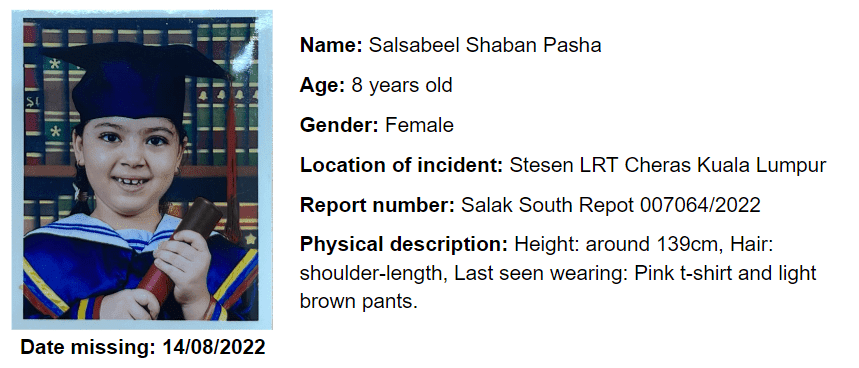 If you do come across any news or sightings of the missing child above, please report by calling ASP Hanis Binti Idris at 019-9099763 or contact IPD Cheras, Kuala Lumpur at 03-92050222
---
Portal Rasmi Kanak-kanak Hilang
If you have information on other missing children, you can report online to the authorities.
Step 1
Visit the Portal Rasmi Kanak-kanak Hilang and look for the "Kanak-Kanak Hilang Terkini" section. Scroll left or right and select the missing child that you might have information on to report online.
Step 2
Check the box underneath the picture, next to "Saya mempunyai maklumat tentang orang hilang" and enter the necessary information.
Step 3
Once you have filled in the relevant information, click the "Hantar" button as shown below to send the information to PDRM.