The Kuala Lumpur leg of Jay Chou's Carnival World Tour is on 29 February 2020, and it is very close to being sold out. But here's your opportunity to get your hands on a pair of tickets. With
just 50 GrabRewards points
, you stand a chance to attend this hot-selling concert. 
Contest period: 31 January to 15 February 2020
How to participate
Step 1:
Click on the Contest tile in the GrabRewards catalogue.
Step 2:
Copy the unique code, then click on 'Use Now' which will lead you to a Google form.
Step 3:
Paste the unique code, and answer the question in the Google form.
Grand prize x 3
A pair of tickets for the 10,000th, 30,000th & 50,000th redeemer, with the correct answer.

Terms and conditions
The redemption period starts on 31 January, and ends on 15 February 2020, 11:59pm.

All participants get 1 chance with every 50-points reward they purchase, each redemption is counted as 1 chance.
All participants are required to answer a question correctly via a Google Form and paste the unique code from reward page after the redemption is made in order to be in the running to win the prizes.
By participating in this campaign, the participant consents to Grab announcing the name of the winners and/or releasing a photograph of the winner as the prize-winner in our winner's announcement.
By taking part in this contest, you have indicated that you have read, understood and agreed to be bound by these terms and conditions.

Winners will be determined by the order of redemption:

Prizes (3x Pairs of Jay Chou Concert Tickets) – 5,000th, 10,000th & 15,000th redeemer with the correct answer.

No cash alternative is available for any prize.

Winners of this contest will be announced and contacted by 18 February 2020 and only self-collection of the prize is available.
Collection of prize will be available from 24 February – 26 February 2020, venue and time will be informed upon contacting the winners.
The prize may be forfeited to the next winner if the participant is unable to comply with this condition.
The prize may be forfeited if we fail to reach the winners by 21 February 2020.

The campaign is organised by GrabCar Sdn Bhd ("the Organiser") and is open to all Malaysian citizens, permanent residents residing in Malaysia, and foreigners who are travelling or working in Malaysia. The following persons are not eligible to participate in the Campaign: All employees (both permanent and fixed term contract) of the Organiser and their immediate family members.

Participant acknowledges and agrees to be legally bound by the terms and conditions below and decisions of the Organiser without limitation or qualification. You further agree that all decisions of the Organiser shall be final and conclusive.

The Organiser reserves the sole and absolute right to disqualify any participant or reject qualifying participants deemed ineligible (be it under these Terms & Conditions or has engaged in a conduct that the Organiser considers inappropriate or unacceptable.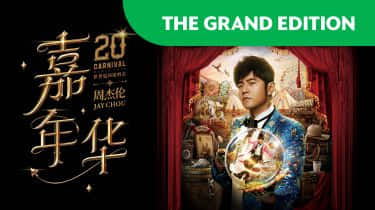 Or, you can redeem 1x Ticket to Jay Chou Concert for 60,000 GrabRewards Points worth RM488 per ticket from our Grand Edition of GrabRewards catalogue
1. Points spent to redeem this reward is not refundable nor exchange for cash.
2. The redemption is only applicable to 1x Ticket to Jay Chou Concert on 22 August 2020.
3. Only self collection is available.
4. Collection will be open only on 8 Jan 2020 – 10 Jan 2020 from 10am – 5pm only.
5. Grab reserves the right to alter, suspend or cancel the promotion at their own discretion.
6. Grab reserves the right to cancel or modify orders, or revoke the use of voucher codes, where the vouchers are used in the following circumstances: suspicious or fraudulent voucher use, voucher abuse, including voucher redeemed using multiple accounts or multiple checkouts associated with the same customer or a group of customers; and/or voucher used in bad faith (including resold voucher, or use of vouchers on orders made and intended for resale). collection to redeem this reward.