Ordering from your favourite restaurants just got more rewarding! Get a RM8 GrabFood voucher and a GrabMart Free Delivery voucher when you make three(3) GrabFood order from selected GrabFood Signatures restaurants.
Participating restaurants: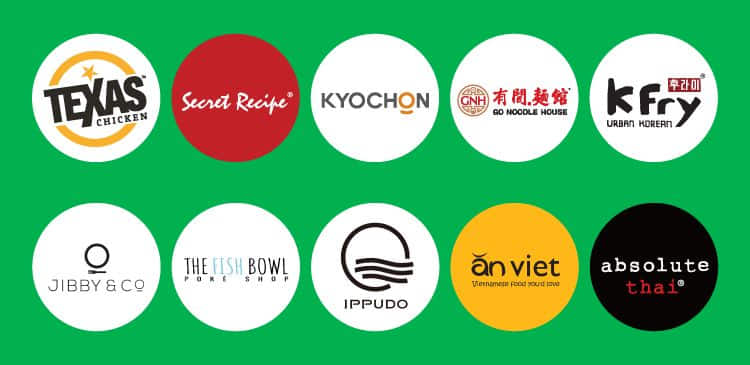 And more!
*Some restaurants may not be available in all cities.
Take the challenge now via an auto opt-in after making a GrabFood order from selected GrabFood Signatures restaurants. Here's how to check your challenge status:
Challenge T&C
This Challenge cannot be shared. The Challenge is specially designed based on the Campaign. Grab reserves the right to limit accessibility of participants to the Challenge in their app.

Challenge is only valid from

5 Apr 2021 – 25 Apr 2021

.

Challenge is only valid in Malaysia. Any GrabFood order made outside Malaysia will not be considered as part of this Challenge.

Each participant will be eligible to participate in this Challenge upon making one (1) order on GrabFood from selected GrabFood Signatures restaurant.

GrabFood orders made from GrabFood restaurants that are not part of the selected GrabFood Signatures restaurants will not be considered as part of this Challenge.

Upon successfully completing three (3) transactions on GrabFood (no minimum spend required) from selected GrabFood Signatures restaurants will entitle to 1 x RM8 off GrabFood reward voucher & 1 x GrabMart Free Delivery (up to RM5 off) reward voucher. Find out which restaurants are applicable from

https://www.grab.com/my/food-blog/signatures-challenge-april/

. 

Each participant can only participate in this Challenge one (1) throughout the period of the Challengetime.

Grab reserves the sole and absolute right to withdraw, amend and/or alter any part of the whole terms and conditions in relation to this Challenge at any time without giving any prior notice to you and you agree to be bound by those changes.

Grab's decisions in any matter in relation to the Challenge shall be final and conclusive. Grab shall not be liable for any claims by you or third-party claims or losses of any nature, including but not limited to, loss of profits, expectation loss, punitive, indirect, special, incidental, or consequential damages or for other damages and any related claims of any nature, including direct, indirect, third-part, consequential or other damages resulting from or in connection with this Challenge.

Grab may, at its sole and absolute discretion, substitute the reward for another reward of similar value, in circumstances that include unavailability of the original prize, illegality or non-feasibility. 

In claiming the reward, Grab may request for such identification documents or further information to verify and check the identity of the prize winner, to prevent gaming and fraud. 

All rewards must be claimed/redeemed within the stipulated deadline. Any rewards not claimed by the deadline may be forfeited (or disposed of, or donated, all at Grab's discretion), and no claims whatsoever for payment or compensation shall be entertained. 

Unless otherwise provided, all rewards are non-transferable and non-exchangeable for cash/credit in kind.

These terms are governed by the laws of

Malaysia and the non-exclusive jurisdiction of the Malaysia courts.
Reward T&C
Plan B
Burger On 16
Hubba Hubba
La Juiceria Superfoods
Mohammad Chow Express
Luce Osteria Contemporanea [Non-Halal]
Bistro Benji's by Big
1977 New Ipoh Chicken Rice [Non-Halal]
La Juiceria Cold-Pressed Detox Bar
Boran – Classic Thai Street Food [Non-Halal]
KGB
Mikey's Original New York Pizza
Eatomo
Ben's
Super Saigon
Salad Atelier
SOULed OUT
Lim Fried Chicken
Inside Scoop
Tujo
1977 New Restaurant Ipoh Chicken Rice [Non-Halal]
Fahrenheit 600
Hayaki
Village Park Restaurant
Tasty Chapathi
Paperfish
Texas Chicken
The Fish Bowl
Wingstop
MyBurgerLab
San Francisco Coffee
Goobne Chicken
Fish & Co.
Alibaba & Nyonya
NY Burger Co
Jinjja Chicken
Secret Recipe
Beyond Veggie
Red Lobster
Roast & Grill
Ben's General Food Store
S.Wine [Non-Halal]
The Good Batch
Old Klang Road Hokkien Mee [Non-Halal]
Fat Cat
Buttermilk Kitchen
MyPizzaLab
Arabica Restaurant
The Taste [Non-Halal]
The Ice Cream Bar
An Viet [Non-Halal]
Nancy's Kitchen [Non-Halal]
After 4 Kopitiam
Biru Biru Cafe
Big Coconut Western
Hicaa By Hilxon's 21
Noms Signature
Chakra Restaurant
Mei by Fat Spoon
Carl's Jr.
Sin See Tai [Non-Halal]
Sharing Plates
Geographer Cafe
Chubs [Non-Halal]
The Daily Fix
Signature Madam Tang's Cafe
Botanist Café
The Container
HeyCha
Madam Tang's Cafe
Madam Tang's Laksa Stall
Nam Heong Ipoh [Non-Halal]
Ben's Chicken Shop
Deens Maju Nasi Kandar
Tail and Fin
Life Cafe
Jothy's Fish Head Curry Banana Leaf
Putu Piring Melaka
KL Fried Chicken
Plan B Roasters
Ben's To Go
KyoChon Korean Fried Chicken
Jaiho Cafe
Hello Stranger Cafe
Mango Royale Float Melaka
Parklife Restaurant
Proof [Non-Halal]
Vintry [Non-Halal]
The Public House by Vintry [Non-Halal]
Golden Arab Bistro
Meng Kitchen [Non-Halal]
Pinxin Vegan Cuisine
Pelicana Chicken
Hameediyah Restaurant
Golden Bowl
Dragon Noodle [Non-Halal]
Hawker Hall
Flip Burger [Non-Halal]
Spade's Burger [Non-Halal]
GO Noodle House [Non-Halal]
Restoran Super Kitchen Chili Pan Mee [Non-Halal]
Alamak
O'Briens Irish Sandwich Cafe
Canning Dim Sum Express
Three Leg Cat Cafe [Non-Halal]
Ginza Japanese Restaurant
DIB Restaurant Cafe
Ah Cheng Laksa
Cosy Bistro
Let's Eat [Non-Halal]
The Bassment [Non-Halal]
Megumi Modern Cuisine [Non-Halal]
LyRoy Briyani Kukus
Bumbu Cabe
Absolute Thai
Celadon
Busaba Thai
Absolute Thai Street Food
Amarin Heavenly Thai
Thai Thai
Basil
Carl's Jr
Tuk Tuk Tomyam
Sangkaya
The Naked Lunch Box
Pure Minded Vegetarian Cafe
Xiang Man Ju Restaurant
Wang Thai [Non-Halal]
Frenzy Coffee
Hong Kong 8am [Non-Halal]
Sisters BBQ [Non-Halal]
Restoran Kaknas
21 Street Cafe
Al Gazerah Restaurant
Nasi Padang Selera Bunda
Ah Huat Nasi Lemak Kukus Tradisional
Thai Cup
Pisang Goreng Bunpah Corner
CRUST
Eden Dim Sum City [Non-Halal]
Let's Meat [Non-Halal]
RUYI
Teck Kee Restaurant [Non-Halal]
Ikan Boulu Tanpa Tulang II
Oriental Pavilion [Non-Halal]
Noble Mansion [Non-Halal]
Seafood World
Noble House [Non-Halal]
Oriental Landmark [Non-Halal]
Oriental Star [Non-Halal]
Oriental Treasure [Non-Halal]
The Han Room [Non-Halal]
The Ming Room [Non-Halal]
Tang Room [Non-Halal]
The BARËšN Wine Bar [Non-Halal]
Qong
Ikan Boulu Tanpa Tulang 3
Master Crab [Non-Halal]
Fish & Co
Jom Penyet
Calanthe Art Cafe
Shu Peo Korean BBQ [Non-Halal]
Restoran Hua Mui
Jborn Cafe & Bistro
Hawker Chan [Non-Halal]
Tamaha Cafe
Grounded 22
Jin Ming Cafe [Non-Halal]
Restoran Maharaj
Miss Siam
Warteg Ipoh
Krup Krup!
Upperstar
Kedai Biskut Guan Heong [Non-Halal]
Nam Heong Chicken Rice [Non-Halal]
Restoran Papilicious Olivia's Pasta & Pizza
YU
Hungrybear
Yisu Veggie House
David's Diner
Seven Oaks
Village Roast Duck [Non-Halal]
London Duck [Non-Halal]
House of Pok [Non-Halal]
Pusas [Non-Halal]
Restoran Nasi Malaya
Howdy Grillhouse [Non-Halal]
Sushi East
Restoran Tuck Kee [Non-Halal]
Restoran Ipoh Tuck Kee [Non-Halal]
Kam Kee Cafe [Non-Halal]
K Fry Urban Korean
Noms Metro City
Snowflake
Izakaya
Bungkus Kaw Kaw
Kafe Fei Bo Snow Beer [Non-Halal]
Soon Fatt Restaurant [Non-Halal]
Ippudo [Non-Halal]
Vanakam India
Restoran Hameediyah
Little Elephant
STG Tea House Cafe
STG
Restaurant Jin Xuan Hong Kong [Non-Halal]
Tori Tori
Restoran Cibiuk
Sri Annapoorana Curry House
Kafe Greentown Dimsum Cafe
Hwa Mui Kopitiam
The Old Mark Cafe
Rumah Makan Coto Makassar Asli
Kitchen Delight Restaurant
Restoran Bee Gaik [Non-Halal]
Restoran Yoke Fook Moon Sdn Bhd [Non-Halal]
The Museum [Non-Halal]
Welcome Seafood Restaurant
Pakeeza Restaurant & Catering
Ipoh Hainan Chicken Rice
Bukit China Soya Bean House
The Bold Lab Cafe
Restoran King Kunyit
Bala's Banana Leaf
Fifty Trees Cafe
Restaurant Lu Yeh Yen [Non-Halal]
Kanna Curry House
Restoran Glk [Non-Halal]
Restoran Nasi Kandar Arsad
Keeper's Ground
Heritage Flavours
Tori-Tori
Qian Li Xiang Restaurant [Non-Halal]
L.table
L.bistro
Ayam Garam Aun Kheng Lim
Mashawi
Warong Baroka
Lucky Luck Seafood [Non-Halal]
L A Burger Kukus Bakar
Little Heritage
Tail & Fin
Nasi Tomato Batu Lanchang
Warteq Ipoh 2
Yeolde English
Restoran Sulaiman Nasi Kandar
Shells N Fins Restaurant
Pound
TreeSea By 3C Cafe
Adelphi & Co [Non-Halal]
Mashawi 2
Big Food
Big Food F&B
Kizuna Bento King [Non-Halal]
Dong Seoul Korea Restaurant [Non-Halal]
Cafe Includes
Gerai Makan Seri Menanti Char Kuey Teow Penang
Golden Balls [Non-Halal]
Golden Arch Garden Laksa
Small Coconut
Almizan Satay House
7 Spice
Fold Taco [Non-Halal]
Chaang Caffe
Nasi Ganja Yong Suan
Norzi Cafe Manjoi
Euro House [Non-Halal]
Yen Tattoo & Cafe
Nasi Kandar Pekan Lama
Tasixi Hong Kong Dim Sum [Non-Halal]
Naughty Bali [Non-Halal]
Ciku Ciku
Restoran 7 Terbalik
Nasi Kandar Beratur
Urban Food Club
Wah Juan Coffee Shop [Non-Halal]
Restoran Choong Kee Pokok Besar
Nasi Kandar Rahamath
Restoran Al Hanin
Satay Bayu & Ayam Golek
JNJ FoodBox
Restoran Ayam Gepuk Dapoq Campoq By Korn Kitchen
Cafe Dapoq Campoq By Korn Kitchen
Restoran Nasi Kukus Ekonomi
IT Mall Cafe [Non-Halal]
Mamasita
Gerai Seri Menanti 2
Nasi Ayam Kee Chup
Megumi Modern Cuisine
Kampung Nelayan
Kizuna Signature Ramen [Non-Halal]
Goodbox [Non-Halal]
STG Bukit Ceylon
Nasi Lemak Ong
Mei Mei Laksa [Non-Halal]
Yong Peng Fish Ball [Non-Halal]
Chinese Barbecue Specialist [Non-Halal]
Southern Fried Chicken
Pokego Cafe
Gino Pizza
Nasi Lemak Ganja
Restoran Haji Yahya
Grill Patio
Kruathai Cafe
Kim Joo 锦裕 [Non-Halal]
Ming Cafe [Non-Halal]
Hartz Chicken Buffet
New Thien Thien Restaurant
Hainan Hakka Lui Cha 海南村客家擂茶
Ratio Fusion Beef Cuisine
Wan Nurn Barbeque [Non-Halal]
Restoran Chooi Yue Dim Sum [Non-Halal]
Kam Long Ah Zai
Nefa Station
PichaEats
Med Mex
Almizan Satay House – Kampung Ubi
The Morso
Lao San Kueh Chap 老三粿杂 [Non-Halal]
L Bistro
Nam Heong Chicken Rice
Big Coconut
Lao San Kueh Chap ⽼三粿杂 [Non-Halal]
Zenzero Wine & Bar
Roberto's 1020
Volt Coffee
Lupa Cafe Lounge
Kaori Cha
Kaori Cha Wakaf Stan
Kaori Cha Berek 12
Kaori Cha Lembah Sireh
Kaori Cha Wakaf Che Yeh
Kaori Cha Kuala Terengganu
Kaori Cha Kuantan
NY Burger Co.
Serai
Box26 Cafe
Jibby & Co
Jibby Chow
1828 Bistro & Bar [Non-Halal]
Kaori Cha Panji
Nopal De Epoch
Planet Lapar
Gappo Trattoria
Ong Shun Seafood Restaurant
HoHo Steamboat [Non-Halal]
HoHo Hot Pot [Non-Halal]
Blonde
Jibby By The Park
Jibby East
Restoran Nasi Ayam Pak Kong [Non-Halal]
Fei Fei Crab Restaurant – Taman Mount Austin [Non-Halal]
Fei Fei Crab Restaurant – Desa Aman Puri [Non-Halal]
Fei Fei Crab – Damansara Jaya [Non-Halal]
The Soybean Factory – Bandar Sri Menjalara
The Soybean Factory – Lorong Panggung
The Soybean Factory – SS2
The Soybean Factory – SS15
The Soybean Factory – Dataran C180
The Soybean Factory – The Palette
The Soybean Factory – Taman Connaught
The Soybean Factory – Puchong