With many of us spending more and more time at home these days, there has been an increase in deliveries to residences. From orders on GrabFood to Mart, our partners have been busy. Nevertheless, there is a growing concern around health and safety, particularly on food orders and groceries.
Rest assured that Grab is working round the clock to educate and support food merchants and delivery-partners on how to prepare your order safely by providing them with a Merchant Code of Conduct and training materials. For example, did you know that Merchant's need to ensure food is prepped in accordance with local food safety guidelines, and properly packaged before passing it to our delivery partners? Our delivery partners are also required to check your order is sealed and are not allowed to open food packaging.
First things first, use contactless delivery. Ask your delivery-partner to leave the bag outside your door and wait until they are at least 1 meter away before you pick up your order. We ask our merchant-partners to carefully package and seal your order, ensuring your driver-partner cannot come in contact with the food.
When receiving a package, please put it on your floor, rather than the kitchen counter or table, especially your dining table. At this point, you have not yet disinfected the package or your hands.
Check that your order is covered or packaged on arrival, and make sure that the packaging or covering is not damaged. Next, verify that your order is correct and all items are included. Also, check the food label for a 'time of preparation', 'best before' or 'use by' date and other instructions, particularly in case of allergies. Please take a photo of the food label as proof for our Help centre before disposing of the food if it has passed the 'use by' date.
We recommend that you disinfect the package and then wash your hands. Now you can transfer the food from the packaging to a clean plate. Check the food order for quality or foreign objects. All good? Rewash your hands before you start your meal.
Generally, you can consume cooked foods within four hours from the time the food is cooked or ready-to-eat, though we recommend two hours, particularly for high-risk foods, such as dairy, eggs, meat products, poultry, fish and seafood.
Cooked food should not be kept at room temperature for any longer than 2 hours. Cooked meals which are kept between 5°C and 60°C for more than four hours should be thrown away.
If you intend to store cooked food or groceries, do so as soon as possible. Remember to bring hot foods down to room temperature within two hours, before you put them in a refrigerator or freezer.
Chilled foods should be kept at 5°C or below;
Hot foods should be kept at 60°C or above;
Frozen foods should remain frozen and not partially defrosted; or
Kept at any other temperature if otherwise prescribed by the restaurant or store.
Ready-to-eat foods, such as dairy, ready-meals or packaged foods, or cooked foods, should be kept in sealed containers or packaging on the top or middle shelf of your fridge. Raw foods, such as raw meat, poultry and fish, should be wrapped or sealed and kept in the bottom of your fridge to prevent cross-contamination. Fruits, vegetables and salad vegetables that are (pre-)washed and wrapped with air holes, should be kept in the bottom drawer, or salad drawer. Remember to keep your fridge at a temperature between 0-5°C.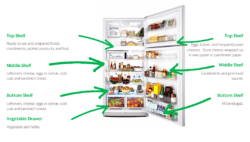 If you want to reheat cooked food in a microwave, oven or pan, the internal temperature must reach 75°C within two hours. Check that the temperature of the food has reached 75°C for 15 seconds. Once this minimum temperature has been reached, the food should be held at 60°C or warmer or eaten straight away.
If you suspect that your food may be contaminated, please contact us via the Help Centre > Safety in your Grab App.
For more information, check your local government or food authority's resources on food safety.